Tata Steel organises 'Chhur' Tournament
Jamshedpur, July 09, 2013
~Impetus to the cause of Ethnic identity and Tribal heritage~

Tribal Culture Society (TCS), Tata Steel is committed to the cause of promoting ethnic identity and tribal heritage in Jharkhand, Odisha and Chhattisgarh. It implements various sporting and cultural events to popularise tribal culture amongst youth and general masses and make them aware of the rich cultural heritage. In the process, TCS also makes them a partner in promoting and propagating the culture. Reviving tribal sports is one of the key areas of intervention for TCS.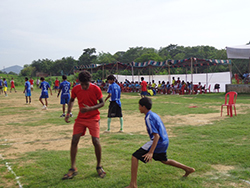 Over the last couple of years, Tribal Cultural Society has made consistent and conscious effort to promote and revive some of the extinct tribal sports. Promotion of tribal sports is a means to popularise tribal culture and tradition in the society. 'Chhur' is one such tribal sport that is being revived by Tribal Cultural Society by organising tournaments that encourage participation of youth.

Tribal Cultural Society organised 'Chhur' tournament today at Matladih Football Ground. The tournament showcased exciting Chhur matches among children from seven local schools and a club. More than 100 children representing boys and girls teams participated in the tournament.