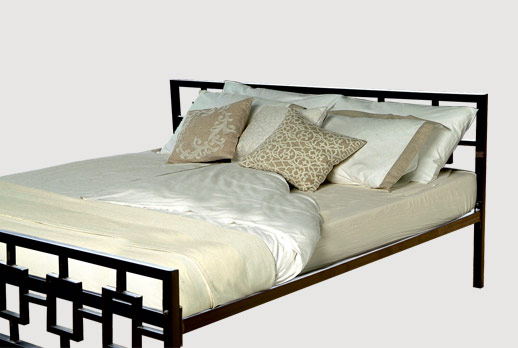 Steel n Style
Steel n Style offers an extensive range of smart and stylish furniture made from the finest quality CRCA steel, created by furniture designers and crafted on state-of-the-art machines. The range includes everything from steel almirahs, showcases, dressing tables, beds, to reading and computer tables.
Know more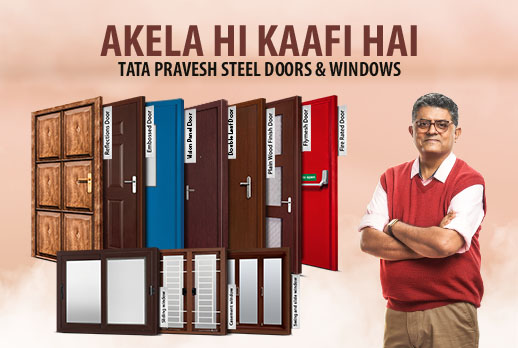 Tata Pravesh
Tata Pravesh steel doors & windows promise strength, style, security & service combined with the assurance from the House of Tata Steel to cater to the needs of both the residential and commercial segments. Unlike doors & windows made of wood, Tata Pravesh offers wall opening solutions that have unmatched strength and are fire & termite-resistant.  They are weather-proof, maintenance-free and eco- friendly. Being 100% recyclable, Tata Pravesh is India's first brand of steel doors with Green Pro certification. Eliminating the hassles of going through several stages of owning a wooden door or window, Tata Pravesh is truly made for tomorrow.
Tata Pravesh steel doors and windows - Akela Hi Kaafi Hai
Know more
Buy Now on Tata Aashiyana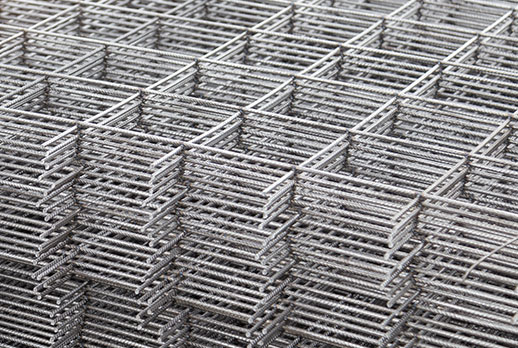 Sm@rtFAB
Sm@rtFAB is India's first branded Welded Wire Fabric (WWF), also known as welded wire mesh. It is a cold-worked, ribbed, electrically fused wire fabric, that can be used in concrete reinforcements, leading to optimum steel usage close to actual design, thus reducing steel intensity and leading to cost and time savings. Sm@rtFAB provides an increase in speed of construction, material cost reduction, labour productivity enhancement, effective site management and better-quality assurance. This Tata Steel welded wire mesh for concrete slabs saves slab-to-slab casting time, optimizes design, helps builders work smarter and provides top-notch quality assurance.
Know more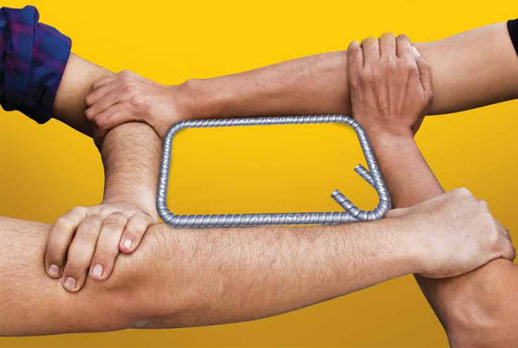 Tata Tiscon Superlinks
Tata Tiscon Superlinks are stirrups (rings) made of high strength ribbed TMT reinforcement bar in most commonly used sizes. They address the issue of bending stirrups on beams at a perfect angle of 135 degrees, reducing human error, ensuring a perfect lock when it comes to making stirrups that hold rebars and beams in place. Available in numerous sizes, these Superlinks are prone to seismic activity. They are now available in a new GFX coated version, which improves corrosion resistance and enhances bonding of rebars with cement.
Know more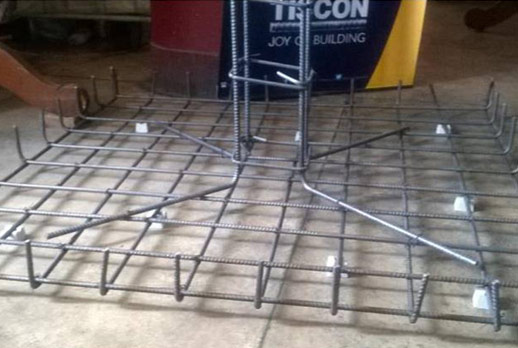 Tiscon Footings
Tata Tiscon footing is a mesh like structure formed of C-shaped rebars placed at the base of foundation columns. Footings also differ from region to region. Hence, distributors have been entrusted with manufacture of these footings to address these regional variations. They allow the construction to proceed fast and are especially useful in the monsoons to prevent accumulation of water at the foundation. The entire process can be completed in just 2 days with these readymade fittings. There is no wastage of material as there are standard column cross sections exact with number and length of C-shaped elements fixed in the mesh.
Know more
Tiscon Readybuild: Cut and Bend Rebar
Tiscon Readybuild Cut and Bend, a downstream brand of Tata Tiscon, was launched in year 2008 to offer ready to use rebar to the construction industry. The need for this was driven by shifting construction practices to use off-site, factory made solutions from the prevailing on-site labour intensive process.
Tiscon Readybuild cut and bend solutions are the answer to problems of rebar processing, wastage, inventory management, transportation, labour problems, pilferage and delays at construction sites. Tata Steel offers cut and bend services from our network of 17 automated centres across the country.
Know more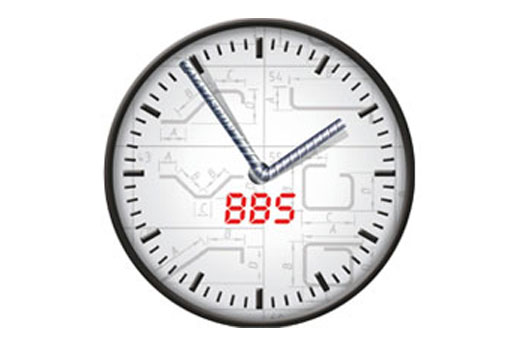 Tiscon Readybuild BBS
Tiscon Readybuild offers professional service to develop Bar Bending Schedule (BBS) as per customer's structural drawing. Tata Steel, through its professional network, provide drawings with accuracy in diameter, angles and layouts by use of the latest software.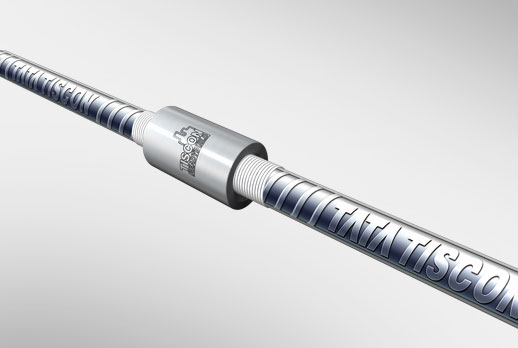 Tiscon Readybuild Couplers
Tiscon Readybuild Couplers are mechanical fittings which are used to join two rebars and hence eliminate the need for lap. Tata Tiscon is the only Indian steel producer that offers its own line of mechanical couplers, which are to be used with Tata Tiscon rebars. The couplers are available in SKU ranges from 12mm to 40mm, covering a wide range of customer needs, while ensuring structural integrity and savings in costs.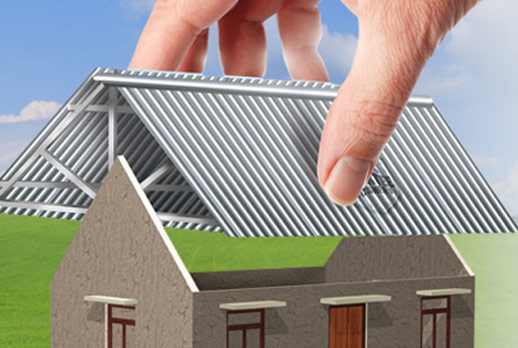 Roof Junction
Roof Junction is a complete roofing solution, which not only provides customers quality galvanised corrugated sheets but also offers a complete roofing solution – from installation to maintenance of the roof. Besides transparency in pricing of product and service, it offers the support of a dedicated team of trained and certified fabricators using modern techniques of roof installation; to make the process quick as well as cost-effective. The solution offers a warranty on leakage and free maintenance service for the first one year. The customer service centre offers customers quality support.
Know more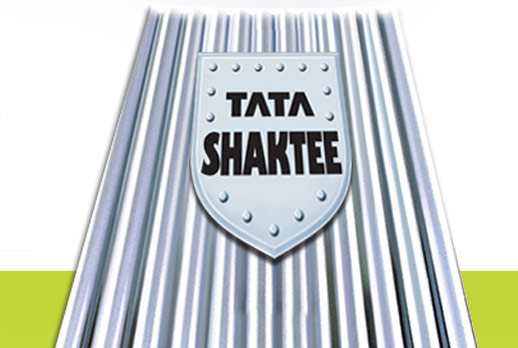 Tata Shaktee Ridges
Tata Shaktee Ridge is a roofing accessory that runs along the combined width of GC sheets on either side of roof slopes. Tata Shaktee was the first to introduce a branded ridge. Among the many advantages of this product, the most prominent ones are that they don't rust easily, give the perfect fit and make roofs look great.
Know more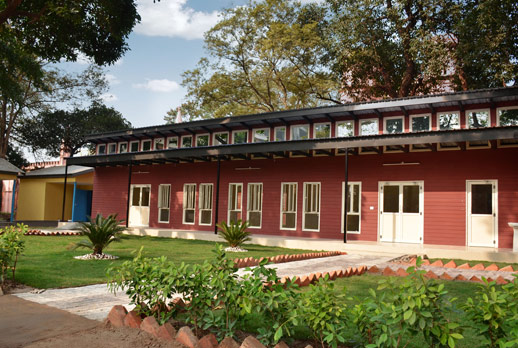 Nest-in
Nest-In is steel based modular construction solution. With its pan-India presence and highly efficient delivery mechanism, Nest-in strives to provide complete turnkey solution with unique customer experiences at its core. It is suitable for various applications like pre-fab housing, pre-fab modular toilets, any time water kiosk, security cabins, designer rooftop houses, etc. The offerings of Nest-In are geared towards meeting existing and upcoming requirements under various government initiatives like Swacch Bharat program, Smart City initiatives and CSR initiatives of various corporates. Apart from these, Nest-In has a basket of offerings which caters to various light weight pre-fabricated construction solutions requirements for projects and operations. The designer rooftop offerings are the perfect solution for urban rooftop housing.
Know more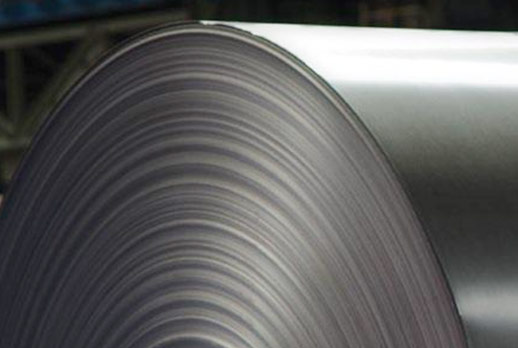 Tata KOSH
Tata KOSH is a brand of galvanised plain steel from Tata Steel and is yet another example of how Tata steel is going downstream to get closer to customers. It is used by fabricators to make storage & utility equipment like trunks, grain silos, tasla and buckets. It addresses the retail applications of GP sheets with spangles, for the rural and urban Tier-3 households.