Developing high strength steels, offering new solutions in the construction and retail segment are some of our initiatives towards resource efficiency. Tata Steel ensures that the technologies and processes used to manufacture products must optimise resources and be efficient.
We have been using Life Cycle Assessment (LCA) to evaluate the environmental impact of our products considering its various life cycle stages. Our LCA studies are based on worldsteel LCA methodology which are guided by ISO 14040 and ISO 14044.
We believe LCA approach is a holistic and scientific way of understanding a product's environmental impacts across its value chain.
Life Cycle of Steel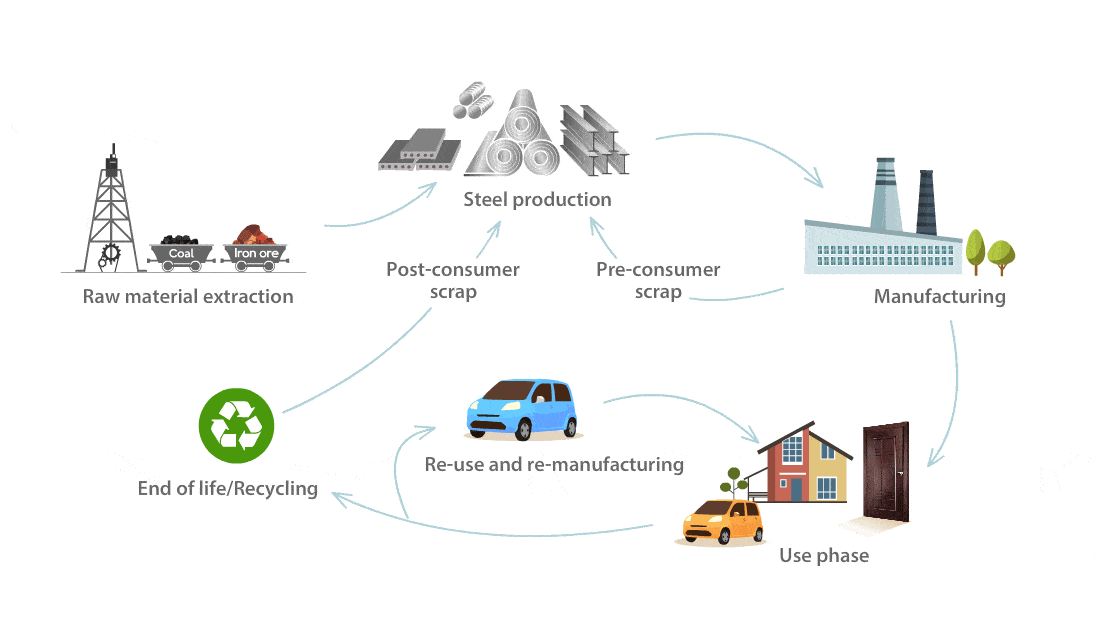 Products of Tata Steel Jamshedpur Works, Tata Steel Kalinganagar Works, Tarapur Wire Plant, ISWP, Steel Processing Centres (that manufactures Rebar) are so far been covered under our LCA studies. We plan to cover 100% of our products under LCA.
In FY22, LCA study for Tata Steel Meramandali (TSM) was carried out along with the identification of environmental hotspots for improvements in carbon footprint and other environmental parameters. TSM is the third integrated steel site and the second largest site among TSL with an annual crude steel capacity of 5.6 MnTPA.
Our VAVE (Value Analysis and Value Engineering) initiative with automotive customers generates ideas on steel usage in a vehicle with an aim to reduce cost and weight of the vehicle. The ideas are categorised into optimising grade, thickness, integration and deletion of parts. We also support customers for implementation of the ideas. VAVE initiative helps customers reduce overall mass of the vehicle thereby reducing tailpipe emissions during its use-phase.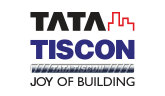 Tata Tiscon
(Steel Rebars)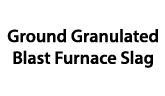 GGBS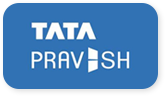 Tata Pravesh
(Steel Doors & Windows)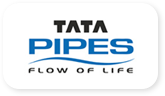 Tata Pipes 
(Steel Pipes)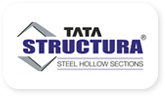 Tata Structura 
(Steel Hollow Sections)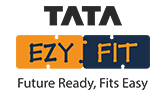 Tata Ezy Fit
are now GreenPro certified products of Tata Steel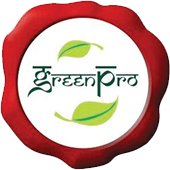 Through GreenPro certified products, we support the use of sustainable products in the construction segment. GreenPro certified products are recognized in the Green Building Rating System of CII (IGBC).
We aspire to develop Product Disclosures that complies to the leading Green Building Certification programs globally.
Environmental Product Declaration (EPD) and Case Studies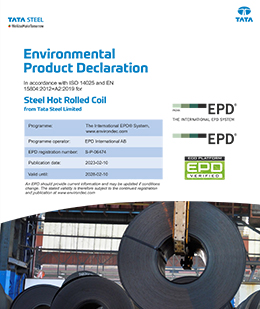 EPD for Steel Hot Rolled Coil
Tata Steel manufacture Hot Rolled (HR) coils at its Hot Strip Mills (HSM). Hot Rolled Coils are used in a variety of applications like Automobiles, Boiler and Pressure Vessels, Ship Building, Railways, Transmission Towers, Oil and Petrochemicals, Coal and Mining, General and Heavy Engineering. This EPD transparently declares the environmental impact of a tonne of Steel Hot Rolled Coil manufactured by Tata Steel Limited (comprising all facilities) across its various life cycle stages.
EPD for Steel Structural Hollow Section (Tata Structura)
Steel Structural hollow sections under brand name Tata Structura is a very versatile product and finds application across construction segments – (e.g.) infrastructure projects like airports, railways & metro stations, housing & commercial, large stadiums & sports arenas, industrial sheds & warehouses, and for various aesthetic applications. Tubes SBU manufactures structural tubes conforming to IS:4923 and IS:1161 for Square/Rectangular and Circular Hollow sections respectively. This EPD transparently declares the environmental impact of a tonne of Steel Structural Hollow Section manufactured by Tata Steel Limited (comprising its various facilities) across its various life cycle stages.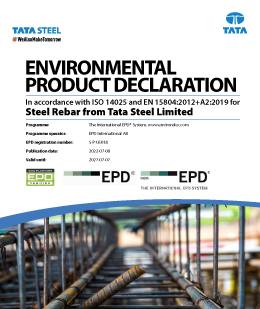 EPD for Steel Rebar
Steel bars are commonly used as reinforcement to impart tensile and shear strength to the structure since concrete is weak in tension/shear. It is widely used as reinforcement because it's coefficient of linear expansion is close to concrete. Steel reinforcing bars (Rebar) are manufactured through a hot rolling process with subsequent treatment. Rebars produced by Tata Steel Limited are available in sizes from 6mm to 40mm and has a wide range of applications (Buildings, Bridges, Metros, Dams, Thermal Power Plants, etc.,). This EPD transparently declares the environmental impact of a tonne of Steel rebar produced by Tata Steel Limited (comprising its various rolling mills) across its various life cycle stages.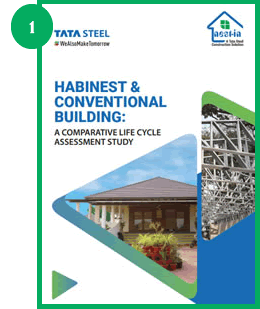 HabiNest & Conventional building: A Comparative Life Cycle Assessment Study
HabiNest is one of the branded products of Tata Steel's Nest-In construction solution. The objective of this study was to quantify the life cycle environmental impacts of the HabiNest structure and compare it with a conventional structure of similar size and application. This work has been critically reviewed by an independent third party, and the critical review panel found the overall quality of its methods scientifically and technically valid and the used data appropriate and reasonable.
Application of Tata Steel Products in major Green Building Projects in India
Product
Building / Infrastructure
Green Rating
Tata Structura
Lucknow Airport
GRIHA Rating
Trichy Airport
Pune Airport
Kochi Airport
IGBC Platinum Rating
Hyderabad Metro
Nagpur Metro
Hyderabad Airport
LEED Platinum
JW Marriot
LRPC (Low Relaxation Pre-Stressed Concrete) Strand
Palais Royale Sky Scrapper
LEED Platinum
Embassy IT Park (Chennai)
Kohinoor Square Sky Scrapper
LEED Gold
One BKC Property
Tata Tiscon, Readybuild
Motera Cricket Stadium (World's largest cricket stadium)
IGBC Gold (India's 1st cricket stadium with IGBC gold rating)
Tata Tiscon
 
Bihar Museum
GRIHA Rating
Lucknow Metro
IGBC Platinum
Indira Paryavaran Bhawan (MoEF's new office building)
LEED Platinum
Delhi Airport T3 Terminal
LEED Gold, IGBC Platinum (1st Carbon Neutral Airport in Asia)