The Indian Automotive Industry has made great strides over the past two decades and has emerged as one of the fastest growing markets in the world. Steel continues to be a material of choice for Auto makers with steel contributing to ~60-65% of the total raw material content in the average Indian vehicles. Recognizing the emerging need of automotive manufacturer, Tata Steel has heavily invested in new facilities, capabilities and infrastructure (upstream & downstream). Tata Steel has taken the lead in development of specialized products for the automotive segments such as micro-alloyed high strength steels, Interstitial Free (IF) steel and Galva Annealed for two-wheeler fuel tanks. We have been the first domestic integrated supplier of Hot Rolled high-strength steels and outer body panels for passenger vehicles. With the commissioning of JCAPCPL (a joint venture of TSL and NSSMC) and Kalinganagar plant, we are targeting to bring the next generation of advanced high strength steels (AHSS) to India.

Over the last 20 years, we have been the preferred supplier for all major automotive manufacturers and ancillaries in India, and aspire to maintain this leadership position in the automotive segment.
We are proud to partner with these brands: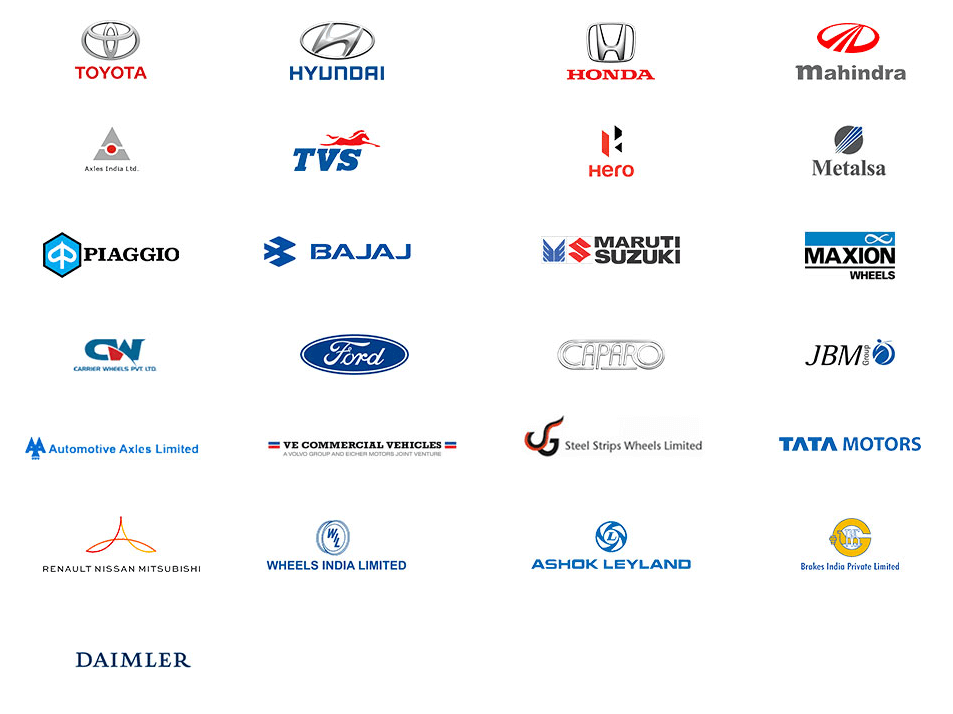 Products and Services
Hot Rolled Products: With wide product portfolio coupled with robust supply chain, Tata Steel has been able to maintain leadership position in Indian Automotive Market steel supply. Apart from supplying from the start of art hot rolled facilities at Jamshedpur (Hot Strip Mill & Thin Slab Caster), Tata Steel has also come up with a Hot Strip Mill at Kalinganagar, which has the capability of producing hot rolled steel up to 1200 Mpa. This would be a major boost for Indian automotive manufacturers in weight reduction exercises undertaken to either meet safety norms, emission norms or light weighting targets.

Cold Rolled Products: Tata Steel has been supplying Cold rolled as well as coated products since early 2000 to the automotive industry. This has helped in localisation over years by automotive manufacturers for outer body panels. With the changing needs of automotive industry, Tata Steel has set up a Joint Venture with NSSMC (called JCAPCPL) in Jamshedpur which is a continuous annealing line fully dedicated to automotive industry. This line is currently supplying cold rolled up to 590 Mpa(with capability up to 980Mpa).

Coated Products: Envisaging the upcoming demand in coated products in India, Tata Steel was the first domestic mill to set up a Continuous Galvanising line in Jamshedpur catering to automotive manufacturers. Tata Steel was the pioneer in developing Chromated-Coated steel for Fuel tank application for two wheeler Industry and have been supplying over a decade. Tata Steel has largely helped in localisation of outer panels.

R&D Capability: Tata Steel specialises in providing customized solutions to automotive manufacturers through Reverse Engineering of their blanking dies. Our investments in setting up R&D and Product Application Research labs are helping us provide cost-down-weight-reduction (CDWR) solutions and advanced technical support to auto customers and solve issues they face in their press/weld/paint shops. Tata Steel also creates value to automotive manufacturers through Blank Optimisation and Early Vendor Involvement program. Tata Steel also engage in Value Engineering activities partnering with customers by providing alternate grade solutions and generating value across the supply chain.
Awards received since 2016
Maruti Suzuki – Overall excellence award
Tata Motors - Overall excellence award
Hyundai Motor – Appreciation award
Renault – Nissan – Special Contribution award (raw materials)
Toyota Kirloskar Motor – Quality certificate
Bajaj Auto – Quality award (Gold category)
Honda Motorcycles & Scooters India – Appreciation award
Royal Enfield – Long Standing Association Award
Brakes India – Best Supplier Award (Raw Materials)