Tata Steel's Noamundi and Joda East Iron Mines accorded 5-Star rating for Sustainable Development for the year 2021-22
Noamundi/ Joda, March 07, 2023
~ Noamundi Mine bagged the 5-star rating for the seventh consecutive year ~
The Noamundi and Joda East Iron Mines of Tata Steel have been accorded 5-Star rating for sustainable development for the year 2021-22 by Indian Bureau of Mines (IBM). The Noamundi Mine received the honour for the seventh consecutive year.
The Ministry of Mines had launched the scheme of 'Star Rating of Mines' in 2016 for recognising miners and mining companies for their efforts and initiatives towards implementation of the Sustainable Development.
The awards were presented to Tata Steel on March 1, 2023, on the 75th Foundation Day of IBM in Nagpur. D. B. Sundara Ramam, Vice President, Raw Materials, Tata Steel, along with Shirish Shekhar, Chief, Noamundi Iron Mine and Saroj Kumar Banerjee, Chief, Joda East Iron Mine received the awards on behalf of Tata Steel from Shri Pralhad Joshi, Hon'ble Union Minister of Parliamentary Affairs, Coal & Mines.
D.B. Sundara Ramam, Vice President, Raw Materials, Tata Steel, said: "As a responsible miner, we continue to drive scientific mining leveraging technology and benchmark practices. We are delighted to receive this honour which will further strengthen our resolve to pursue a greener, better tomorrow."
Tata Steel's Noamundi and Joda East Iron Mines have been industry leaders in implementing cutting-edge technologies and best mining practices. The mines use advanced mining software, drone technology, fleet management systems, remote-controlled drills, and real-time quality monitoring systems, among various other initiatives, to achieve benchmark performance. Multiple community initiatives have also been undertaken to ensure education and skill development, health and sanitation, livelihood, skill development, and overall welfare of people residing in nearby villages.
On the occasion, D. B. Sundara Ramam announced new initiatives to promote diversity and employee safety, including operating mines with women and transgender individuals and introducing Suraksha card for employee safety in mines.
Notes
Some of the notable pioneering initiatives in Noamundi and Joda include:
Commissioning of a 3.3 MW Solar power plant over the mined-out area
Reclamation and Rehabilitation of 126 Ha of land at Hill #1 and Hill #2
Rainwater Harvesting Pond for ground water recharge
Use of electric vehicles (EVs) in Mines
Fostering diversity and inclusion: Employed 46 female employees as HEMM operators and various other core mining operational functions across all shifts
Use of Paste thickener at Joda has helped the unit by enabling re-use of wastewater and thereby significantly reducing make up water consumption
Fleet management system has helped both the units by optimising diesel consumption in HEMM fleet and thereby reducing carbon footprint
Scientifically designed site-specific rainwater harvesting structures for recharging ground aquifers
These initiatives have been aimed at promoting sustainable mining practices, conserving the environment, and ensuring the well-being of the local community.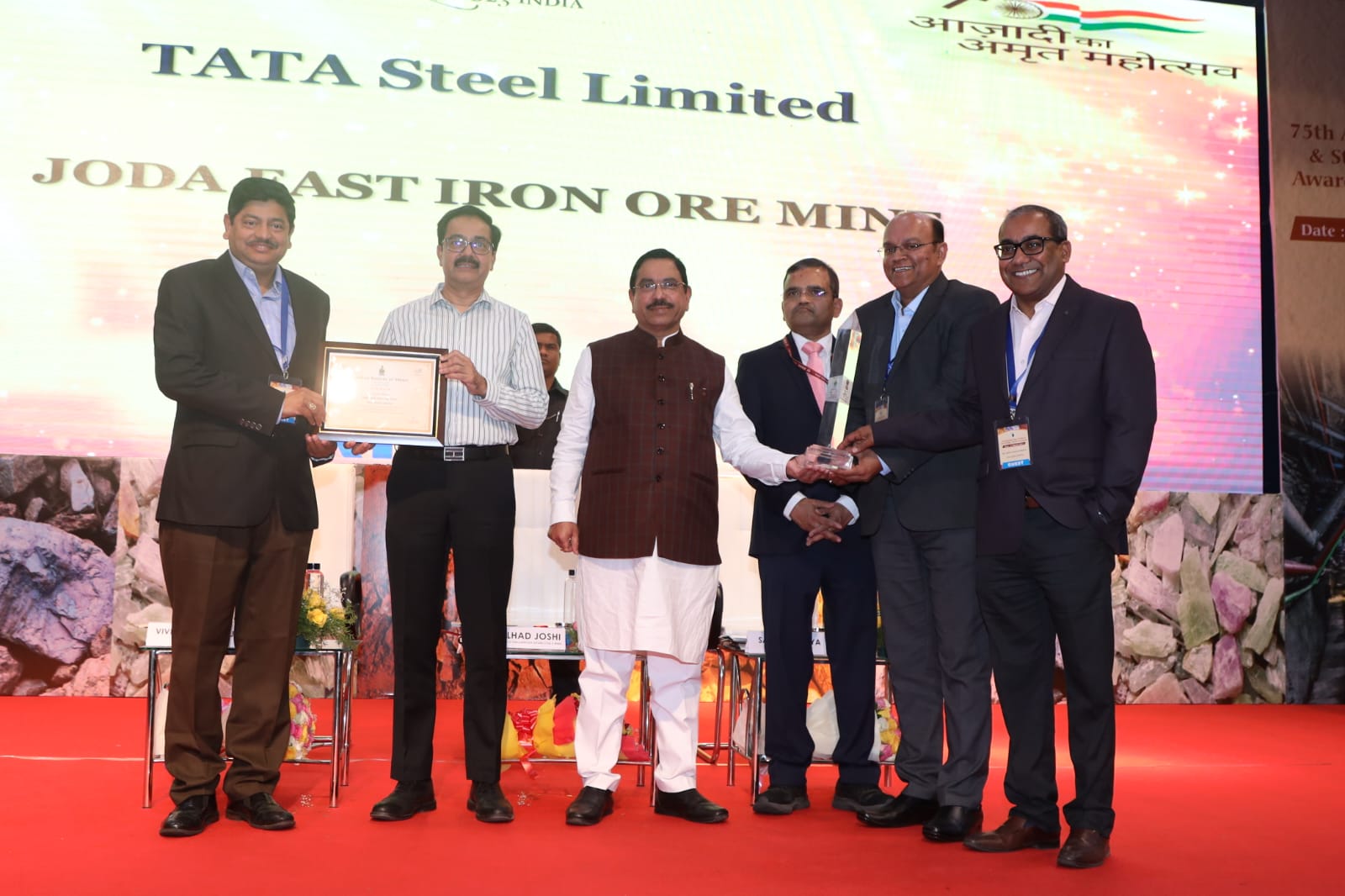 Disclaimer:

Statements in this press release describing the Company's performance may be "forward looking statements" within the meaning of applicable securities laws and regulations. Actual results may differ materially from those directly or indirectly expressed, inferred or implied. Important factors that could make a difference to the Company's operations include, among others, economic conditions affecting demand/ supply and price conditions in the domestic and overseas markets in which the Company operates, changes in or due to the environment, Government regulations, laws, statutes, judicial pronouncements and/ or other incidental factors.
For queries and information
Sarvesh Kumar,
Chief Corporate Communications - Tata Steel,
E-mail : sarvesh.kumar@tatasteel.com
About Tata Steel
Tata Steel group is among the top global steel companies with an annual crude steel capacity of 34 million tonnes per annum
It is one of the world's most geographically diversified steel producers, with operations and commercial presence across the world
The group recorded a consolidated turnover of US $ 32.83 billion in the financial year ending March 31, 2022
A Great Place to Work-CertifiedTM organisation, Tata Steel Limited, together with its subsidiaries, associates, and joint ventures, is spread across five continents with an employee base of over 65,000
Tata Steel has announced its major sustainability objectives including Net Zero Carbon by 2045, Net Zero Water consumption by 2030, improving Ambient Air Quality and No Net loss in Biodiversity by 2030.
The Company has been on a multi-year digital-enabled business transformation journey intending to be the leader in 'Digital Steel making by 2025'. The Company has received the World Economic Forum's Global Lighthouse recognition for its Jamshedpur, Kalinganagar and IJmuiden Plants.
Tata Steel aspires to have 25% diverse workforce by 2025. The Company has been recognised with the World Economic Forum's Global Diversity Equity & Inclusion Lighthouse 2023
The Company has been a part of the DJSI Emerging Markets Index since 2012 and has been consistently ranked amongst top 10 steel companies in the DJSI Corporate Sustainability Assessment since 2016
Tata Steel's Jamshedpur Plant is India's first site to receive ResponsibleSteelTM Certification
Received Prime Minister's Trophy for the best performing integrated steel plant for 2016-17, Steel Sustainability Champion recognition from worldsteel for five years in a row, and 'Most Ethical Company' award 2021 from Ethisphere Institute
Recognised with RIMS India ERM Award of Distinction 2021, 'Masters of Risk' - Metals & Mining Sector recognition at The India Risk Management Awards for the sixth consecutive year, and Award for Excellence in Financial Reporting FY20 from ICAI, among several others
Photographs: Management and Plant facilities
Logos: Files and usage guidelines 
Website: www.tatasteel.com and www.wealsomaketomorrow.com