Tata Steel bags Business Today's 'Best Company To Work For' Award
Mumbai, February 27, 2018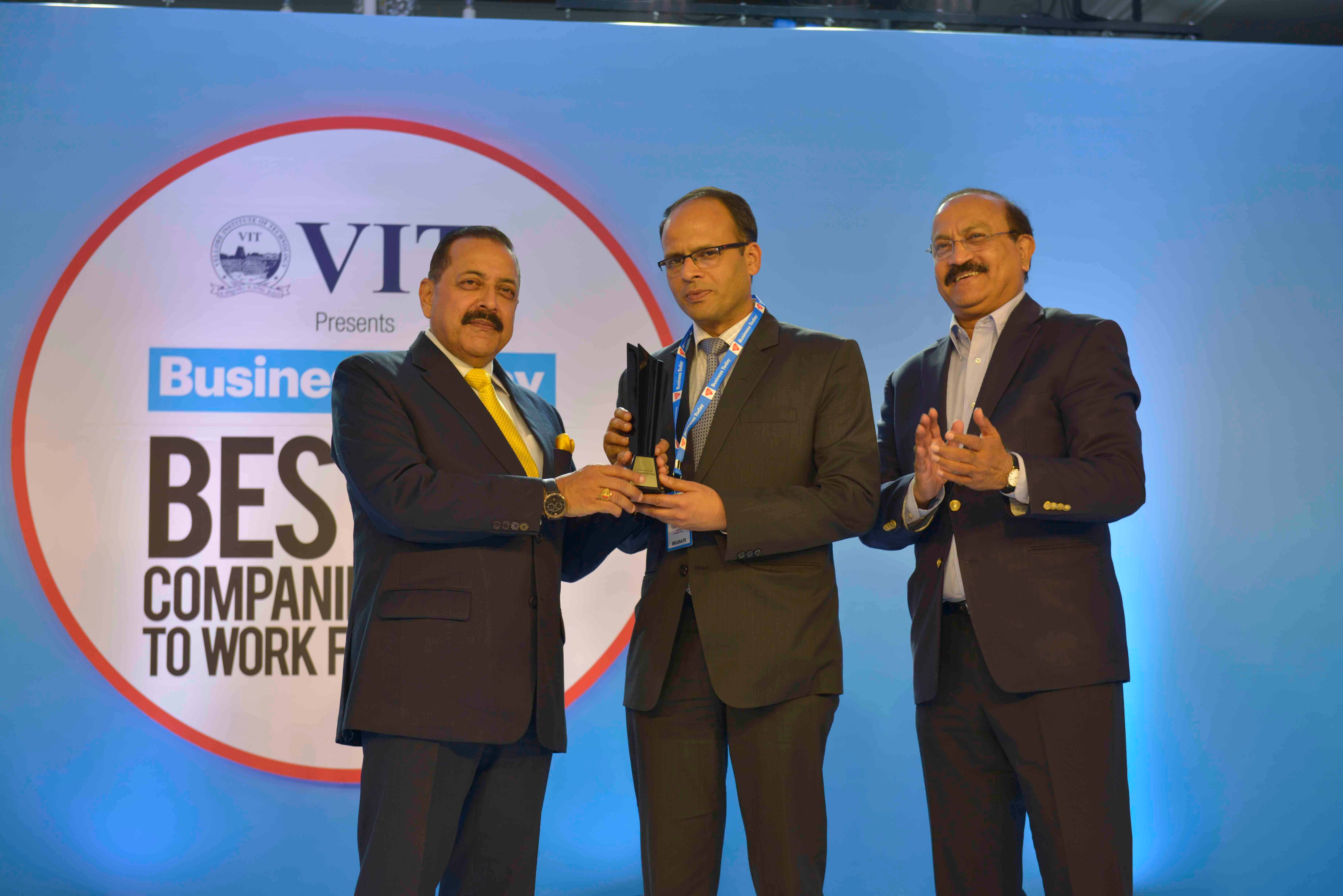 Tata Steel has been bestowed with the 'Best Company To Work For' Award in the core sector at Business Today's Best Companies to Work award ceremony held recently in New Delhi. The award was received by Mr. Prakash Singh, Chief Capability Development, Tata Steel. Tata Steel has been ranked at #7 in the Top 25 overall (across sectors) list of best companies to work for.
"It is an honour for Tata Steel to be recognised as the 'Best Company To Work For' in the core sector. Our employees are the most valuable asset as they reinforce a competitive advantage for the Company globally. Our best practices aim to ensure overall employee development, welfare as well as work satisfaction. Such awards encourage us to continue our journey of employee empowerment and overall welfare to achieve enhanced business performance and uphold Tata values through transparency and fairness", said Mr. Suresh Dutt Tripathi, Vice President, HRM, Tata Steel
The prime focus of Tata Steel's pioneering HR practices and policies is on people development & growth and employee relations. Human Resource Management at Tata Steel is a strategic partner within the organisation, to facilitate recruitment and retain the best talent across geographies. Over the years, the Company has focused on several critical facets of human resource such as learning and development, on-the-job training, performance management and succession planning.
With an aim to improve gender diversity and include more women in the Company's workforce, Tata Steel launched 'Women of Mettle', Scholarship programme for female engineering students, introduced maternity benefits, work from home option, extension of additional privilege leave to non-officer lady employees amongst many other measures.
The organisation strives to build a work environment that focuses on creating an engaged, diversified, productive and healthy workforce through employee friendly initiatives like five-day work week, 26-week maternity leave, nursing breaks, additional privilege leave for female employees with children aged five years or less, paternity leave, satellite working, sabbatical policy, activities under the adventure foundation for management trainees and free medical for employees and their family which have existed for long. These initiatives largely encompass Tata Steel's belief in keeping employees contented and motivated to contribute to business goals of the Company in the long-run.
About Tata Steel
Tata Steel Group is one of the world's largest steel companies with a steel production capacity of approximately 27.5 million tonnes per annum (MnTPA) as on March 31, 2017. It is a geographically-diversified steel producer, with operations in 26 countries and a commercial presence in over 50 countries. The Group recorded a revenue of INR 117,420 crore in FY17. Tata Steel Group has an employee base of nearly 70,000 employees as of March 31, 2017. Tata Steel has successfully challenged the Deming Grand Prize in 2012, received the Prime Minister's Trophy for the 'Best Performing Integrated Steel Plant', 'Greenco Platinum Rating' by CII Green Building Council for environmental performance at Jamshedpur steelworks, 'Best Place To Work' in the core sector (steel, oil, power and minerals) by Business Today (2017), 'World's Most Ethical Company' award from the Ethisphere, USA (2017), among several others.
Tata Steel Limited is proposing, subject to market conditions and other considerations, a rights issue of its ordinary shares and has filed a Letter of Offer with SEBI and the Stock Exchanges. The Letter of Offer is available on the website of SEBI at www.sebi.gov.in and the websites of the Lead Managers to the Issue at http://www.investmentbank.kotak.com, http://www.axiscapital.co.in, http://www.hdfcbank.com, http://www.icicisecurities.com and http://www.sbicaps.com. Investors should note that investment in equity shares involves a high degree of risk and are requested to refer to the section titled "Risk Factors" on page 11 of the Letter of Offer for details of the same. The securities offered via the Letter of Offer are not being offered to investors outside of India and recipients of the Letter of Offer should refer to the offering restrictions noted therein.
Disclaimer
Statements in this press release describing the Company's performance may be "forward looking statements" within the meaning of applicable securities laws and regulations. Actual results may differ materially from those directly or indirectly expressed, inferred or implied. Important factors that could make a difference to the Company's operations include, among others, economic conditions affecting demand/ supply and price conditions in the domestic and overseas markets in which the Company operates, changes in or due to the environment, Government regulations, laws, statutes, judicial pronouncements and/ or other incidental factors.