Tata Steel inaugurates the Fourth Edition of Tribal Conclave at Jamshedpur
Jamshedpur, November 15, 2017
~ Samvaad goes international this year~
This edition of Samvaad will draw tribal representatives internationally from Australia, Canada, Kenya Laos and Zimbabwe
Food festival, powered by Taj Group to include cuisines of four tribal communities – a first-ever at Samvaad
Five-day conclave to feature action-packed tribal sports—Naga Wrestling, Hambi Kepathu, Kati and Sekkor
103 tribes from 127 districts representing 21 Indian states to converge at Samvaad this year
`Aspiration of Tribal Youth & Leadership for Future' to be the theme for this year's edition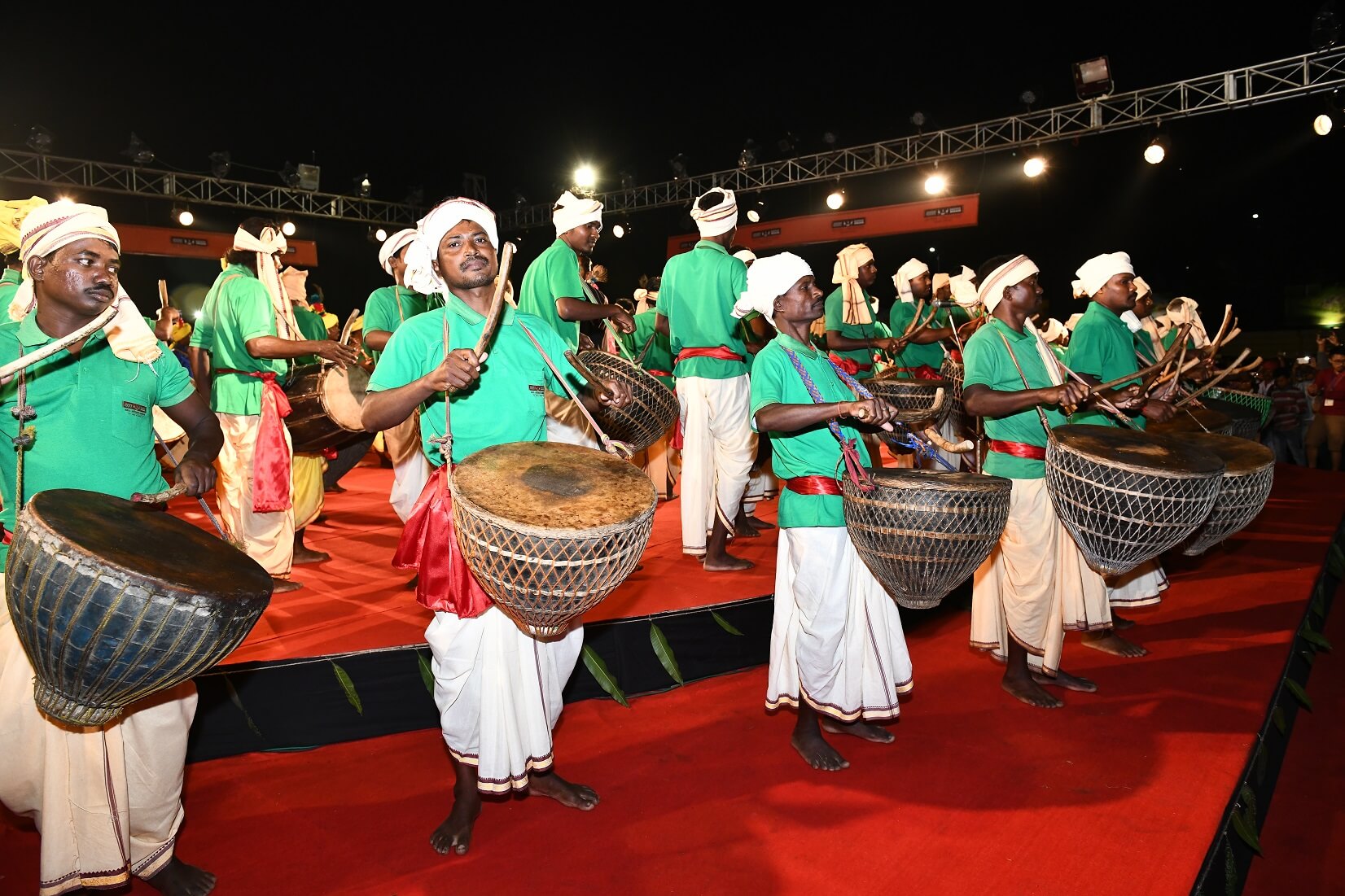 Tata Steel today inaugurated the fourth edition of its Tribal Conclave 'Samvaad' 2017. The event was unfolded traditionally to the beat of 111 Nagadas (kettle drums) at Gopal Maidan, Bistupur. The theme for Samvaad 2017 is `Aspiration of Tribal Youth & Leadership for Future'. The opening ceremony was attended by tribal guests and opinion leaders, senior executives from Tata Steel and Group companies, among others.
Marking a significant change from the last editions, Samvaad this year aims to draw tribal representatives internationally from Australia, Canada, Kenya, Laos and Zimbabwe. The visitors at Samvaad will also be able to catch some sporting action across November 16-19. Thanks to National Tribal Sports Festival, a first-ever feature would be four action-packed tribal sports—Naga Wrestling (Chakhesang tribe, Nagaland), Hambi Kepathu (Karbi tribe, Assam), Kati (Santhal tribe, Jharkhand and Odisha) and Sekkor (Ho tribe, Jharkhand).
Mr Sunil Bhaskaran, VP, Corporate Services, Tata Steel while addressing the gathering said, "This is the fourth edition of Samvaad and the theme for this year welcomes tribal youth to share their personal stories.  We look forward to cross pollination of ideas and participation of tribal leaders not just from India but from five different countries as well."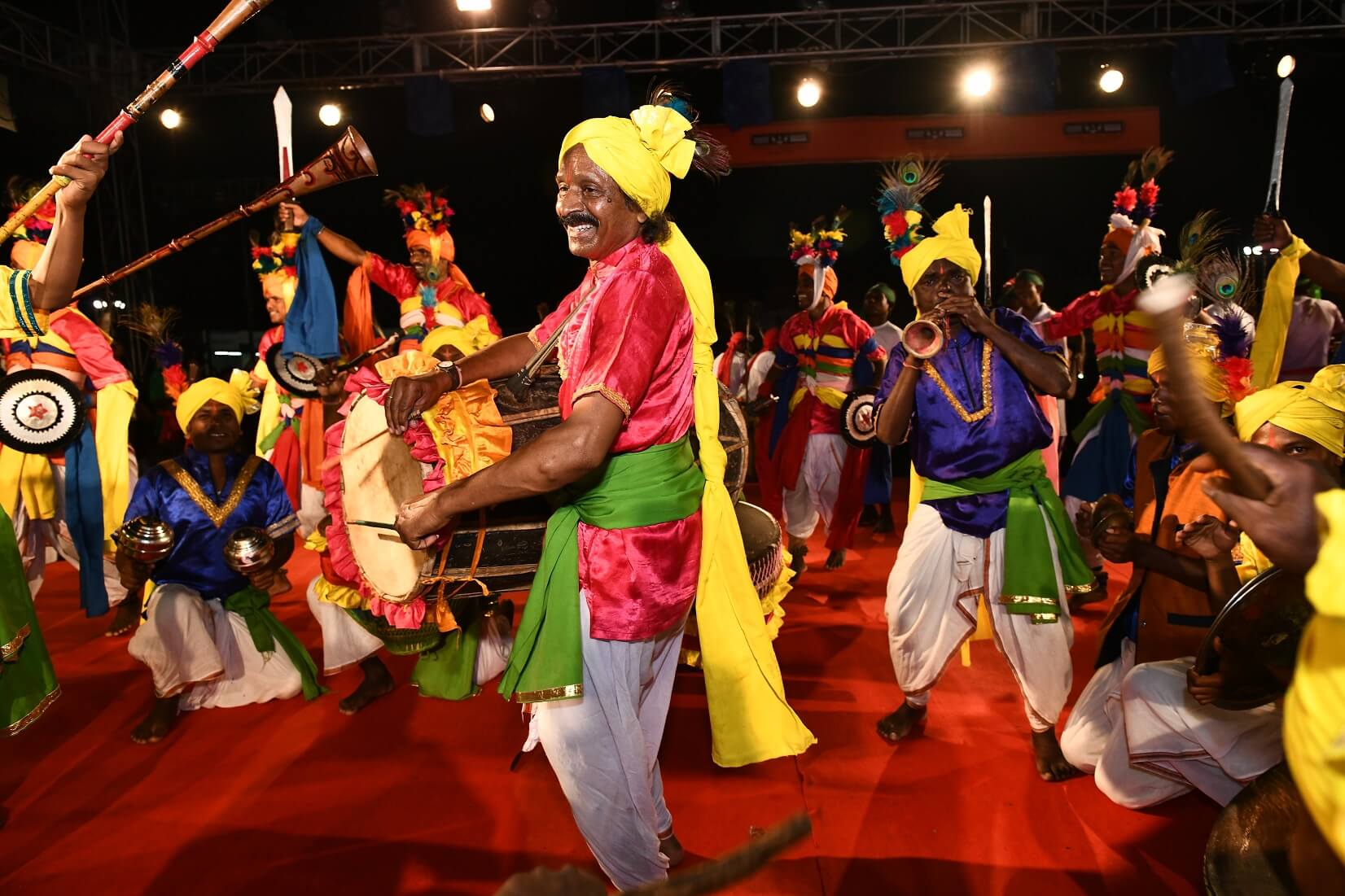 The event will witness an exchange of thoughts on critical issues including malnutrition, tribal medicine, livelihood, indigenous culture, heritage, arts and inheritance with the visiting guests and India's very own tribal communities who will travel from the length and breadth of India. 103 tribes from 127 districts representing 21 Indian states will be converging at Samvaad 2017. As part of this year's theme, 500 tribal youth including young men and women representing 103 tribes would go through a structured leadership programme which will be imparted through a series of workshops that would be conducted by eminent subject matter experts at Tribal Culture Centre, Sonari. The young lot will be sharing their tales of transformation, struggles, sacrifices and successes. The likes of Nobel laureate Muhammad Yunus, Padma Shri Shantha Sinha etc will delve deep in discussions with these youths to bring out the best in them.
Mr Biren Bhuta, Chief, CSR, Tata Steel further added, "Tribals representing various indigenous communities have gathered here for the 4th edition. Samvaad celebrates the very essence of being tribal and will help preserve and celebrate the individual identity of all tribal people representing their communities."
Age-old medicines, on which tribal communities deeply rely on despite modern healthcare services, can be observed from close quarters at an exposition on tribal medicines at Gopal Maidan. Those looking for fulfilling their gastronomical urges, Tribal Food Festival at Samvaad would be the place to be. Facilitated by the Taj Group of Hotels, the Food Festival will dish out authentic tribal cuisines. This venue will erupt in multifarious colours each evening, with cultural performances that will be staged by tribal artistes on all five days. Adding to the excitement at this venue will be a handicraft exhibition-cum-sale.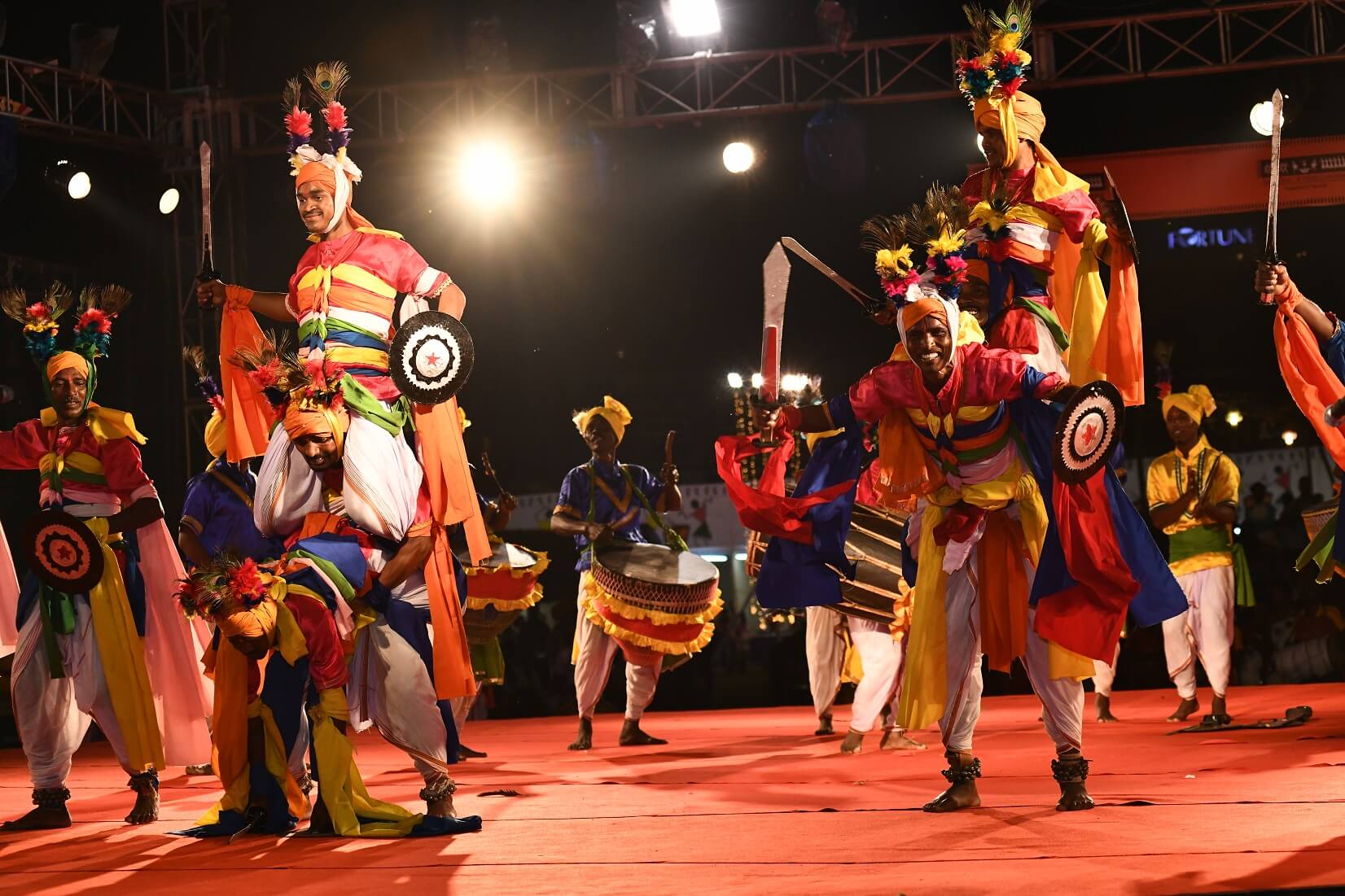 Highlights of Day#1 of Samvaad:
November 15, 2017
Traditional inauguration

Prayer by Durga Prasad Murmu
Prayer by Australian aboriginal, Mr John Corowa
Unveiling of 'Jawa' (rice plant)
Beating of 111 Nagaras in unison
Colours of Jharkhand
Dance Performances by Siddhis and Sahariyas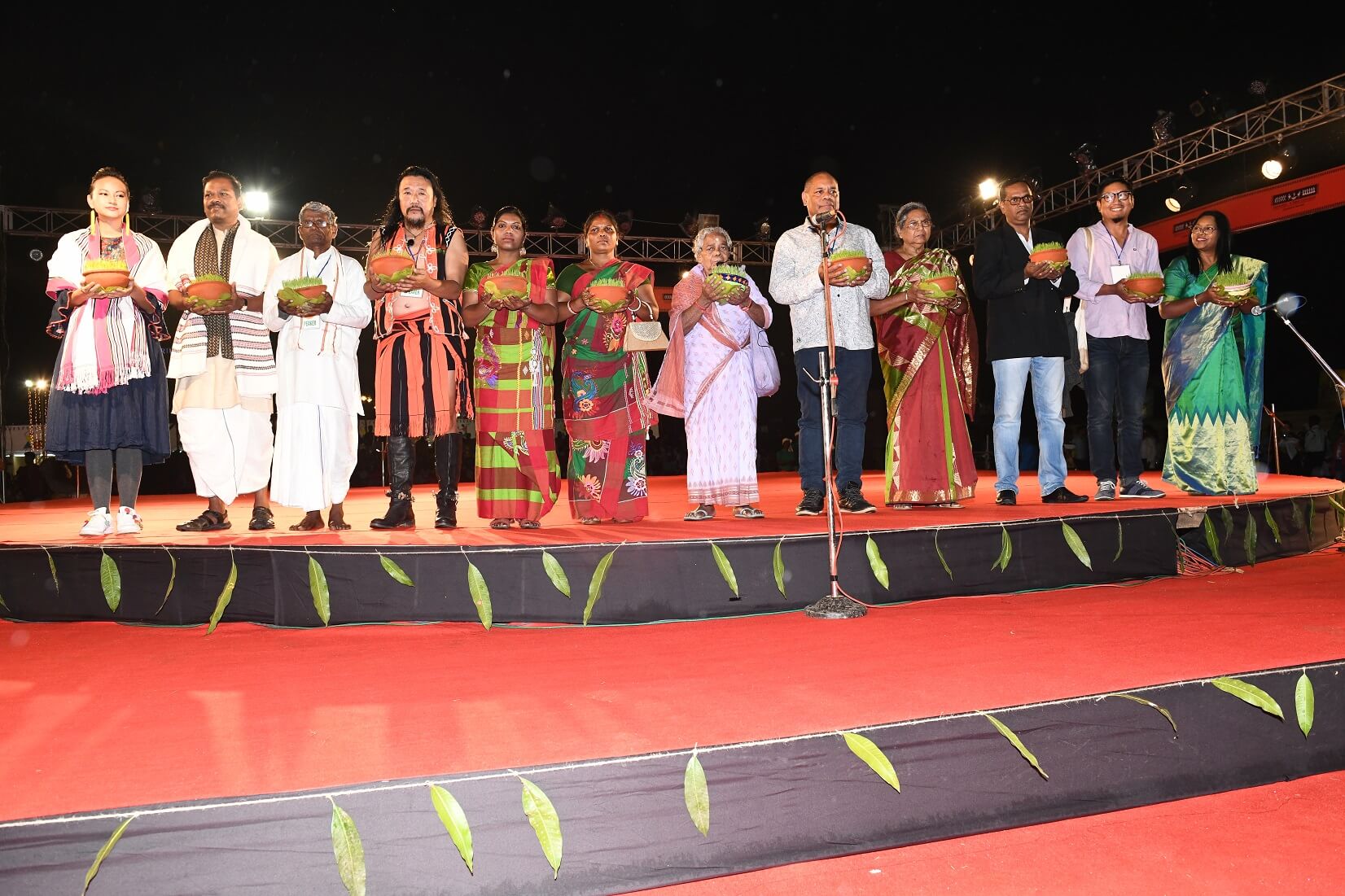 From 3 p.m. to 9 p.m.:

37 stalls of tribal handicrafts
21 stalls of tribal medicine healers
20 food stalls, of which 10 stalls of tribal cuisines
About Tata Steel
Tata Steel Group is among the top global steel companies with an annual crude steel capacity of 27 million tonnes per annum (MTPA) as on March 31, 2017. It is the world's second-most geographically-diversified steel producer, with operations in 26 countries and a commercial presence in over 50 countries. The Group recorded a consolidated turnover of US $18.12 billion (INR 117,420 crore) in FY17. Tata Steel Group is spread across five continents with an employee base of nearly 74,000. Having bagged the Deming Application Prize and Deming Grand Prize for continuous improvement in 2008 and 2012 respectively, Tata Steel has now been recognised as the global 'Industry Leader' in 'Steel category' by Dow Jones Sustainability Index (2015). Besides being a member of the World Steel Climate Action Programme, Tata Steel has also been felicitated with several awards including the Prime Minister's Trophy for the best performing integrated steel plant for 2013-14 (received in 2017), Best Risk Management by CNBC TV18 (2016), 'Best-in-class Manufacturing' award from TIME India (2016) and the 'Most Ethical Company' award from the Ethisphere Institute (2016), IIM Sustainability Award (2015), among several others.
Chief,
Corporate Communications, India & SEA