Tata Steel hands over ready to use therapeutic food for malnutrition children to DC West Singhbhum
Chaibasa, August 16, 2017
In an effort to curb malnutrition in the state of Jharkhand, Tata Steel today handed over RUTF (Ready to Use Therapeutic Food) to the Deputy Commissioner (DC) of West Singhbhum at Malnutrition Treatment Centre (MTC) Chaibasa (Sadar).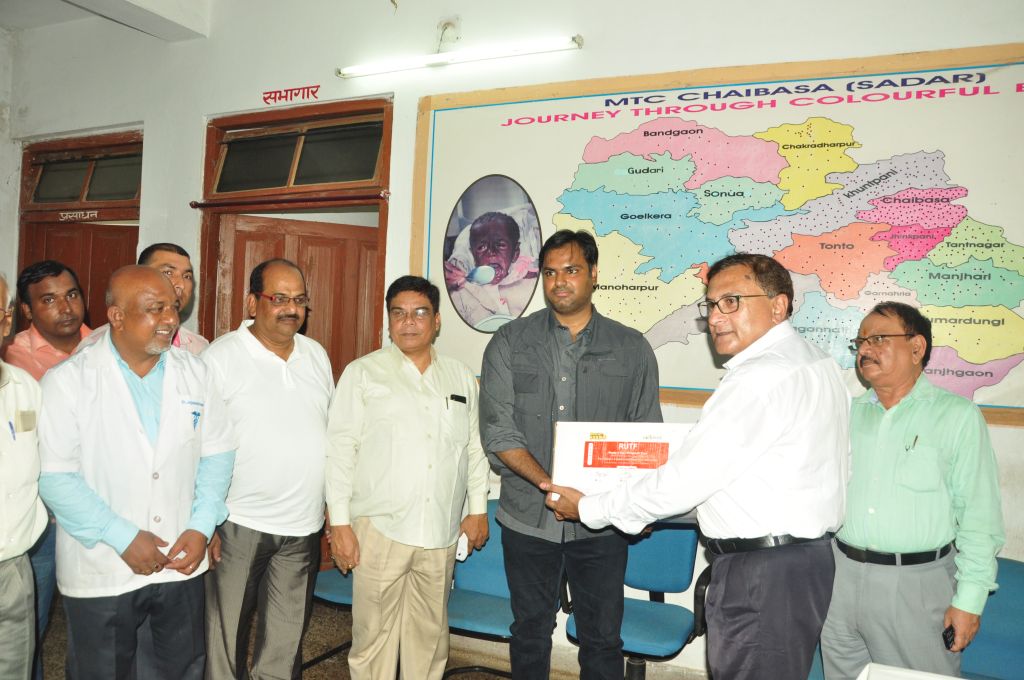 The RUTF carton was handed over by Mr Niloy Mitter, Head, Health & TQM, Corporate Social Responsibility, Tata Steel to Mr Arava Rajkamal, DC of West Singhbhum  in the presence of Dr Himanshu Bhushan Barwar, Civil Surgeon,West Singhbhum, Mr Neeraj Kumar, District Programme Manager, West Singhbhum, Ms Gloria Ekka, Child Development Project Officer (CDPO), Chaibasa, Dr Jagannath Hembrom, Nodal Officer of MTC in West Singhbhum, Mr Ramnath Ray, Regional Consultant of UNICEF, Kolhan and Dr Dhirendra Kumar, Chief Medical Officer of Tata Steel Noamundi Hospital, among others.
Speaking on the occasion, Mr Rajkamal lauded the efforts of Tata Steel in helping the government to curb malnutrition in the state. Mr Rajkamal said: "I thank Tata Steel for initiating this positive intervention. We should take aggressive steps to remove the very source of malnutrition in the state. There are 700 children in Khutpani block who are malnourished. Depending upon the success of the programme, we would cover other blocks in the West Singhbhum district."
Mr Niloy Mitter said : "Tata Steel offers preventive, promotive and curative healthcare services in its operational areas across the state of Jharkhand and Odisha. This is one such healthcare initiative to curb malnutrition in the 115 villages of Khutpani block, where the number of malnutrition cases is the highest. This is Tata Steel`s first pilot venture for SAM children in the state of Jharkhand."          
Tata Steel, UNICEF and the Jharkhand State Nutrition Mission (JSNM) have come together to take care of Severe Acute Malnourished (SAM) children in Jharkhand. The distribution of RUTF will be done by JSNM through the existing government structures and the distribution will be handled through CDPO to Angadwadi centres in the block.
Tata Steel provided 1350 cartons of RUTF worth Rs 55 lakh for the Khutpani block of West Singhbhum district of the state. This has been taken up as a pilot initiative of C-MAM (Community based Management of Acute Malnutrition) in Khutpani block.  The RUTF is a World Health Organisation recommended ready-to-eat paste for SAM children. The paste, a mix of peanut with dried skimmed milk, vitamins and minerals, provides high micro-nutrient support to children and can be stored for three to four months.