NEW WEIGH BRIDGE INAUGURATED AT TUBES DIVISION
Jamshedpur, August 16, 2017
Tubes Division, a Strategic Business Unit of Tata Steel Limited, is a leading steel tube producer in India. The SBU, promoted in 1954 as 'The Indian Tube Company by Tata Steel in collaboration with M/S Stewarts and Lloyds of UK, was merged with Tata Steel in 1985.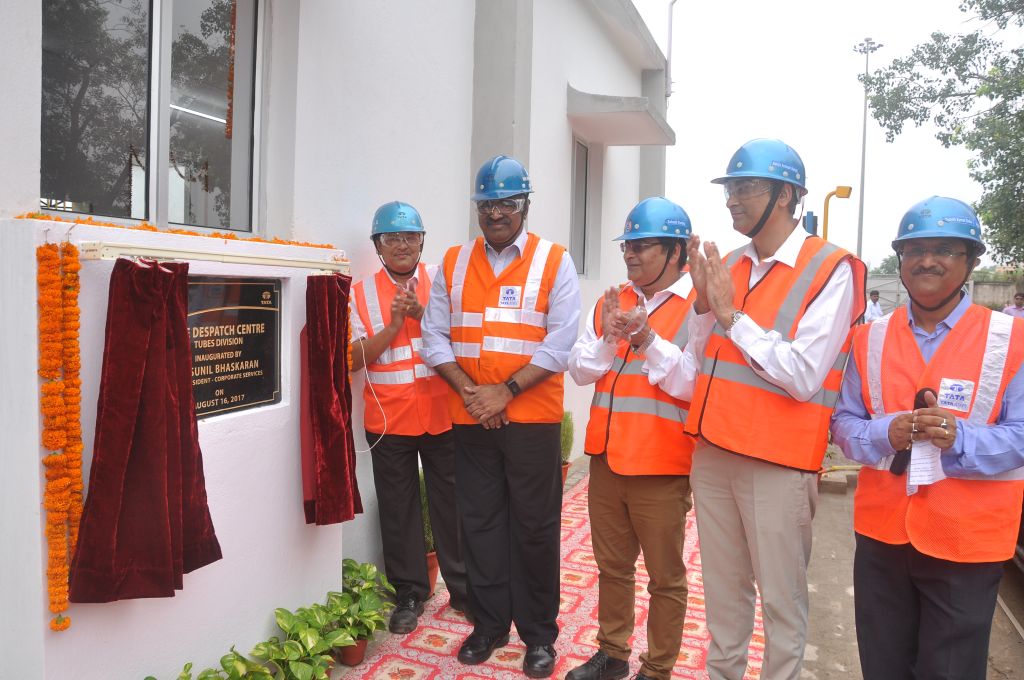 A newly constructed 100 T Weigh Bridge was inaugurated at Tubes Division today by Mr.Sunil Bhaskaran, Vice President,  Corporate Services, Tata Steel, in the presence of Mr Subodh Pandey , EIC-Tubes ,Mr Abhijit A Nanoti, Chief-Supply Chain & EPA , Mr Nishith K Sinha , Head-Improvement .& Projects and Mr Saroj Singh, UCM. Speaking on the occasion, Mr.Bhaskaran appreciated the fast execution of the Project. He also congratulated the Tubes team for digital initiatives taken by them.  In his talk, Mr.Subodh Pandey gave details about the Project and explained it's importance in the Tubes system. He applauded the team work which made it possible for the early execution of the Project.
The significance of the new Weigh Bridge lies in the improvement it would bring about to the existing situation. Currently, the inbound and outbound movement of material is operated through an existing 60 T Weigh Bridge installed near the Main Entrance Gate of the Division. The existing location has the following concerns/constraints:
All heavy vehicles enter the plant along with the passenger vehicles of employees and visitors causing congestion which could also lead to a Safety issue.
During "No Entry" timings, the vehicles cannot ply from HSM Transport Park (approx. 200 mtr. away from Main Gate) to Tubes. This forces the Division to take all the vehicles inside Works during "Free Entry" time, leading to congestion at gate because of queuing.


The new Weigh Bridge is situated near the Western Gate. To avoid the 'NO ENTRY' issues.  a transport park has been developed for Tubes Division along with Jamshedpur Transport Trust (JTT) as operating partner.
The key salient points and benefits of these initiatives are as under:
Better layout with the movement of the heavy vehicles as per the process sequence.
In the revised layout, trucks are entering near FG storage and exiting from the same side.
With the start of new transport park, vehicle movement from Jamshedpur City to Tubes
Division is decoupled with the 'No Entry'.
Reduction in near misses and incidents pertaining to Road Movement.


AWARDS & ACCOLADES WON BY TUBES DIVISION IN THE RECENT PAST
The CII Strong Commitment to HR Excellence in 2015.
"India's Most Trusted Brand 2016" by International Brand Consulting Corporation, USA at Mumbai.
"The Best Company of the Year" for its contribution to the Construction Industry by the Construction Times Awards 2016 at New Delhi.