TFA cadet qualifies for India Under-16 Football Team
Jamshedpur, August 18, 2017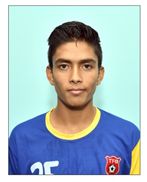 We are pleased to inform that Mr. Ravi Bahadur Rana, cadet TFA has been selected to represent the India U-16 football team in the South Asian Football Federation Cup (SAFF) U-16 Championship in Nepal from 18th to 27th August 2017.
Ravi Bahadur Rana was shortlisted during the Mahilpur trials held in February 2016 by TFA Coach – Indranil Chakraborty. Ravi appeared in the final trials at Jamshedpur and was formally inducted in the 14th batch of Tata Football Academy in July 2016. He is the first cadet from Jammu and Kashmir who has made it into Tata Football Academy.
In July 2017, All India Football Federation (AIFF) invited TFA to play a friendly match against the India U17 World Cup team at Delhi. Though TFA lost the match, four  cadets of TFA, Ravi Bahadur Rana,  Samarjit Singh, Sahib Malik and Gaurab caught the attention of India's FIFA U-17 World Cup coach Luis Norton de Matos. He was so impressed that he immediately arranged for the cadets to join the National Camp at Goa. In the preparation matches played at Goa, Ravi scored 6 goals in 4 matches. He even scored a hat trick in one match.
Ravi Bahadur Rana has a sound technical ability which is expected to grow further and a good height. He is into his formative years and has an advantage of learning faster than others. The coaches see a lot of potential in the boy to grow as a fine mid fielder