Tata Steel Kolkata 25K (TSK25K) witnesses enthusiastic participation
Kolkata, December 18, 2016
~G Lakshmanan and Monica Athare win the 3rd edition of TATA Steel Kolkata 25K~
~10089 runners take the start line; Puma Legend Boris Becker, Face of the Event Sourav Ganguly set race on fire~
A new course record was set by G Lakshmanan at the third edition of TATA Steel 25K, event as 10,089 participants came out today to turn the historic Red Road into a veritable track on a nippy winter morning here in Kolkata.
The top three men all broke the course record set by Nitinder Singh Rawat in the first edition with a timing of 1.19:39 hr. G Lakshmanan came first with a timing of 1.17:16 hr, followed Srinu Bugata 1.17:18 hr and Baliappa A B 1.17:24 hr. However, the woman's record set by Sudha Singh 1.27:31 hr stands. Monica Athare came first with the timing of 1.34:15hr, followed by Jyoti Gawte 1.35:34 hr and Monika Raut 1.35:37 hr.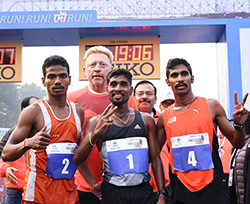 In fact, the top five men better the record set by Rawat two years back. Man Singh finished on 1.18:40 hr, while Abhishek Pal finished on 1.18:42 hr. Pal, who is a talent scout from the Elite Distance Running programme by Procam International, said: "It feels good to beat the record set previously. I will try to be in top three next year." The top Indian athletes vied for the prize purse of Rs 21,21,000. The first prize for both men and women is Rs 2,50,000 each, while the second and third for both are of Rs 1,75,000 and Rs 1,00,000 each. In addition, G Lakshmanan will also take a course record bonus of Rs 50,000.
TATA Steel Kolkata 25K was graced and flagged-off by Hon'ble Governor of West Bengal Keshari  Nath Tripathi, Sports and Youth Affairs Minister Arup Biswas, Minister of Sports Lakshmi Ratan Shukla and Prasun Mukherjee, President, Bengal Athletic Association. Also present were Mr. T V Narendran, Managing Director, Tata Steel India and South East Asia, Mr. Chanakya Chaudhary, Group Director, Corporate Communication and Regulatory Affairs, Tata Steel, Mr.  Peeyush Gupta, Vice-President Marketing and Sales, Tata Steel and Mr. Sunil Bhaskaran, Vice-President, Corporate Services, Tata Steel.
Mr TV Narendran, MD, Tata Steel India & SEA, was among the runners in the 10K Run Category. Post successful completion of the run, Mr TV Narendran said: "At Tata Steel, sports has always been a way of life and, over the years, we have supported all kinds of sports. We are extremely happy to witness the response to the third edition of TSK25K which makes us even more determined to support such events in the future, in Kolkata, Bhubaneswar and in Jamshedpur. He added: "Running is one of the easiest sports one can participate in and we are extremely happy that India is catching on to it fast. It is a hugely popular sport overseas where people come out and be part of the carnival and the response of India in the past decade has been very encouraging. I finally thank Kolkata to have come out and become a part of TSK25K".
"I was confident that I will better the record. I have been in good form over the last few months and had no fitness issues. It feels great to win this unique distance. It is a good test of both endurance and speed and I am happy that I have done the job well," said G Lakshmanan. Monica Athare who is seeing this meet as a stepping stone to the Marathon world championship was happy with her performance. "It was a satisfying run. This was the first time I was running 25K. The run also gave me a scope to assess my chances in the full marathon," Monica said.
Earlier, before the flag off, the participants had a double bonanza with Puma legend Boris Becker and face of the event Sourav Ganguly coming together to flag-off the athletes.
"Running is a way of life. I ran a lot when I did sports actively. It is a healthiest way of life. I am so amazed to see so many come out in such numbers. I am associated with the TSK 25K for the last four months and and I am so pleased to see that they have done such a good job," said Sourav Ganguly.
"Today, India is witnessing a running revolution. I have always believed that running is the best way to stay fit. It is also the easiest way to lead a healthy life. I am just thrilled to be in this city and it was great to see the enthusiasm displayed by these runners to be a part of this running movement," said Boris Becker.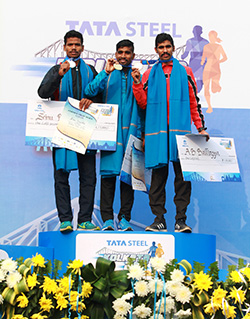 The third edition of the event received an over-whelming response from the city of Joy across categories 25K Elite- 31, 25K - 1332, Open 10K—3825, Ananda Run—4489, Police Cup—96, SCR—243 and CWD—73 in addition to the elite line-up.
To borrow a quote from Shakespeare, as the "hurly burly's done, when the battle is lost and won" the Maidans lie in eager wait for the next winter to set in for another high of 'Run Run…Douran'. 
Following are the results:
Indian Elite Men:
Lakshmanan G (IND) 01:17:16 (NCR); Srinu Bugatha (IND) 01:17:18; Balliappa A B (IND) 01:17:24; Man Singh (IND) 01:18:40; Abhishek Pal (IND) 01:18:42; Damor Mohan Bhai (IND) 01:19:58; Suleman (IND) 01:20:01; Satyendra Kumar Patel (01:22:18); Govind Singh (IND) 01:23:48; Bhagesh Bharat Patil (IND) 01:24:49.
Indian Elite Women:
Monika Athare (IND) 01: 34:15; Jyoti Gawte (IND) 01:35:34; Monika Raut (IND) 01:35:37; Kiranjit Kaur (IND) 01:39:48; Jayshree Boragi (IND) 01:46:34.
Police Cup:
Winner: Team 10 (Laxman Chandra Roy, Bachhu Durlav & Sushoban Hazra) 02:04:37.
1st Runner up: Team 29 (MD Wazed Ali, Sukchand Shaikh & Toyasin Molla) 02:08:11.
2nd Runner up: Team 21 (Amiya Biswas, Sagar Mukhia & Dipankar Mandal) 02:14:31.
Jabong Run in Costume:
Solo Winner
Kritika Sethia (Women Empowerment)
Group Winner
Shrimad Rajchandra Love & Care (Transforming Lives)
1st Runner up: CRY
About Tata Steel
Tata Steel Group stands among the top global steel companies with an annual crude steel capacity of 28 million tonnes per annum (MnTPA) and a turnover of US $17.69 billion in FY16. It is the world's second-most geographically-diversified steel producer, with operations in 26 countrie