SPPE organises 8th Hindi Elocution Competition
Mumbai, July 27, 2016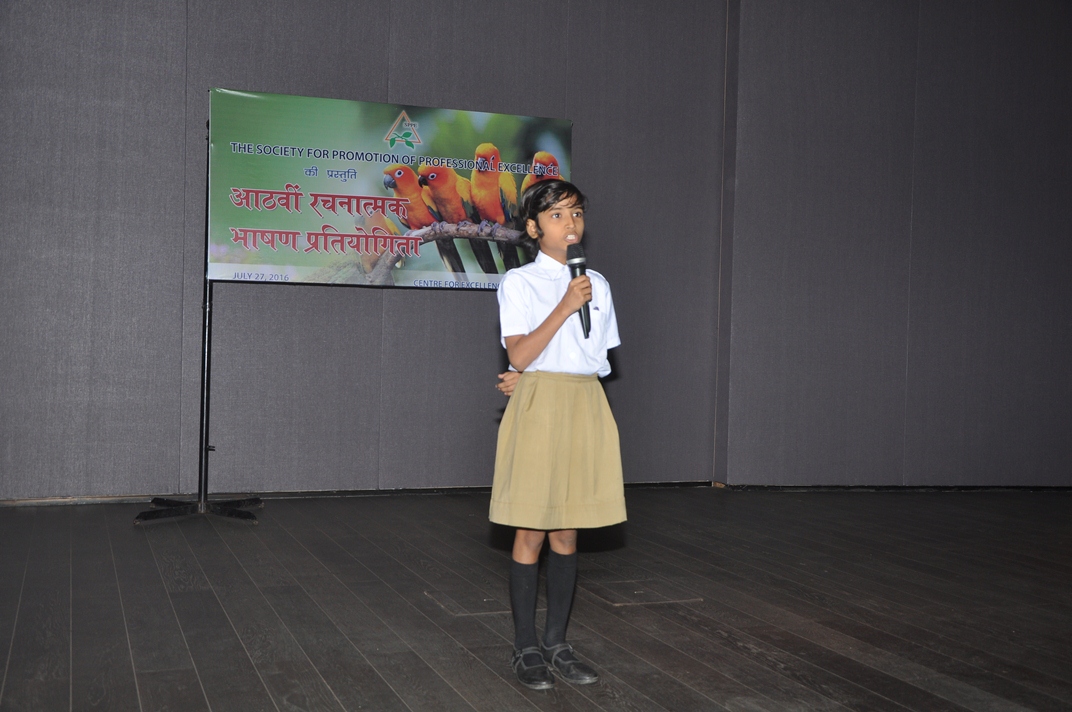 The Society for Promotion of Professional Excellence today organized 8th Hindi Elocution Competition at Centre for Excellence Auditorium for Project and Government Schools of the city of Jamshedpur. Nearly 80 students from various schools participated in this programme. The participants were judged by Mr Duryodhan Singh, Ms Anamika Sharma, Mr G D Pandey and Mr Shailendra Ashtana.

The result of the competition are as follows:

Junior Group:
| | | |
| --- | --- | --- |
| Position | Participants | Schools |
| 1st | Arshi Firdous | Kerala Public Hindi School, Mango |
| 2nd | Ritika Das | Hindustan Mitra Mandal Middle School, Golmuri |
| 3rd | Harjeet Kaur | Khalsa Middle School, Tinplate |
| Consolation | Bhoomika Sahu | Premjyoti Prangan |
| | Rimpa Gorai | Shardamony Girls High School, Sakchi |
| | Gaurav Naik | DBMs Lilliput |

Senior Group:
Position
Participants
Schools
1st
Tahseen Tabassum
Jamshedpur Girls High School, Bistupur
2nd
Anjali Kumari
Premjyoti Prangan
3rd
Krishna Rana
Sakchi High School, Sakchi
Consolation
Khushboo Kumari
St. Mary's Hindi School, Bistupur
Shruti Ganguli Shardamony Girls High School, Sakchi
Ankita Kumari St. Joseph High School, Golmuri


Mr Prabhat Kumar, Mrs Gopa Sarkar and Mrs Anita Sharma along with the Judges gave away the prizes to the winning participants. Dr Sheela Kumari, Principal Rajasthan Vidya Mandir Middle School, Mr Anuranjan, Principal Kerala Samajam Hindi School, Mr Pankaj Kumar Sahu, Principal Sri Ramkrishna High School, Mrs Manju Kumari , Rajendra Middle School, Bagbera, Ms Jyoti Kumari, teacher, Rajendra Middle School, Bagbera, and teachers from other schools were present during the programme.