Ace adventurers move another inch closer to Everest expedition under Mountaineer Bachendri Pal's guidance
Jamshedpur, May 07, 2012
Updates on Everest Expedition of Three Youths from Jharkhand

~Team arrives at Camp 2 at 21,300 for acclimation, also climbed an altitude of approximately 5700 meters; reaches high camp Pumori~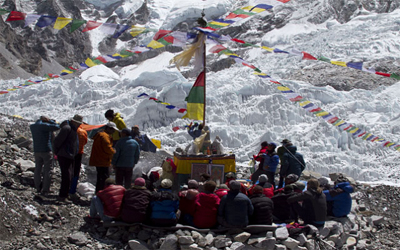 Under the able guidance of mountaineer and Chief Adventure Programmes at Tata Steel Ltd Ms Banchendri Pal, the three youths from Jharkhand accomplishes another step towards climbing the Mount Everest and climbed high camp Pumori at an altitude of approximately 5700 meters. They are now at the Base Camp of Mount Everest, the take off point for starting the climb as per the schedule.
The daredevil trio Rajendra Singh Pal (52), Meghlal Mahto (30) and Binita Soren (25) are a part of the Eco Everest Expedition-Spring 2012. The main objective of this expedition is to raise awareness about the impact of climate change and glacier melting in the mountain leading to high risk of GLOF affecting the lives of the local people. The expedition organized by Asian Trekking focuses on climbing in an eco-sensitive manner and field testing different eco-sensitive methods to be adopted while climbing in the Himalaya.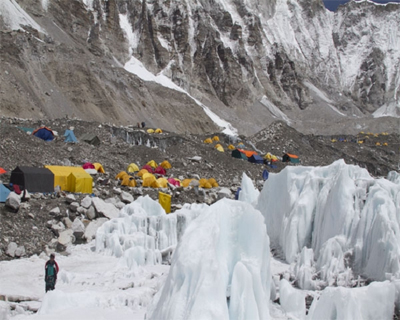 As in previous years this year also Eco Everest Expedition will continue its initiative of cleaning Mt Everest under the program "Cash for Trash". There are 15 Climbing Members consisting 6 Indians.
The teams moved up to camp 1 at 19,100 for acclimation on 24th April, 2012. After an overnight at camp 1, they moved onto camp 2 at 21,300 where they stayed for a few days, before returning to base camp. Teams returned to base camp on Monday, 30th April, 2012 and in all their excitement to conquer the biggest peak, climbed up to high camp Pumori at an altitude of approximately 5700 meters. The weather was perfect and it wasn't long before everyone was back and hungry for dinner.
Bachendri Pal, the legendary climber has trained three people from Jharkhand who will start their saga of thrilling adventure and excitement by climbing Mount Everest. The youths participating are Mr Rajendra Singh Pal, Mr Meghlal Mahato and Ms Binita Soren are participating. They all have prior mountaineering experience.

About Tata Steel
Established in 1907 as Asia's first integrated private sector steel company, Tata Steel Group is among the top-ten global steel companies with an annual crude steel capacity of over 27 million tonnes per annum (mtpa). It is now the world's second-most geographically-diversified steel producer, with operations in 26 countries and a commercial presence in over 50 countries. The Tata Steel Group, with a turnover of US$ 29 billion in FY '09, has over 80,000 employees across five continents and is a Fortune 500 company. The Group's vision is to be the world's steel industry benchmark in "Value Creation" and "Corporate Citizenship" through the excellence of its people, its innovative approach and overall conduct. Underpinning this vision is a performance culture committed to aspiration targets, safety and social responsibility, continuous improvement, openness and transparency. In 2008, Tata Steel India became the first integrated steel plant in the world, outside Japan, to be awarded the Deming Application Prize 2008 for excellence in Total Quality Management.