HM Nerurkar conferred with Corporate Leadership Award
Jamshedpur, May 07, 2012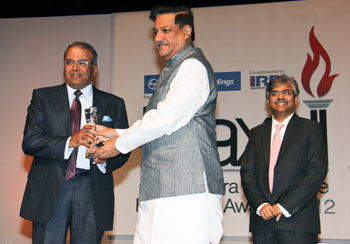 Mr HM Nerurkar, Managing Director, Tata Steel, has been conferred with the Maxell Foundation & Maharashtra Corporate Excellence Award. The award was presented to him by Hon'ble Chief Minister, Maharashtra, Mr Prithviraj Chavan, at a function that was held in Mumbai on May 6, 2012. This award has been instituted for the first time.
Mr Nerurkar has admirable leadership qualities and a natural flair for out of box thinking. During his illustrious career spread over four decades, he has faced with courage numerous challenging moments and overcome it through his leadership abilities supported by patience and perseverance that has found reflection in his personality.
Maxell communicate has stated, "Being the Managing Director of the Flagship Tata Group Company, Mr Nerurkar, has exemplified outstanding leadership qualities and shaped up the company for taking any challenges in future and also seen a sustainable growth which can be expressed in monetary terms. Maxell Foundation salutes such outstanding personality – Mr Hemant Nerurkar."
An elated Mr Nerurkar said, "Maharashtra has always been number 1 in industrial growth. I hope we continue to remain so. We have three plants in Maharashtra and the Founder's entrepreneurial dreams were envisioned in the city of Mumbai."
About Maxell Foundation & Maharashtra Corporate Excellence Award:
Maxell – Maharashtra Corporate Excellence Awards is a movement committed to recognise and reward the architects of change, those who dared to dream it and look beyond the horizons. Maxell Awards are aimed at creating awareness and inspiring Generation next to translate their vision in to reality, and transform their potential into performance.
Mr Nitin Potdar, Partner, J Sagar Associates, a leading Solicitor Firm is the Founder and the Managing Trustee of the Maxell Foundation and Awards. Noted scientist Dr Raghunath Mashelkar, Noted Journalist Padmashree Kumar Ketkar, Mr Y M Deosthali, Chairman L&T Finance and Group CFO, L&T, and Justice Arvind Sawant, Chief Justice (Retd) of Kerala High Court are on the Advisory Board of the Foundation who played a significant role in selecting the Awardees.