Tata Steel initiates trial for record-high hydrogen gas injection in Blast Furnace at its Jamshedpur Works
Mumbai, April 24, 2023
~ This is world's first instance when such a large quantity of hydrogen gas is being continuously injected in a blast furnace ~
~ The trial marks a major milestone in the steel industry's journey towards green and sustainable steelmaking ~
Tata Steel has commenced the trial injection of hydrogen gas using 40% of the injection systems in 'E' Blast Furnace at its Jamshedpur Works. This is the first time in the world that such a large quantity of hydrogen gas is being continuously injected in a blast furnace. 
The trial started on April 23, 2023 and is expected to continue for 4-5 days on a continuous basis. It will provide valuable insights into operating blast furnaces with greener fuel injectants, reducing fossil fuel consumption and subsequent CO2 emissions from the blast furnace. The endeavour is aligned with the Company's vision of becoming Net Zero by 2045.
The trial has the potential to reduce the coke rate by 10%, translating into around 7-10% reduction in CO2 emissions per ton of crude steel produced. 
The successful completion of this trial will demonstrate Tata Steel's capability to design, fabricate and commission the injection system, develop and establish necessary general and process safety protocols, and provide process control insight for pure hydrogen injection into the blast furnace.
"The trial of hydrogen gas injection in a blast furnace at Jamshedpur Works is an important milestone in our journey towards net zero emissions. As we explore the potential of greener fuel injectants, we are excited to see the impact it can have on reducing fossil fuel consumption and CO2 emissions. We are confident that this trial will provide valuable insights into operating blast furnaces with hydrogen and help us identify the next steps towards achieving our goal of a leaner carbon future," said Uttam Singh, Vice President, Iron Making, Tata Steel.
For a long time, hydrogen has been earmarked as an alternative to fossil fuels as an important reductant of iron ore in blast furnace. Given the imperative to make industrial processes greener, hydrogen fuel utilisation is gaining a lot of traction and is being embraced on a scale like never before. 
"Our efforts towards decarbonisation are driven by our commitment to creating a sustainable tomorrow. The trial, a testament to our capabilities in design, fabrication, and commissioning of injection systems, will accelerate our foray into green steelmaking. Tata Steel remains dedicated to leveraging innovation and technology in its pursuit of becoming the industry leader in sustainability," said Dr Debashish Bhattacharjee, Vice President (Technology and R&D), Tata Steel.
In its pursuit of decarbonisation, Tata Steel has adopted a two-pronged approach of Carbon Direct Avoidance (CDA) and CO2 Capture and Use. The trial injection of hydrogen gas is part of the CDA approach, focussing on the blast furnace, one of the heaviest known industrial contributors to CO2 emissions worldwide.
Tata Steel is committed to contributing to India's journey towards industrial decarbonisation and has already taken several steps in this regard including conducting a trial of continuous Coal Bed Methane (CBM) injection in early 2022, installation and continuous operation since September 2021 of 5 tonnes per day (TPD) industrial plant for carbon capture and utilisation from blast furnace off-gas, reducing freshwater consumption, developing sustainable supply chains, and imbibing circular economy.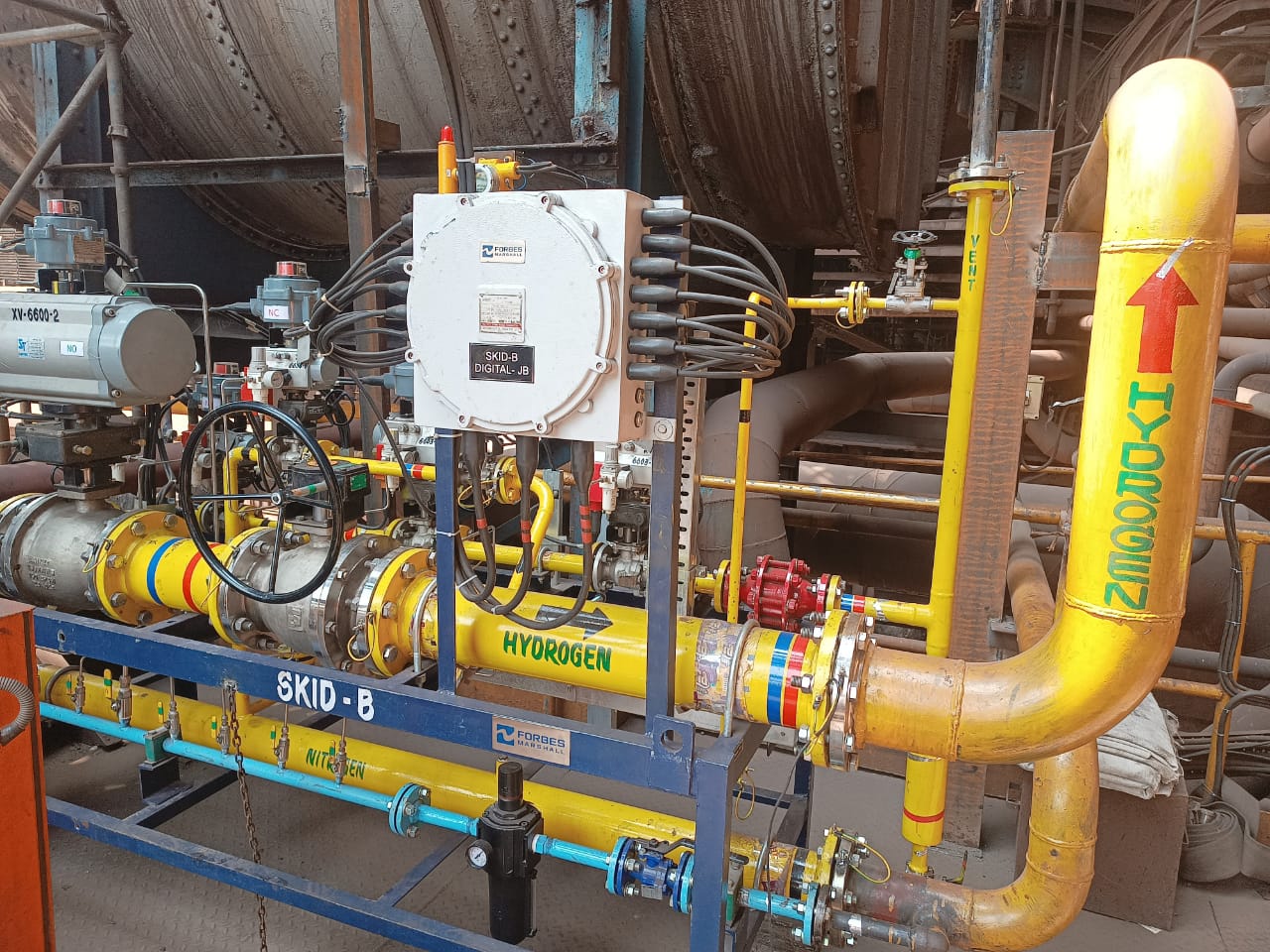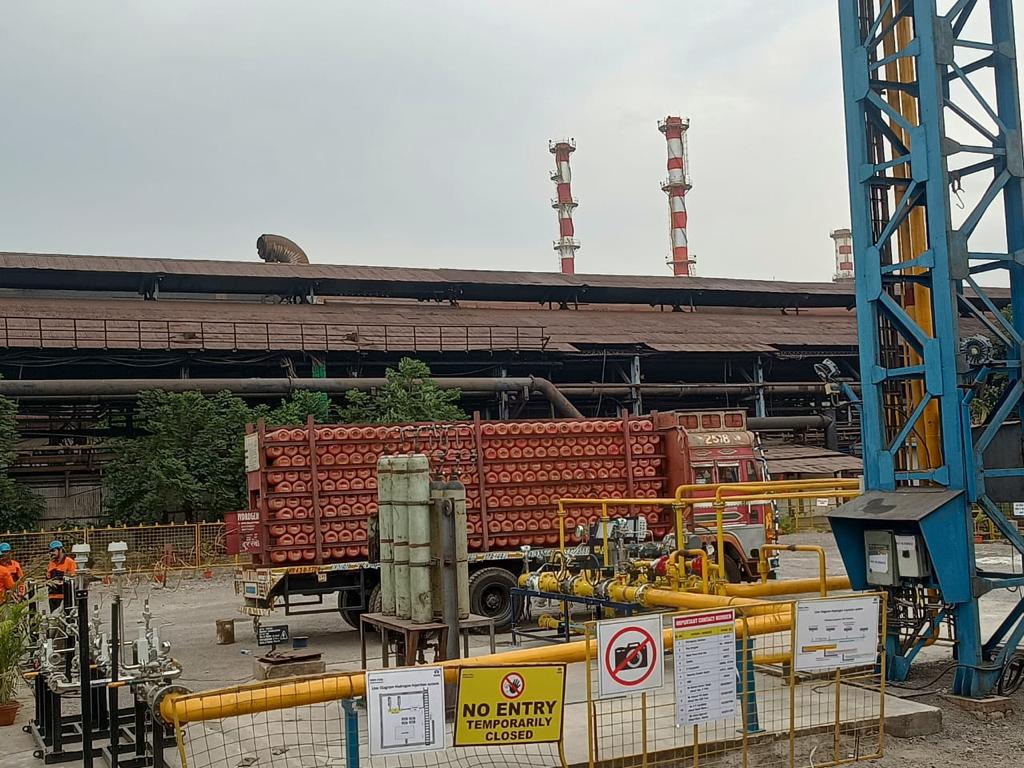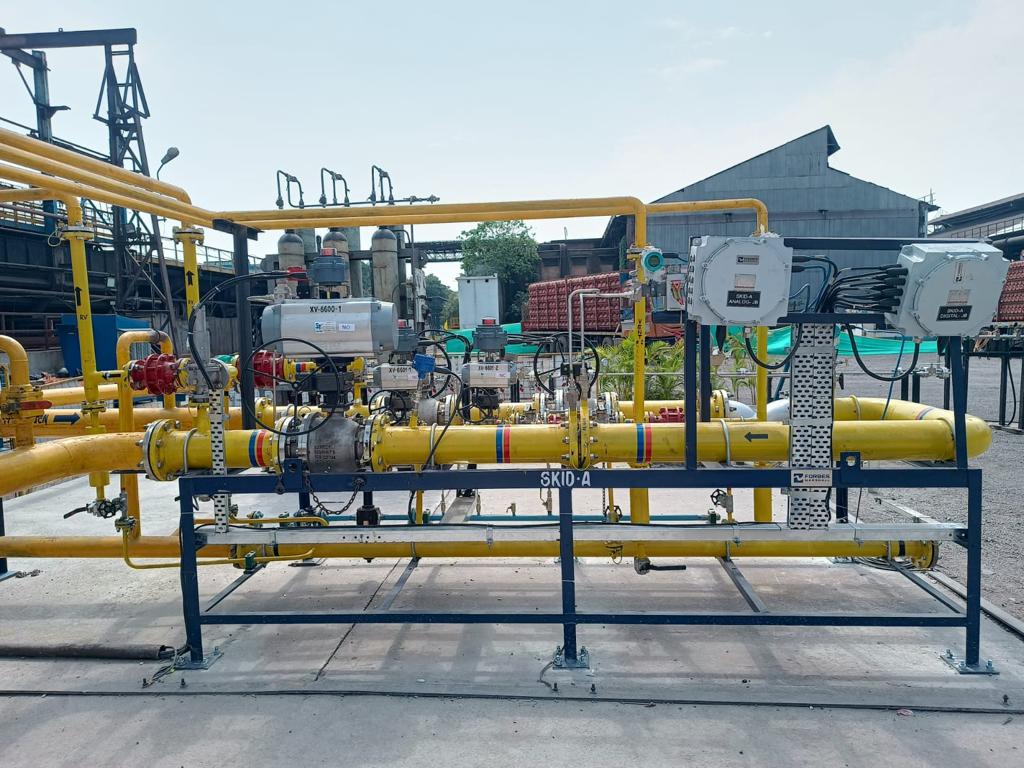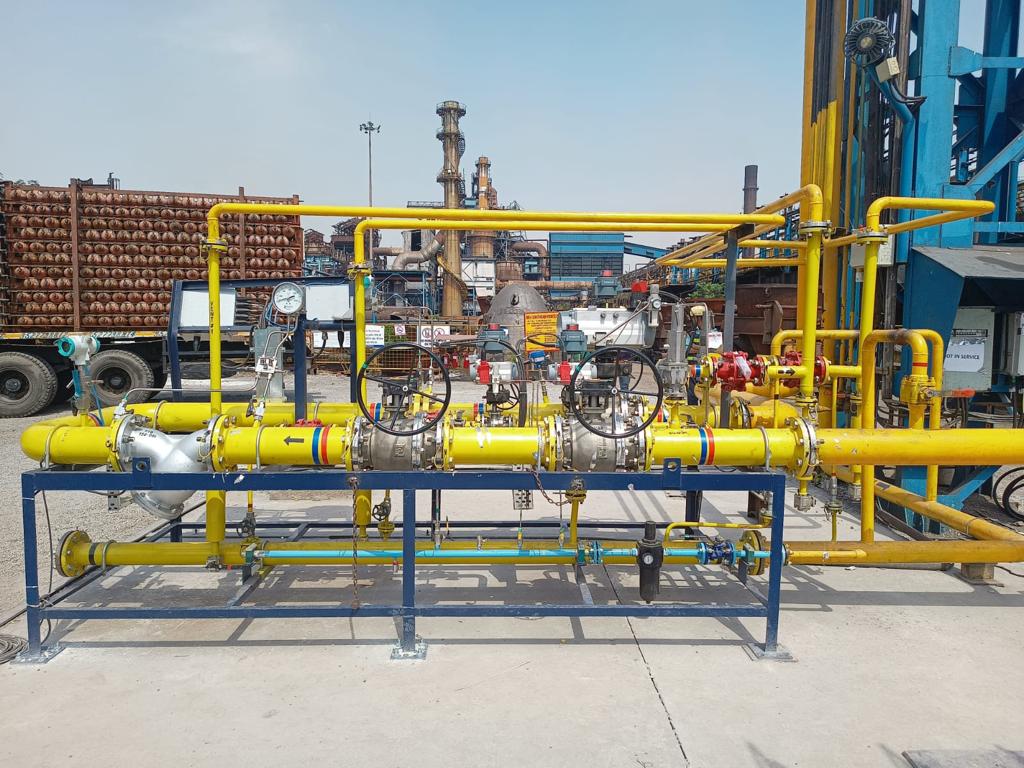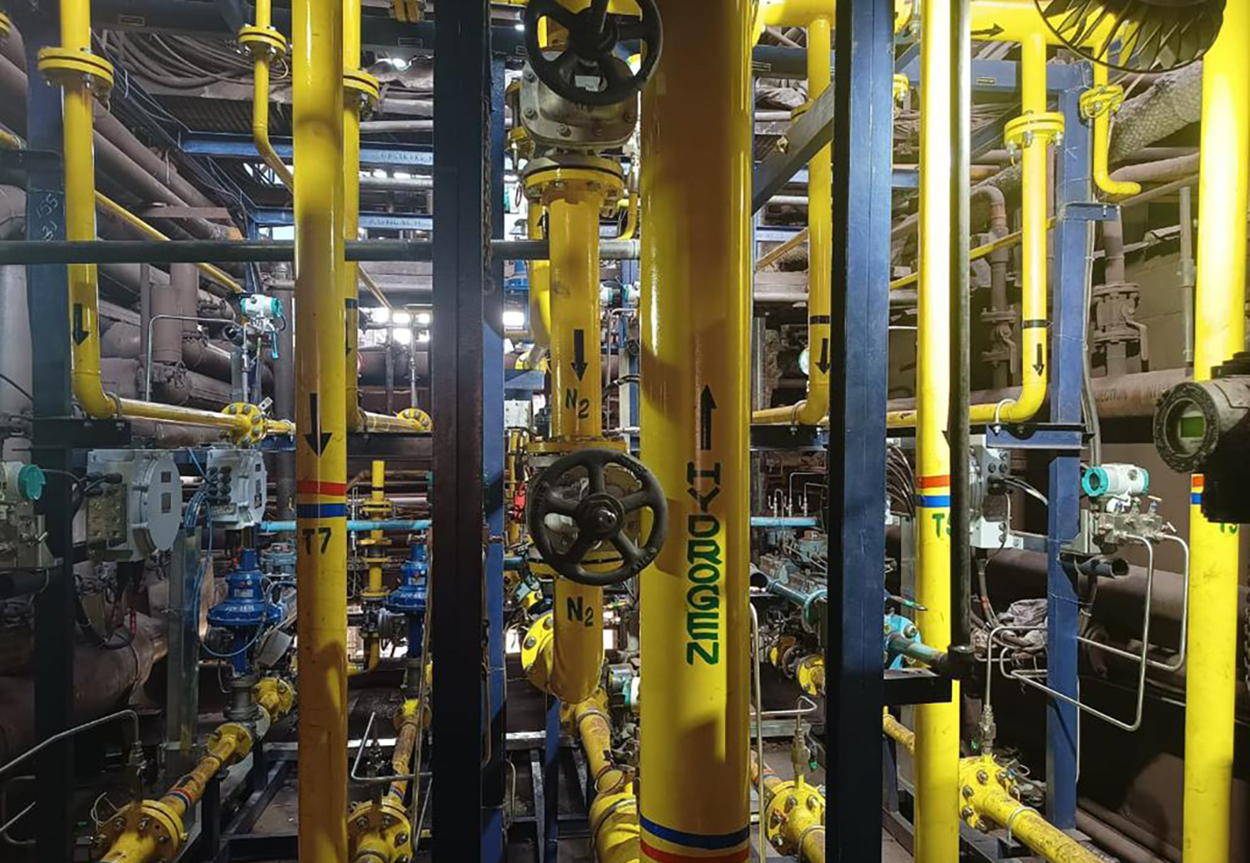 Disclaimer:
Statements in this press release describing the Company's performance may be "forward looking statements" within the meaning of applicable securities laws and regulations. Actual results may differ materially from those directly or indirectly expressed, inferred or implied. Important factors that could make a difference to the Company's operations include, among others, economic conditions affecting demand/ supply and price conditions in the domestic and overseas markets in which the Company operates, changes in or due to the environment, Government regulations, laws, statutes, judicial pronouncements and/ or other incidental factors.
For queries and information
Sarvesh Kumar,
Chief Corporate Communications - Tata Steel,
E-mail : sarvesh.kumar@tatasteel.com
About Tata Steel
Tata Steel group is among the top global steel companies with an annual crude steel capacity of 35 million tonnes per annum
It is one of the world's most geographically diversified steel producers, with operations and commercial presence across the world
The group recorded a consolidated turnover of US$32.83 billion in the financial year ending March 31, 2022
A Great Place to Work-CertifiedTM

 

organisation, Tata Steel Limited, together with its subsidiaries, associates, and joint ventures, is spread across five continents with an employee base of over 65,000
Tata Steel has announced its major sustainability objectives including Net Zero Carbon by 2045, Net Zero Water consumption by 2030, improving Ambient Air Quality and No Net loss in Biodiversity by 2030.
The Company has been on a multi-year digital-enabled business transformation journey intending to be the leader in 'Digital Steel making by 2025'. The Company has received the World Economic Forum's Global Lighthouse recognition for its Jamshedpur, Kalinganagar and IJmuiden Plants.
Tata Steel aspires to have 25% diverse workforce by 2025. The Company has been recognised with the World Economic Forum's Global Diversity Equity & Inclusion Lighthouse 2023
The Company has been a part of the DJSI Emerging Markets Index since 2012 and has been consistently ranked amongst top 10 steel companies in the DJSI Corporate Sustainability Assessment since 2016
Tata Steel's Jamshedpur Plant is India's first site to receive ResponsibleSteelTM

 

Certification
Received Prime Minister's Trophy for the best performing integrated steel plant for 2016-17, Steel Sustainability Champion recognition from worldsteel for five years in a row, and 'Most Ethical Company' award 2021 from Ethisphere Institute
Recognised with 2022 ERM Global Award of Distinction, 'Masters of Risk' - Metals & Mining Sector recognition at The India Risk Management Awards for the sixth consecutive year, and Award for Excellence in Financial Reporting FY20 from ICAI, among several others
Photographs: Management and Plant facilities
Logos: Files and usage guidelines 
Website: www.tatasteel.com and www.wealsomaketomorrow.com