Tata Steel celebrates 115th birth anniversary of JRD Tata
Jamshedpur, July 29, 2019
~ 'Jeh' was the longest-serving Chairman of Tata Sons spanning over five decades ~
~ JRD was a pioneer of Indian aviation and was among India's first licensed commercial pilots ~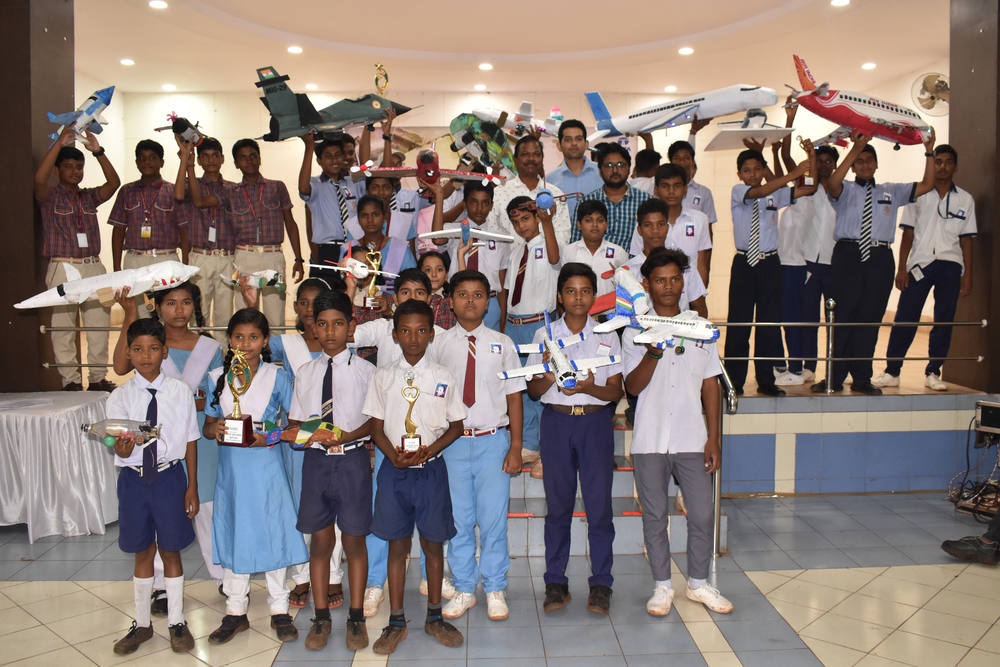 Tata Steel, today, celebrated the 115th birth anniversary of Bharat Ratna recipient Jehangir Ratanji Dadabhoy Tata (JRD), the fourth and the longest-serving chairman of Tata Sons, a tenure that started before India won its political Independence from Britain and ended with the economic liberalisation in 1991.
Modern India proudly stands on the shoulders of pioneering Indians and JRD Tata was among the tallest who left their indelible mark not just on the country's industrial landscape but also in the fields of aviation and corporate social responsibility decades before they became symbols of growth and progress of our nation.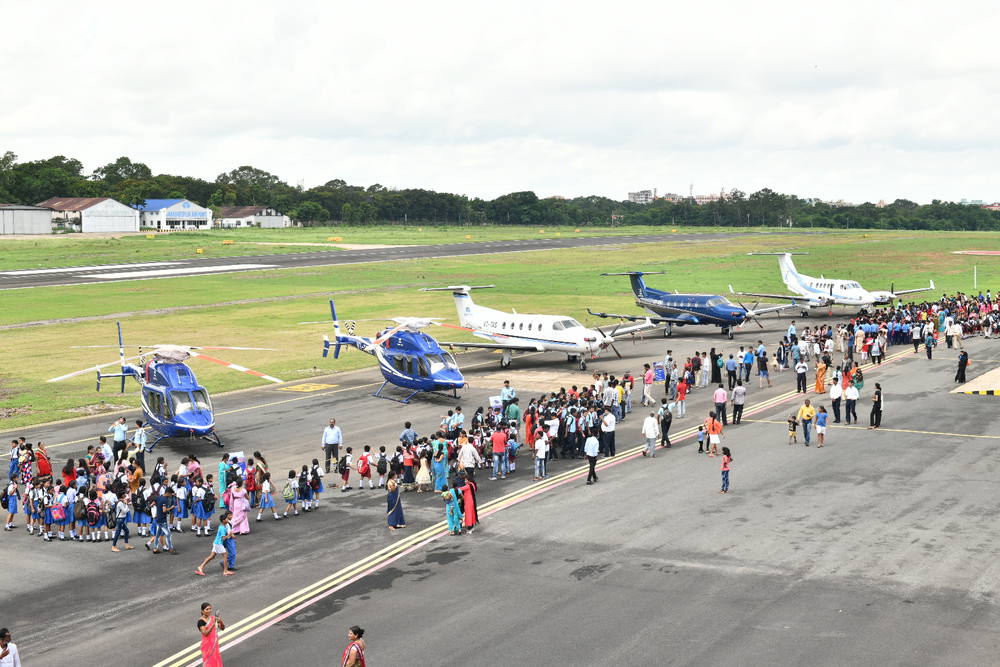 Honouring his memory as a pioneering industrialist and a lifelong enthusiast of flying, various activities were organised today by the Company across its operating locations.
Tata Steel employees, general populace including youngsters and students in various locations – Jamshedpur, Kalinganagar, Kolkata, Bhubaneswar, RM locations (Noamundi, Joda, Jharia, West Bokaro, Sukinda) and Gopalpur - participated in large numbers to remember and honour JRD Tata and his life-long work in strengthening the foundation of modern industrialised India.
Know more at https://www.tatasteel.com/campaigns/jrd-tata-birth-anniversary-celebrations/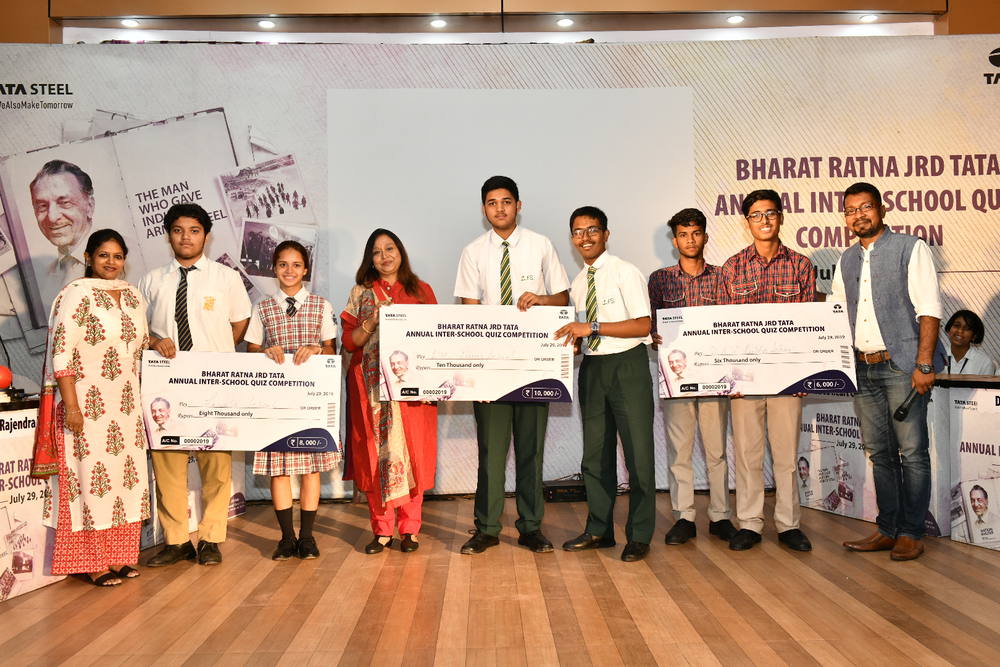 Jamshedpur
Senior officials from Tata Steel including airport functionaries along with students from various schools and colleges of Jamshedpur, today, gathered at the Company's Airport in Sonari to pay homage to JRD Tata. The display of static aircrafts including King Air B200GT, Pilatus PC-12, Cessna 152, Cessna 172 and Bell 429 helicopter added to the beautiful sight and aptly aided the recall of JRD's passion for flying. The day-long celebrations included Annual Inter School Quiz at Michael John Auditorium, tree plantation drive, inauguration of Inter School Archery Tournament, JSA Girls Football League, to name a few. School students and teachers planted around 1250 saplings at three locations as a part of the celebration.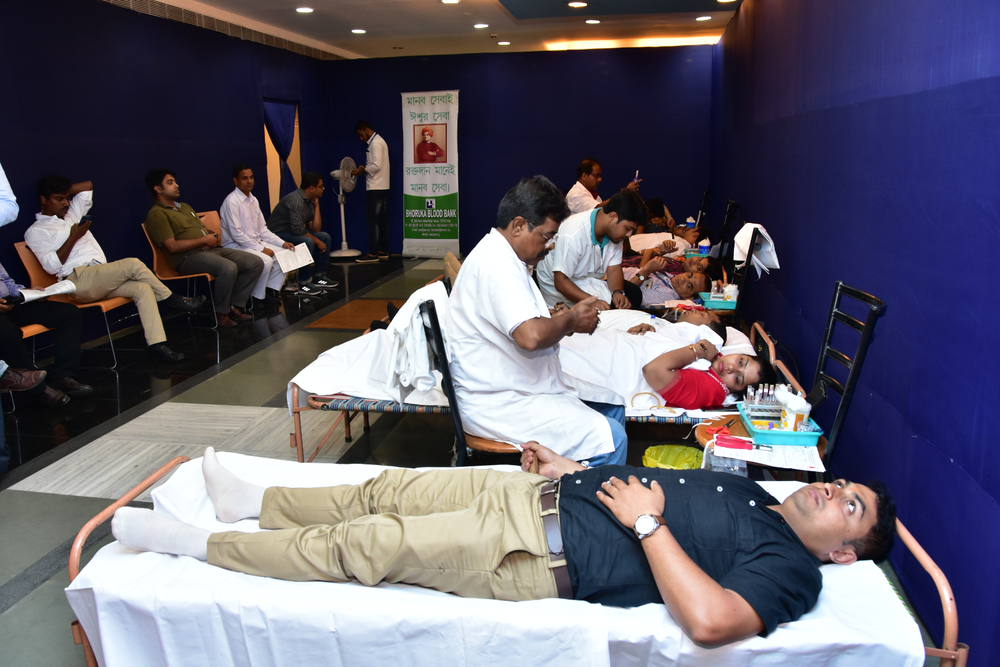 Kalinganagar
Senior officials and employees of Tata Steel Kalinganagar offered floral tributes to the great visionary during a function organised at the General Office. An Inter-School Quiz competition among school students was organised at Kalinganagar. Students from the nearby High Schools took part in the Quiz Competition, based on the life and works of JRD Tata. To promote sustainable practices, a plantation programme was undertaken by the students in the premises of the Capability Development Training Centre of Tata Steel Kalinganagar.
Kolkata
The Company employees paid floral tributes to JRD Tata. Like in earlier years, Tata Steel Sports Club organised a blood donation camp. A total of 110 people participated in the drive and donated their blood.
RM Locations
Noamundi: To pay tribute to the legend, a host of sports activities, social awakening and mega health check-up programmes were organised at various locations.
Ghatotand: To spread awareness on aviation and the life of Bharat Ratna JRD Tata, an aircraft model making competition was organised at Ghatotand. More than 180 students along with teachers participated in the event. A total of 37 models from 7 schools were put-up for the competition in junior and senior categories. All aircraft models were made from bio-degradable waste. Sensitising school children on the re-use of waste in a fun loving and interactive manner was the main motto of the event.
Joda: At Joda, a beeline of activities was organised to commemorate the occasion. The day started with a mini marathon with participation from Company employees, students and members of the community, followed by homage to JRD Tata at JCO. An aircraft model making competition was organised for the students at Joda, in which 20 teams from 10 schools from the nearby areas participated. Tata Steel Rural Development Society (TSRDS) organised a Specialized Health Camp at Kundru Sahi area where 123 patients were provided consultation by doctors along with free medicines. In addition, TSRDS also organised various awareness sessions in and around Joda on legal literacy, water borne diseases, maternal & child health and water conservation & sanitation. The celebrations concluded with a friendly girls' football tournament at the central playground.
Jamadoba (Jharia): Homage was paid to Bharat Ratna JRD Tata at the General Manager's office by senior officials of Tata Steel, Union representatives and employees of the division. To mark the occasion, an open cross-country race for children, aged under 16 years, was also organised. A total of ~240 children participated in the event and prizes were given to the top six winners in both the boys and girls category.
Sukinda: To mark the celebrations at Sukinda Chromite Mine (SCM), the Company employees offered floral tributes to the great visionary. A quiz competition for high school students was organised at the Katey Purty Auditorium. Later in the evening, a football match was played between maintenance and services department of SCM at the central playground.
About Tata Steel
Tata Steel Group is among the top global steel companies with an annual crude steel capacity of 33 million tonnes per annum (MnTPA). It is one of the world's most geographically-diversified steel producers, with operations and commercial presence across the world. The group (excluding SEA operations) recorded a consolidated turnover of US $22.67 billion in the financial year ending March 31, 2019. In 2018, Tata Steel acquired Bhushan Steel Ltd (now renamed as Tata Steel BSL Ltd).
A Great Place to Work-CertifiedTM organisation, Tata Steel Ltd., together with its subsidiaries, associates and joint ventures, is spread across five continents with an employee base of over 65,000.
Tata Steel retained the 'Global Steel Industry Leader' position in the DJSI 2018. The Company has been recognised as the Climate Disclosure Leader in 'Steel category' by CDP (2017). Besides being a member of the World Steel Climate Action Programme, Tata Steel has won several awards including the Prime Minister's Trophy for the best performing integrated steel plant for 2016-17, 'GreenPro' certification for products (Tata Pravesh Steel Doors, Tata Structura, Tata Pipes) by CII, Authorized Economic Operator  (AEO) status (Tier 2) by the Directorate of International Customs (Ministry of Finance, Govt. of India), 'Corporate Strategy Award' by Mint (2018), Golden Peacock Award for Risk Management (2018) and Best Risk Management Framework & Systems Award (2019) by CNBC TV18. The Company also received the 'Most Ethical Company' award from Ethisphere Institute for the eight time (2019), Steel Sustainability Champion (2018) by the World Steel Association, Dun & Bradstreet Corporate Awards (2019), Golden Peacock HR Excellence Award by Institute of Directors (2018), 'Best Companies To Work For' recognition by Business Today, 'Asia's Best Integrated Report' award by the Asia Sustainability Reporting Awards (2017), among several others.
In 2018, the Company launched a corporate brand campaign #WeAlsoMakeTomorrow. www.wealsomaketomorrow.com
For corporate information, visit www.tatasteel.com and follow us on