Steel Express to exhibit 'Jamshedpur on Rails' through special branding of the train
Jamshedpur, June 18, 2019
~ Inaugural run of the Steel Express with 'Jamshedpur on Rails Exhibition'- starts at Tatanagar ~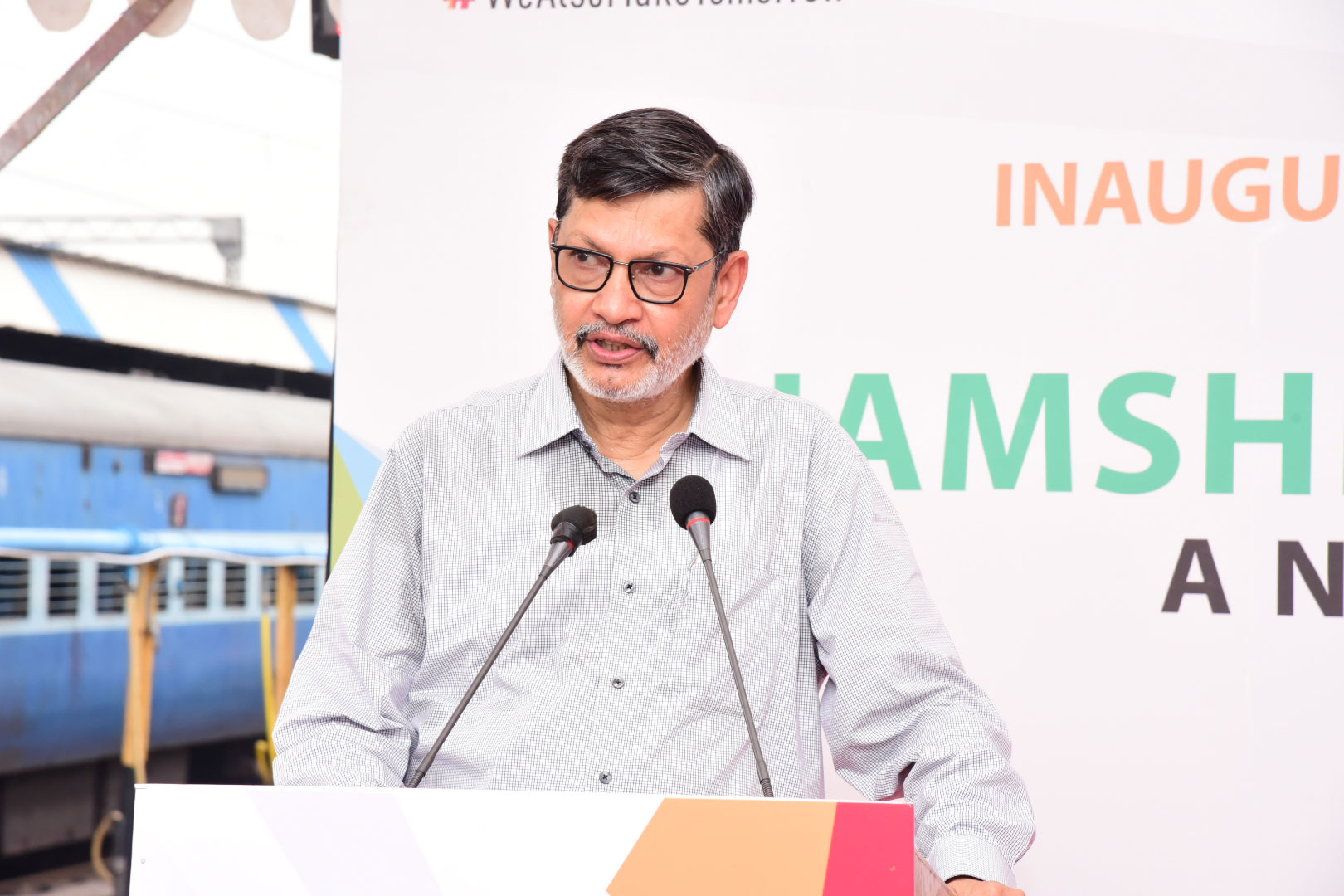 The inaugural run of the specially branded Steel Express started from Tatanagar today marking the year-long centenary celebration of Jamshedpur. Through this branding initiative, the Steel Express, that runs between Tatanagar and Howrah, will exhibit the legacy, culture and journey milestones of the steel city under the theme of 'Jamshedpur on Rails'.
The inaugural event, held on Platform No. 1 at the Tatanagar Railway Station, was graced by the presence of Mr. Chhatrasal Singh, Divisional Railway Manager, Chakradharpur, as the Chief Guest and Mr. Anand Sen, President, TQM & Steel Business, Tata Steel as the Guest of Honour. The function saw the presence of Senior Railway officials - Mr. Manish Pathak, Sr. DCM-CKP, Mr. Bhaskar, Sr. DOM-CKP, Mr. Ritwik Sharma, Sr. DME-CKP, Mr. Anoop Patel, Sr. DE (Co-ordination) and Mr. Vikas Kumar, Area Manager-Tata. Other dignitaries present on the occasion included Mr. Chanakya Chaudhary, VP (Corporate Services), Tata Steel, Mr. Avneesh Gupta, VP (Shared Services), Tata Steel, Mr. D.B. Sundara Ramam, PEO, Tata Steel, Mr. Tarun Daga, MD (JUSCO), Mr. R. Rabi Prasad, President Tata Workers' Union, Mr. Satish Kumar Singh, General Secretary, Tata Workers' Union.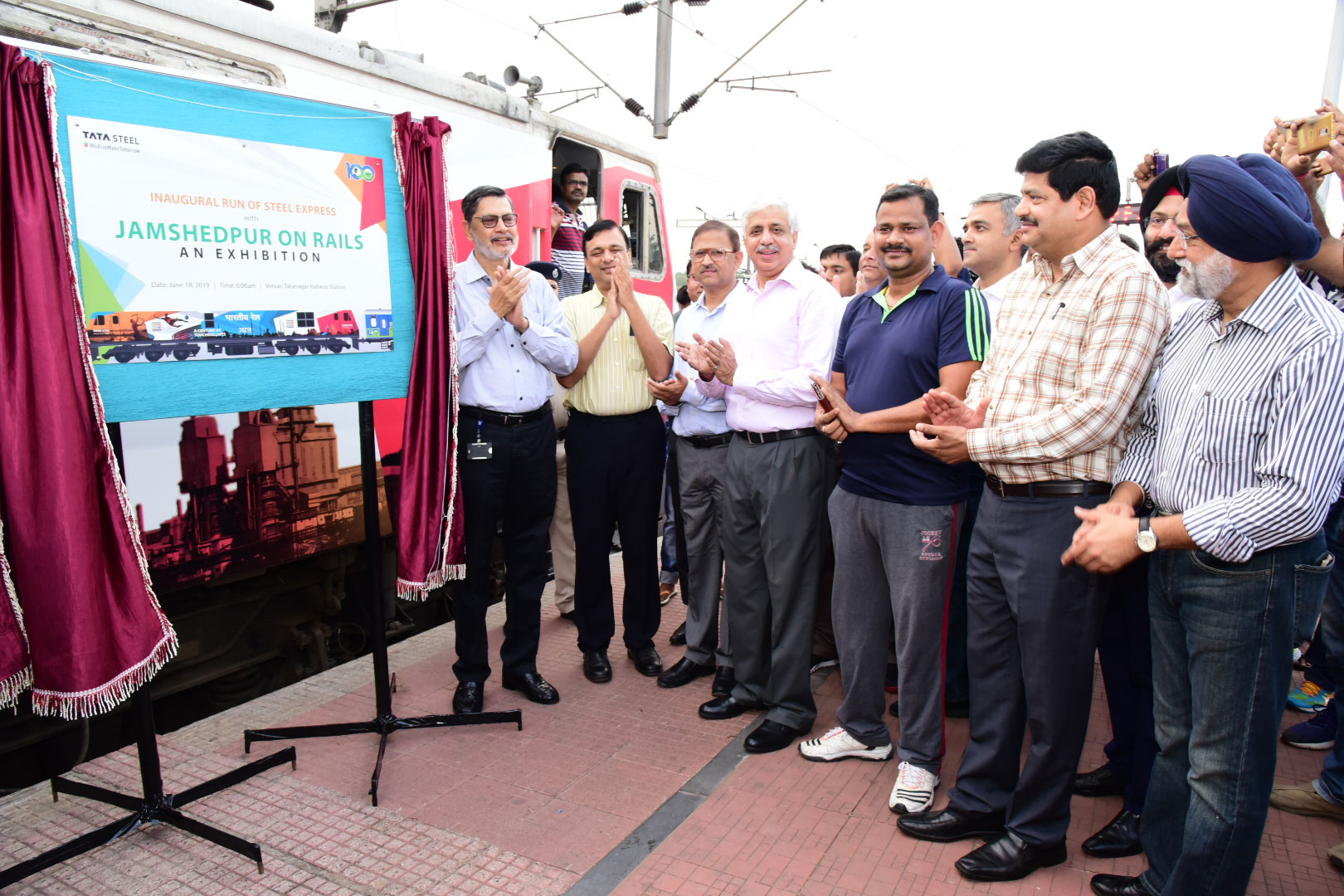 The train branding, conceptualised and executed by Tata Steel, is essentially a moving heritage exhibition showcasing the various illustrious facets of the iconic city of Jamshedpur including culture, sports, education, healthcare and more.
Since the launch of the Steel Express, a superfast train that connects Jamshedpur and Kolkata, it has been both the commercial and commuter lifeline in one of the busiest parts of India's vast Railways network. Now, the branded Steel Express will carry a wide range of information on Jamshedpur city on the outer body of the coaches. This is aimed at helping citizens and railway commuters understand and appreciate the role and significance of Jamshedpur city in the larger fabric of India's history and its role in nation building. The city, originally a village called Sakchi, was renamed as Jamshedpur by Lord Chelmsford (Viceroy of India between 1916-21) in 1919 in the honour of Jamsetji Nusserwanji Tata, founder of the Tata group. The same year saw the Railway Station being re-named as Tatanagar.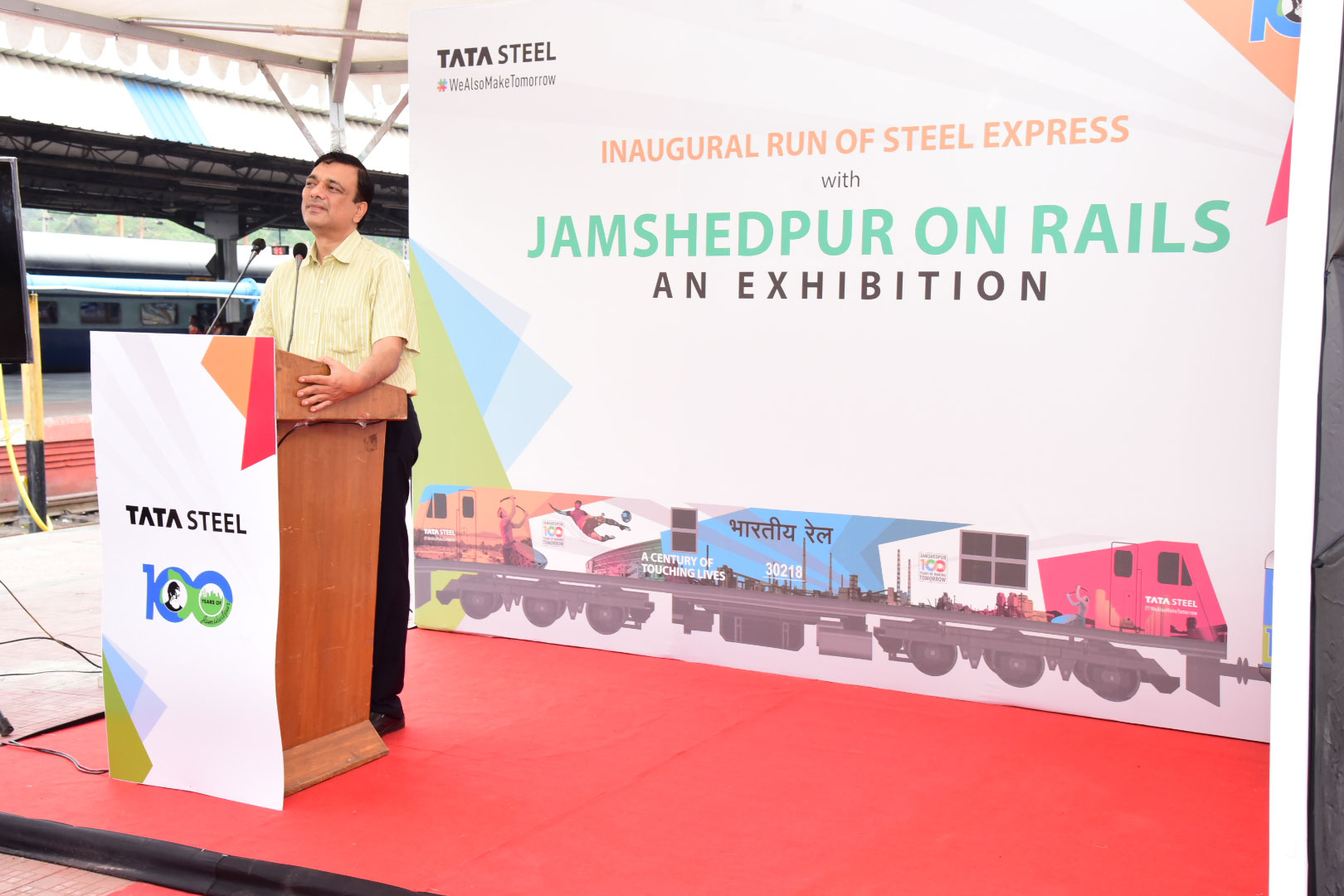 In his address, Mr. Chhatrasal Singh, Divisional Railway Manager, Chakradharpur, said: "It is a matter of great pride and happiness that in this year we are celebrating 100 years of Jamshedpur. There is no better occasion than for the celebration to be happening in the precinct of the Railway Station named after the Founder of the Tata Group…Today Jamshedpur is a bustling metropolitan town. Every year the Railways have endeavored to increase the services and the quality of services in this area. It is heartening to know that the Steel Express which serves as a gateway for the entire area, has been branded with the theme of Celebrating 100 years of Jamshedpur. I am grateful to Tata Steel for having taken up this theme".
Speaking on the occasion, Mr. Anand Sen, President, TQM & Steel Business, Tata Steel, said, "The Steel Express is a perfect example of the role Indian Railways plays in the life of almost every citizen of India. By connecting two of the most important cities in eastern India, the Steel Express is indeed a lifeline for both citizens and businesses like Tata Steel. In many ways, this train is an integral part of Jamshedpur. We are delighted to share the story of Jamshedpur through this uniquely branded Steel Express."
Tata Steel was one of the first large industrial houses to partner with the railways for its logistics needs and continues to do so as a cleaner alternative to other modes of transportation. In India, the Company leverages the rail mode to transport a total of 50-55 MnTPA of raw materials, with a rail co-efficient of almost 100%, and around 25 MnTPA of finished goods and by-products, amounting to an annual spend exceeding Rs. 6000 cr. Tata Steel is also one of the first corporates to adopt and implement innovative policies by railways like special freight train operator (SFTO), general purpose wagon incentive scheme (GPWIS), long term tariff contract (LTTC). The railway policy to allow pre-weighing systems in iron ore loading has been implemented at Tata Steel's Noamundi and Joda mines, which is also a first in the country.
About Tata Steel
Tata Steel Group is among the top global steel companies with an annual crude steel capacity of 33 million tonnes per annum (MTPA). It is one of the world's most geographically-diversified steel producers, with operations and commercial presence across the world. The group (excluding SEA operations) recorded a consolidated turnover of US $22.67 billion in the financial year ending March 31, 2019. In 2018, Tata Steel acquired Bhushan Steel Ltd (now renamed as Tata Steel BSL Ltd). A Great Place to Work-CertifiedTM organisation, Tata Steel Ltd., together with its subsidiaries, associates and joint ventures, is spread across five continents with an employee base of over 65,000.
Tata Steel retained the Industry Leader position in FY18 and ranked second overall in the DJSI assessment, 2017. The Company has been recognised as the Climate Disclosure Leader in 'Steel category' by CDP (2017). Besides being a member of the World Steel Climate Action Programme, Tata Steel has won several awards including the Prime Minister's Trophy for the best performing integrated steel plant for 2016-17, 'Corporate Strategy Award' by Mint (2018), Golden Peacock Award for Risk Management (2018) and Best Risk Management Framework & Systems Award (2019) by CNBC TV18. The Company also received the 'Most Ethical Company' award from Ethisphere Institute for the eight time (2019), Steel Sustainability Champion (2018) by the World Steel Association, Dun & Bradstreet Corporate Awards (2019), Golden Peacock HR Excellence Award by Institute of Directors (2018), 'Best Companies To Work For' recognition by Business Today, 'Asia's Best Integrated Report' award by the Asia Sustainability Reporting Awards (2017), among several others. In 2018, the Company launched a corporate brand campaign #WeAlsoMakeTomorrow. www.wealsomaketomorrow.com
For corporate information, visit www.tatasteel.com and follow us on





Disclaimer
Statements in this press release describing the Company's performance may be "forward looking statements" within the meaning of applicable securities laws and regulations. Actual results may differ materially from those directly or indirectly expressed, inferred or implied. Important factors that could make a difference to the Company's operations include, among others, economic conditions affecting demand/ supply and price conditions in the domestic and overseas markets in which the Company operates, changes in or due to the environment, Government regulations, laws, statutes, judicial pronouncements and/ or other incidental factors.