Kolkata GCT - Tata Steel Chess India2019
Kolkata, November 22, 2019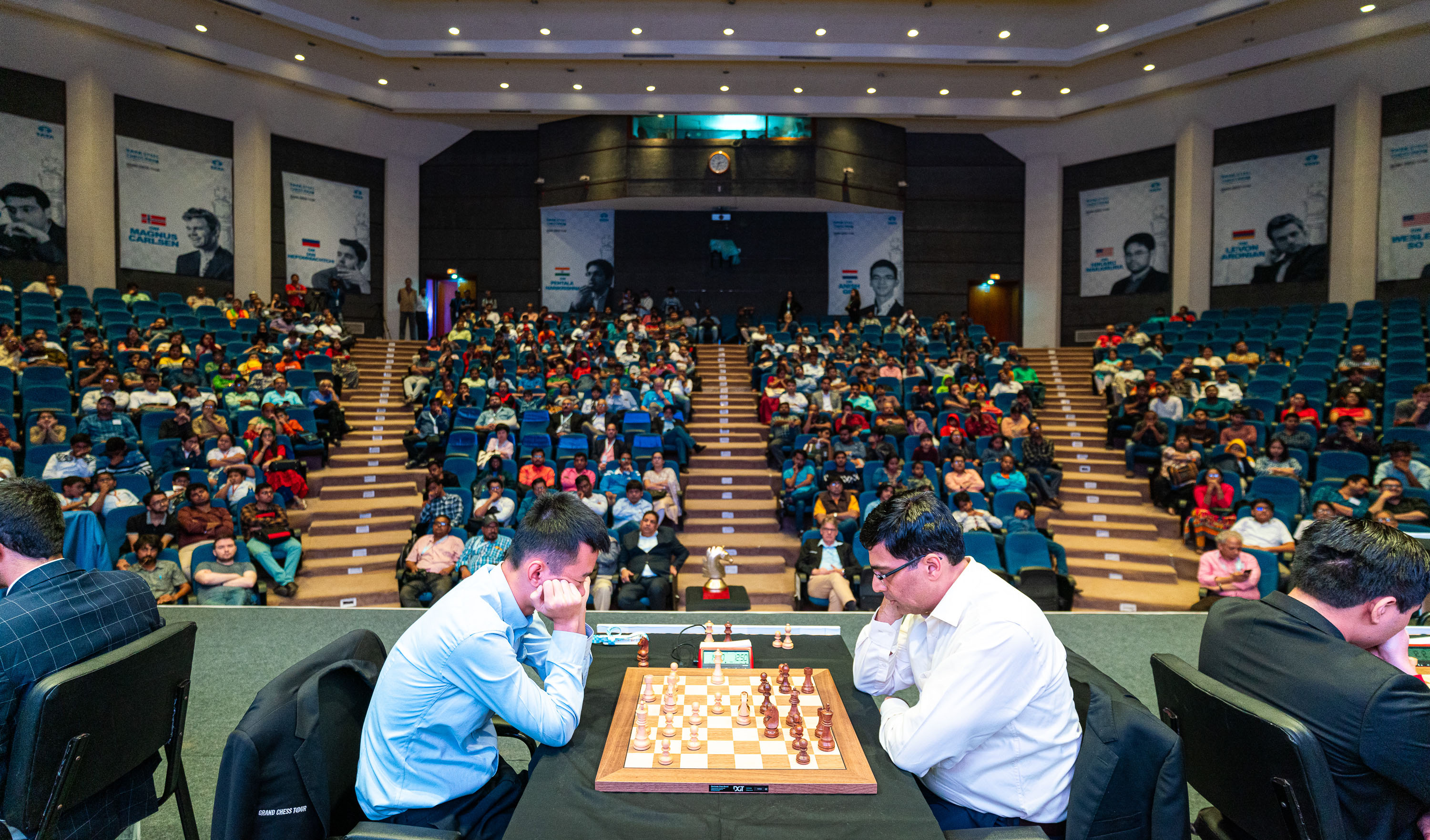 Day 1:
Round 1:
The first Grand Chess Tour (GCT) event on Asian soil began in Kolkata, India. Round 1 was off to a peaceful start as four of the five games began with draws as only Dutch star Anish Giri beat Russian number one, Ian Nepomniachtchi with the Black pieces. Nepomniachtchi underestimated Giri's passed pawn on the 'e' file and lost a piece to it. He tried to create some counterplay but Giri showed exemplary technique to bring home the point.
In other games, World Champion Magnus Carlsen was seeking revenge against Fischer Random World Champion Wesley So to whom he lost the title early this month. The game was a slugfest featuring the ultra-complex Sicilian Najdorf opening. So won a pawn in the middlegame but couldn't convert as Carlsen defended well in the longest game of the round featuring 57 hard-fought moves.
Indian legend Viswanathan Anand showed exquisite opening preparation to nullify Chinese number one, Ding Liren's opening. Anand looked comfortable throughout and held the draw with ease in exactly 25 moves.
Round 2:
Round 2 saw exciting games throughout on all five boards. Two wins and three draws were witnessed by the jam-packed audience witnessing the event.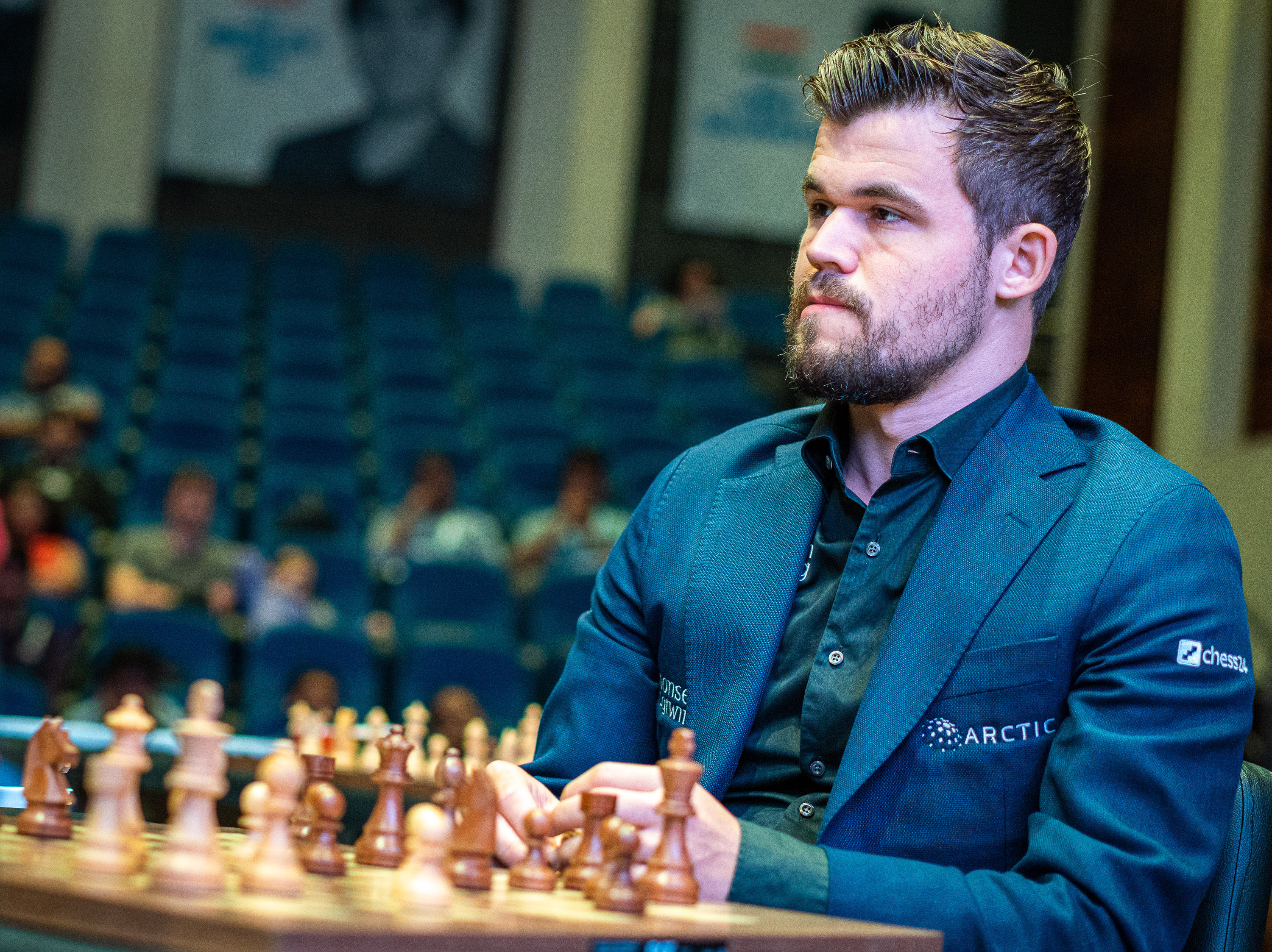 Indian superstar Viswanathan Anand did something that he hadn't done at last year's event. Win a game in the rapid section! He was winless in the rapid last year, but this year he won his first game with a fighting win over American Wesley So. Anand put pressure from the start with the white side in the Ruy Lopez opening. He won a pawn with a nice tactic with 30th move Ne3. So, defended well and the players reached a Bishop and three pawns vs Knight and two pawns endgame. Anand's pressure paid off in the end as So blundered with 57th move Ne6 trading his e5 pawn for white's h6 pawn. Anand manoeuvred his King and Bishop beautifully to win an important game as wins in rapid count as two points instead of one as in Blitz. Anand won finally in 72 moves as a rapturous crowd cheered!
World Champion Magnus Carlsen delighted the jam-packed auditorium at the National Library by scoring a crushing win over his good friend Ian Nepomniachtchi of Russia. Carlsen managed to get a passed 'b' pawn and steered it to the other side of the board. The pawn tied down Black's pieces giving Carlsen the time and space to create more problems on the other side of the board. Carlsen romped home in 45 moves scoring his first win in India in rapid chess.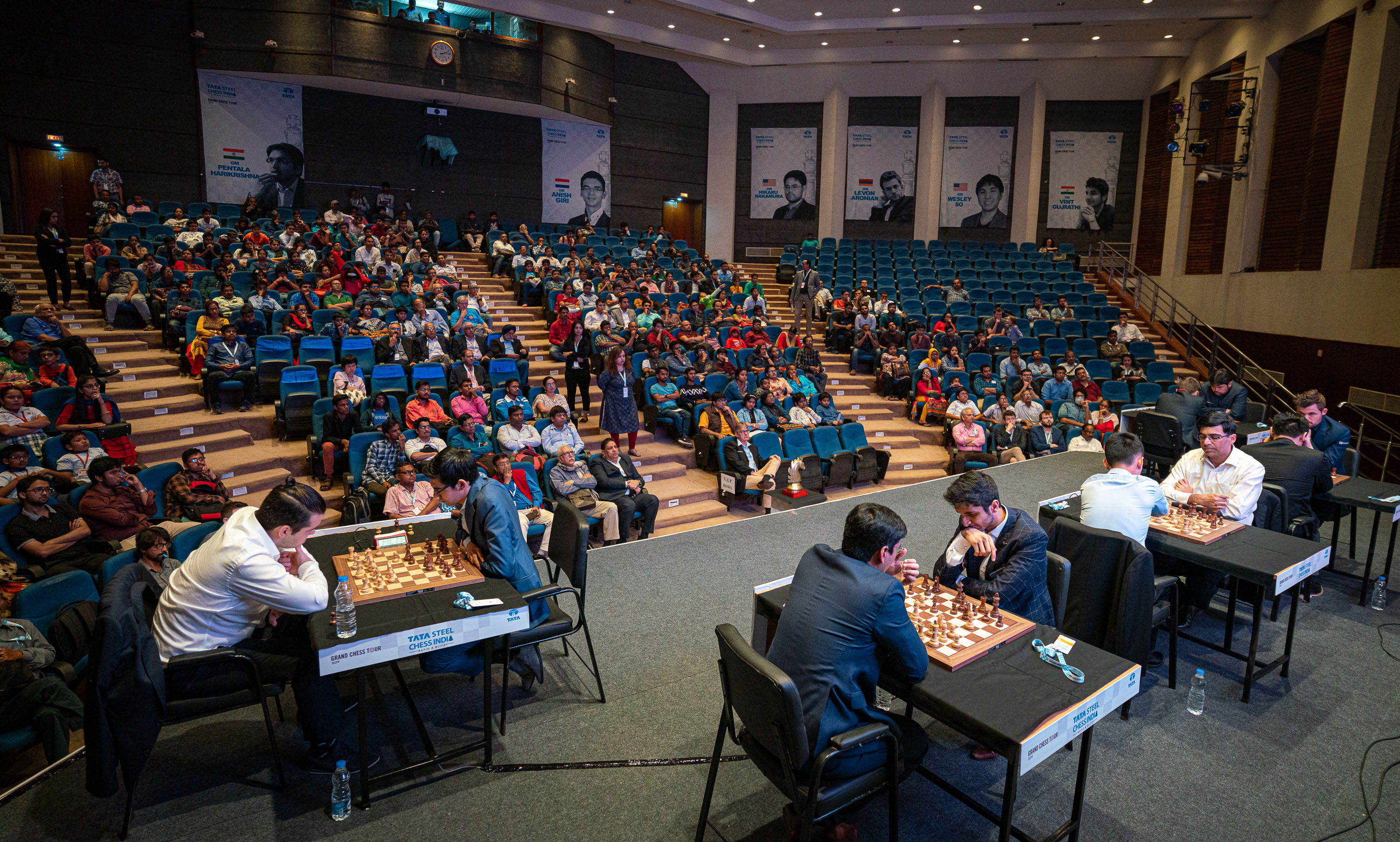 Early leader Anish Giri drew Levon Aronian of Armenia in a game that didn't promise much. Indian wildcards, GM Harikrishna Pentala and Vidit Gujrathi  managed to give a scare to Ding Liren and Hikaru Nakamura but eventually drew in what were fighting games until the last move was played.
Round 3:
Round three promised much but was anti-climatic especially for the Indian audience.
Indian superstar Viswanathan Anand was facing tail-ender Ian Nepomniachtchi of Russia. The latter had lost both his games but came out firing on all cylinders. He literally blitzed out every move and dazzled everyone with his play. Anand played a slightly dubious line against the English opening. On the 16th and 17th move, Anand first made an inaccuracy and then a blunder. Nepomniachtchi took full advantage and blew open Anand's kingside with the spectacular 18th Nh6. Anand's defence was compromised and he threw in towel four moves later. Quite a contrasting end to the day for both players in a game that was also the shortest game of the day lasting only 22 moves.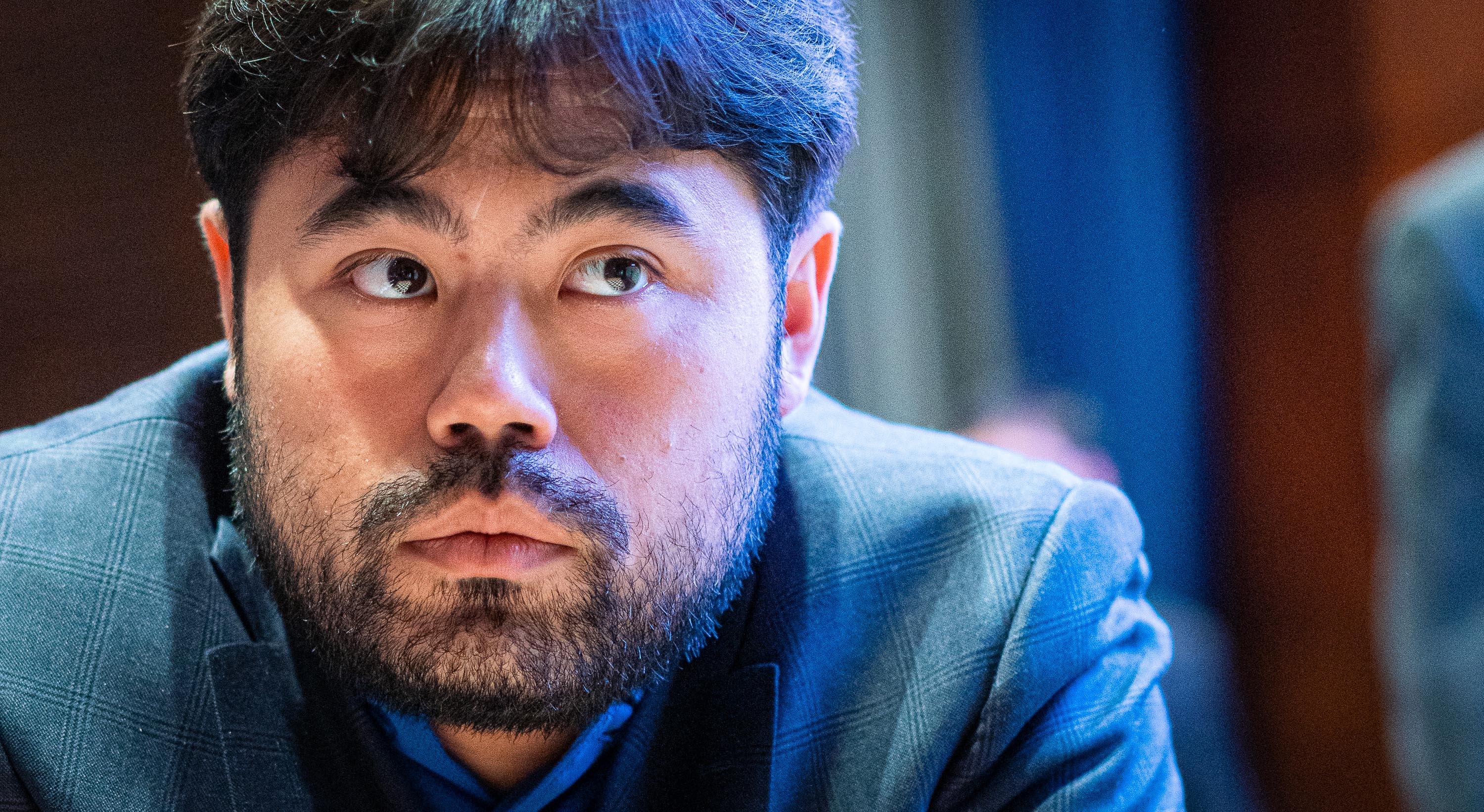 World Champion  Magnus Carlsen once again delighted the crowd with a thumping win over Armenian number one, Levon Aronian. Carlsen, once again played the ultra-sharp Sicilian Najdorf against Aronian's King-pawn opening. In a ensuing middle-game fight with both players castled on opposite wings and were attacking their counterpart's kings. Aronian lost a pawn after he blundered with Nc6. Carlsen snapped up a pawn with the Bishop. Carlsen then entered a favourable endgame with Rook and six pawns against Aronian's Bishop, Knight and two pawns. The World Champion showed impressive technique as he sacrificed his Rook for the knight and started to push his pawns. The Bishop had a daunting three passed pawns to face and finally Aronian resigned on move 68.
Defending champion of the Tata Steel Rapid, GM Hikaru Nakamura, scored a flawless win over tournament leader Anish Giri. Nakamura played the Sicilian Rossolimo and got what he wanted. A position with a slight pull with the white pieces and planned to press throughout. He created a weakness and exploited it with perfection. Thanks to this win, Nakamura, the reigning US champion, is now in the second position.
Elsewhere, Indian wildcards, Harikrishna and Vidit once again proved their worth by holding So and Ding to fighting draws once again.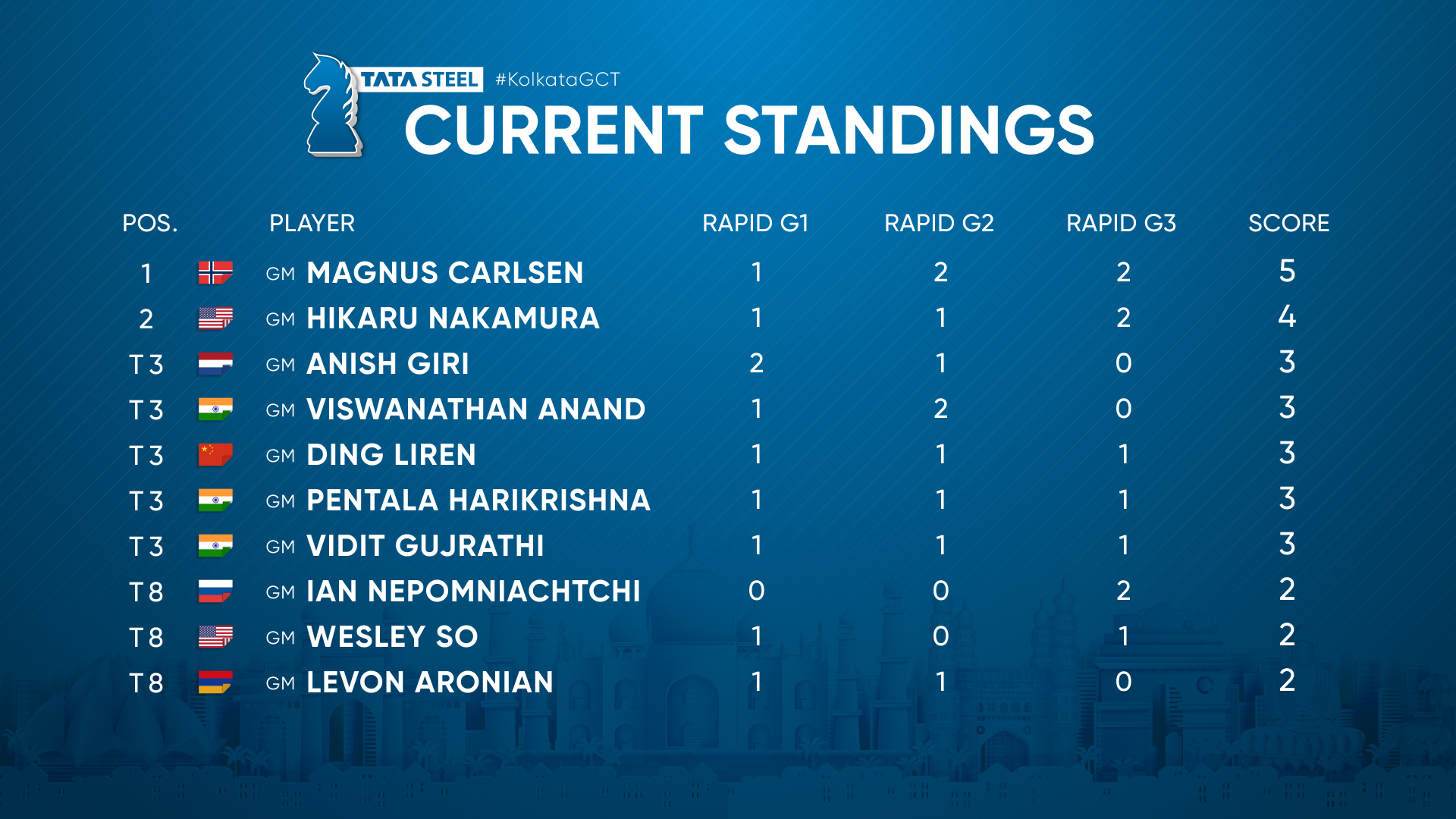 Standings after 3 rounds. Players receive 0 points for a loss, 1 for a draw, and 2 for a win