Kolkata GCT - Tata Steel Chess India 2019 (Day 2)
Kolkata, November 23, 2019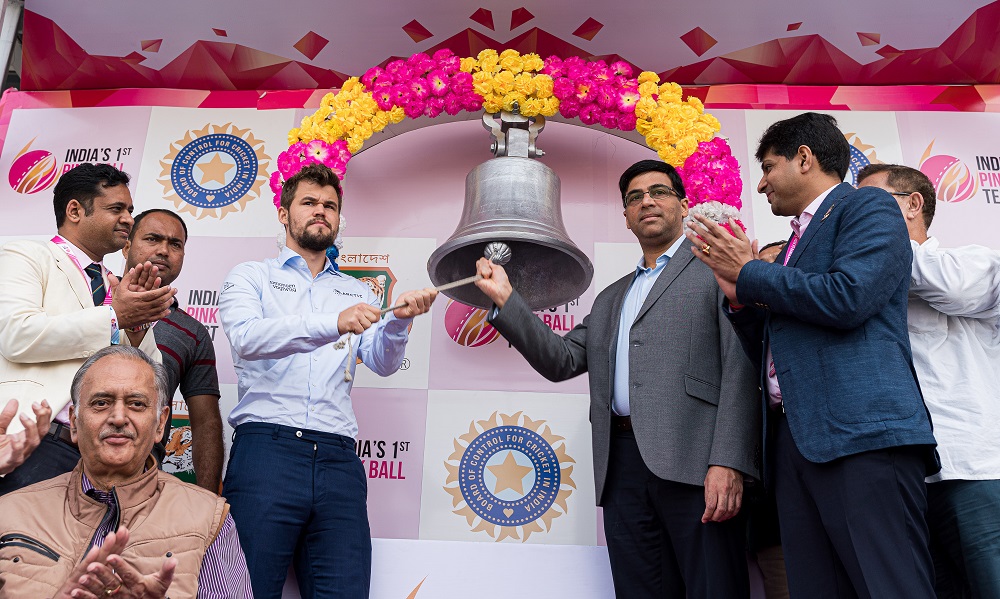 Day 2 results:
http://chess-results.com/tnr491092.aspx?lan=1&art=2 
Day 2 Standings:
1) Magnus Carlsen (Norway) 10/12
2) Wesely So (USA) 7/12
3) Hikaru Nakamura (USA) 7/12
4) Ding Liren (CHN) 6/12
5) Anish Giri (NED)  6/12
6) Viswanathan Anand (IND)  6/12
7) Levon Aronian (ARM) 5/12
8) Pentala Harikrishna (IND) 5/12
9) Vidit Gujrathi (IND) 5/12
10) Ian Nepomniachtchi (RUS) 3/12

Day 2:

Round 4
5 times World Champion Viswanathan Anand and current World Champion Magnus Carlsen kicked off day two proceedings of the historic Pink ball test match by ringing the bell at the Eden Gardens.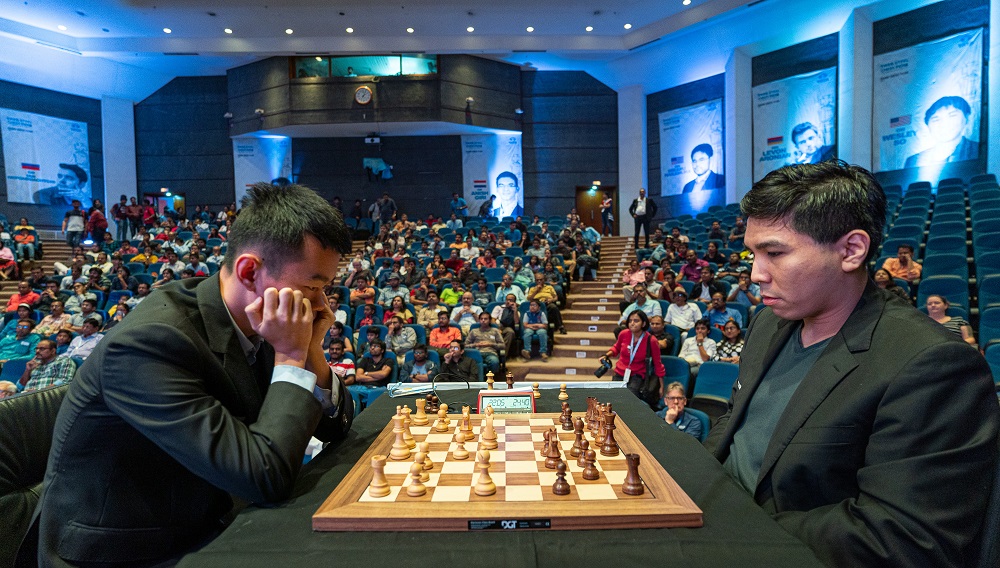 The focus then quickly turned to Bhasha Bhavan at the inconic National Library where a full house on a pleasant Saturday afternoon witnessed a thrilling round four that saw 4 of the 5 games end in decisive results. Indian superstars Vishy Anand and Harikrishna Pentala won their games while Vidit Gujrathi held Dutch number one Anish Giri to a draw.
Harikrishna Pentala scored the first win of the day as he beat Russian star Ian Nepomniachtchi.
Harikrishna played the Rossolimo variation against Ian's Sicilian. True to his style, Harikrishna slowly and gradually improved his position until the middlegame. In a somewhat minus position, Nepomniachtchi committed a howler and blundered with knight to d7 on the 27th move. He then won two rooks for a queen and converted gracefully.
Indian superstar Viswanathan Anand delighted the home crowd by beating Levon Aronian of Armenia. Anand employed the Italian opening against Aronian's king-pawn response. He then push his pawns up the board to put pressure and gain space. Anand's continuous pressure took a toll on Aronian's time. In a somewhat balanced position, Aronian blundered on move 34 having just 20 seconds on his clock. Anand spotted the tactic that won a piece and romped home 15 moves later.
World Champion Magnus Carlsen started as the overnight leader and looked no signs of cooling off. He played the English opening and built-up a close to winning position only after 10 moves as Nakamura misplayed the opening. Carlsen's advantage was somewhat fluctuating but it never looked in danger. Carlsen held his advantage and traded into a winning Queen & Rook a piece ending. He pushed his passed pawn on the 'b' line and just as the pawn was one square before the promotion square, Nakamura stretched out his hand in resignation.
Reigning Fischer Random World Champion, Wesley So of the United States of America pulled off a rabbit out of a hat as he managed to swindle his opponent and win from a lost position. Ding Liren of China got a great position from the opening and was pressing until he faltered. He overlooked a simple 'pinning' tactic. Wesley spotted it to win a piece with 'f6' pawn move on the 38th move. He played three more accurate moves to force resignation.
In the last game, Indian wildcard Vidit Gujrathi drew against his good friend Anish Giri. Vidit often works as Giri's second for most event. Both sides tried for a bit but the game never really took off. After a bunch of trades, the peace treaty was signed in 30 moves.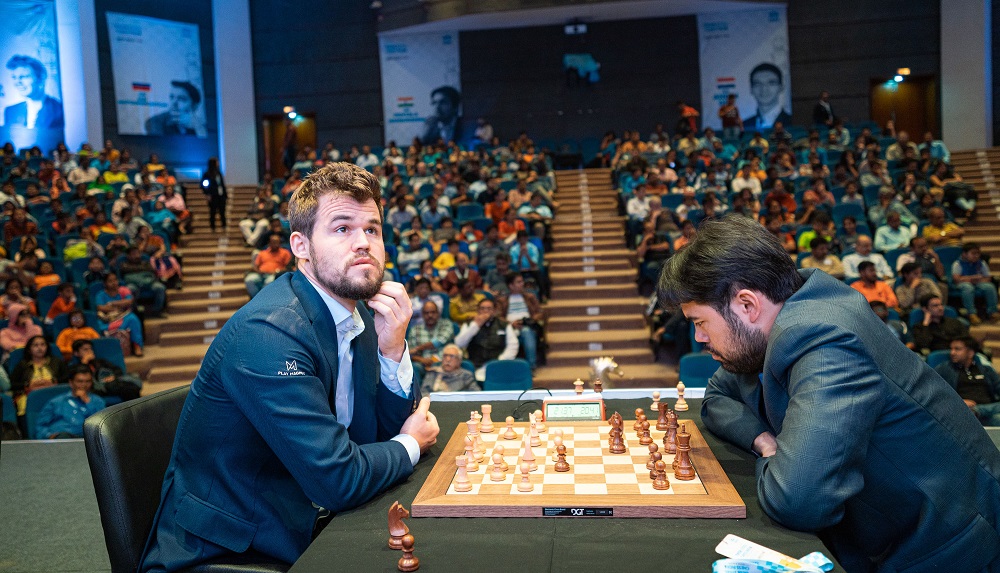 Round 5:
Round five was again a blood-bath as four of the five games saw decisive games.
World Champion Magnus Carlsen showed no signs of slowing down as he notched up his fourth successive win against Anish Giri of the Netherlands. Facing the Rossolimo variation against his Sicilian, Carlsen equalized comfortably with Black and also got the Bishop pair advantage. He showed impeccable technique and transited into a winning King and pawn endgame. Carlsen's advanced 'a' pawn forced Giri's resignation on move 55.
Indian superstar Vishy Anand employed the notorious Berlin Defense known for it's drawing tendencies against Nakamura's Ruy Lopez. Nakamura then entered the Anti-Berlin variation showing his intention of playing for a win. During the middle-game, Nakamura earned a healthy edge as Anand's Queen was caught offside on the b4 square. Nakamura then tried to storm the Kingside for a winning attack but Anand brought his queen back in the game in a timely manner to thwart all threats. Anand's counterplay was successful and he soon found a draw by perpetual checks to split the points.
Elsewhere, Indian wildcards Harikrishna and Vidit both lost in contrasting fashion to Aronian and Wesley respectively. While Aronian crushed Harikrishna, Vidit blundered in an dead-equal position in the Queen endgame. Vidit's 44th move blunder with pawn to b4 cost him the game. Wesley soon converted to rise to the joint second spot.
In the remaining match, Chinese number one Ding Liren won a fine game with Black against Ian Nepomniachtchi of Russia in the Ruy Lopez opening. Ding won a pawn in the middle-game and duly converted his advantage. Nepomniachtchi blundered a rook and resigned immediately on move 47.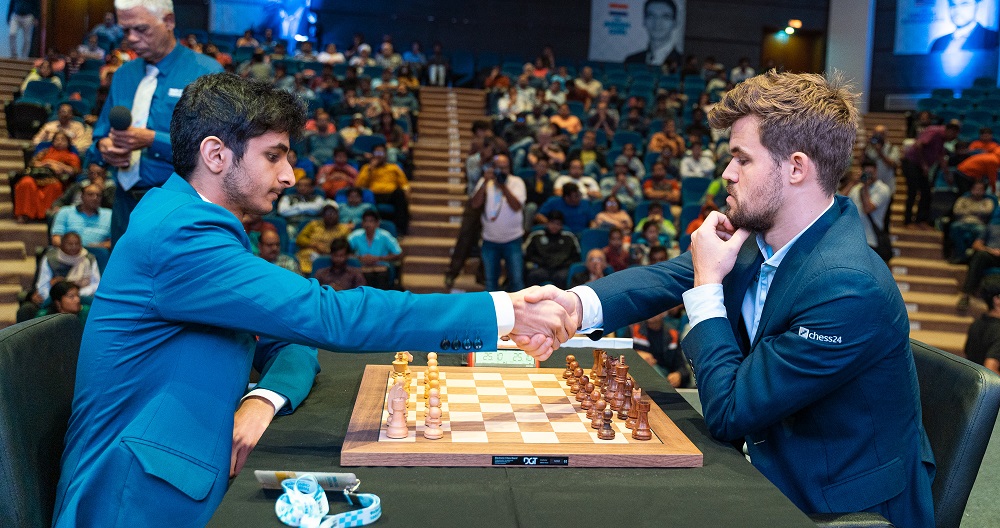 Round 6:
World Champion Magnus Carlsen was facing his weakest opponent in terms of rating in Vidit Gujrathi of India. With his current form and the situation, this seemed to be an easy game for the world champion. But, the Indian wildcard, Vidit surprised everyone and played some great chess to put Magnus on the backfoot. He won a pawn with a nice tactic with Nxd5 on move 17. Carlsen was under serious pressure for the first time on Indian soil. Vidit tried his best to put pressure and convert his extra pawn but Carlsen's experience prevailed as he maximised his drawing chances to enter a Queen endgame where he used Vidit's weakened King position to steer the game to a draw. Vidit fought on and created every inch of chance to create a result but Carlsen found the best way to safety. In a position with bare kings left they agreed to a draw on move 75 in the longest game of the event so far.
Indian legend Viswanathan Anand repeated his Italian opening of round four this time against Anish Giri of the Netherlands. Inspite of a nice opening, Giri slowly outplayed Anand to get a miniscule edge. The position was still drawish before Anand blundered with Qxc4 on move 36. This prompted a shift in momentum. Giri's active pieces forced Anand to sacrifice a pawn and also weaken his King position for counterplay. This proved fatal and Anand soon resigned in a hopeless position.
The last decisive result was seen in Harikrishna vs Nakamura. Harikrishna sacrificed a pawn as early as move 10 in a position that is still borderline theory. Harikrishna's position looked good until he blundered with f4 on the 30th move. This move weakened his second rank and his king position which Nakamura exploited to perfection. Thanks to this win, Nakamura has now jumped to joint second position along with his compatriot Wesley So.
Elsewhere, Ding Liren and Levon Aronian agreed to a draw in just 18 moves in a game in which nothing of substance happened. Wesley vs Nepomiachtchi was also a rather timid draw in 29 moves inspite of it featuring the razor-sharp Sicilian Najdorf variation.