Kolkata GCT - Tata Steel Chess India 2019 (Day 3)
Kolkata, November 24, 2019

All results
http://chess-results.com/tnr491092.aspx?lan=1&art=2&fed=RUS 
Standings: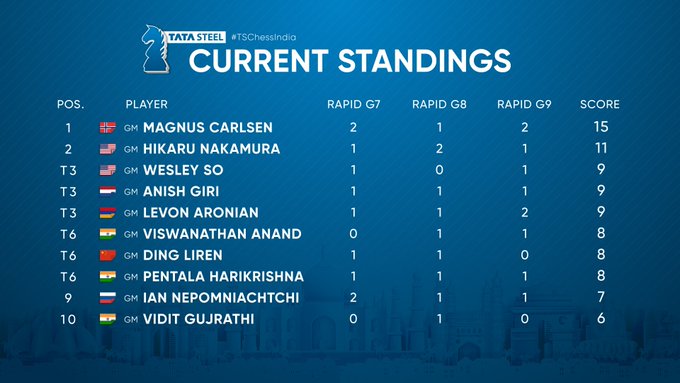 DAY 3
Day three of the Tata Steel Chess India leg of the Grand Chess Tour promised to be an exciting game and it didn't disappoint. A jam-packed audience filled up all the 600 seats at the Auditorium at the National Library in Kolkata.
The much awaited was the round seven clash between World Champion Magnus Carlsen and Indian superstar Viswanathan Anand, who were facing off on Indian soil for the first time since their World Championship match in Chennai in 2013.
Round 7
Carlsen playing white started with the Queen's pawn opening. Anand replied with the Nimzo-Indian defence which then transposed into the Ragozin opening. Anand went for the initiative and showed his intentions. He sacrificed an exchange and then the game entered murkier waters. Carlsen himself said: I was scared about this position. I tried to calculate everything but in such a messy position, it is easy to miss something and suddenly you're lost.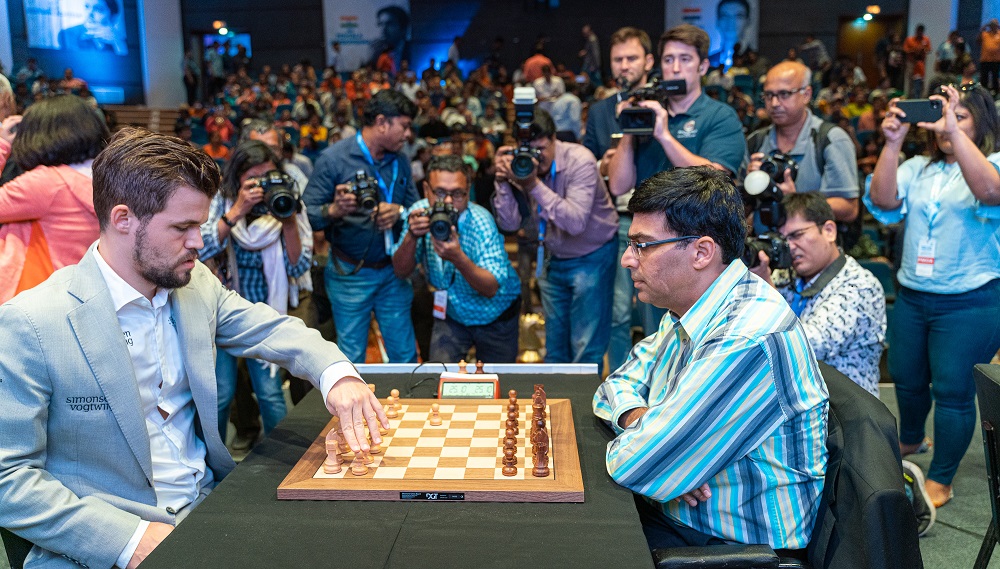 Anand's 19th move with Rook to e8 was a blunder that allowed Carlsen to grab the initiative. Anand tried his best to complicate matter. Carlsen was careful and didn't the best but the most comfortable road to victory. Later, Carlsen made beautiful use of Anand's exposed king to cash in another victory. This was a great game played by two champions and also also called as the "Best Game of the Tournament" by the Grand Chess Tour Commentators.
Tail-ender Ian Nepomniachtchi smashed through the defences of Indian wildcard, Vidit Gujrathi in the Scotch opening the only other decisive result of the round.
Another Indian wildcard, Harikrishna Pentala was totally lost against Anish Giri but would avoided an Indian white-wash by miraculously holding a draw in a Houdini like escape. Harikrishna was two pawns down and in a hopeless position but through pure grit and fighting spirit managed to save the game. This is now officially the longest game of the event lasting a mammoth 100 moves.
The other two games ended in draws and didn't see much action. Nakamura vs Ding was a draw in the Spanish opening while Aronian vs So featured the notorious Berlin Defence known for it's drawing tendencies.
ROUND 8
The Magnus Carlsen train finally was stopped by Indian star Harikrishna Pentala. Harikrishna chose the Slav exchange variation well known for it's drawing tendencies. Carlsen played aggressively and managed to improve his position slowly and gradually. He managed to completely outplay Harikrishna in the middlegame. Carlsen manoeuvred his pieces beautifully to enter a winning Rook and pawn endgame. Harikrishna looked down and dusted but hung on with only seconds on his clock. Carlsen who had played a flawless game until now suddenly blundered with the natural looking Rook to f3 on the 53rd move. Harikrishna managed to slowly claw back his way and activated his rook . His counterplay became too strong but still Magnus had great chances to win. Carlsen's final blunder came on move 63 and after that, Harikrishna held the draw in a Houdini like escape.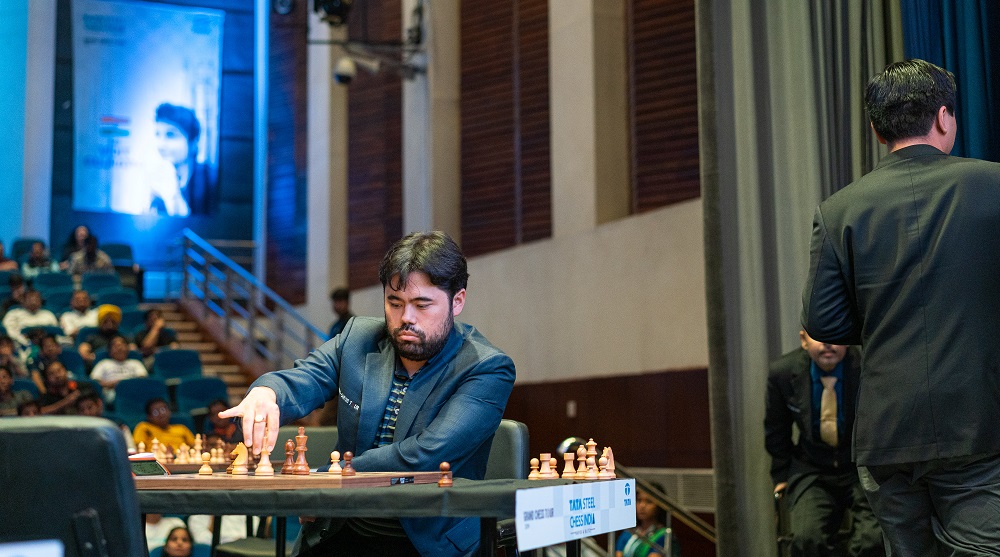 Indian superstar Viswanathan Anand took on compatriot Vidit Gujrathi with the Black pieces. Anand employed the Ragozin defence again like he did in the previous round but he took a safer approach and played a positional game. Anand gave Vidit an isolated Queen pawn but failed to completely capitalize on it. Vidit played energetically and managed to equalize. They soon drew in 28 moves.
The only decisive result of the round was Hikaru Nakamura's win over fellow American Wesley So. Hikaru playing Black, beautifully demonstrated the power of the bishop pair against the bishop and knight. In a seemingly equal endgame, Nakamura pressed on and finally Wesley blundered with King to e4 on move 53. He then duly converted and cemented his second position with a resounding win in 61 moves.
Elsewhere, Ding Liren tried to put pressure on Dutch star Anish Giri but the latter held with ease. While, Nepomniachtchi vs Aronian was quite a shocker as the players suddenly shook hands and agreed to a draw only after 13 moves.
ROUND 9
Even before the last round began, Magnus Carlsen was also already the champion of the rapid section even without making a move. Carlsen started with the King pawn opening and Ding followed with the Ruy Lopez opening. Ding played the risky Marshall gambit and sacrificed a pawn for activity. Calrsen obliged and grabbed the pawn. Slowly but steadily, Carlsen got his pieces out and finally managed to finish his development. He then went to a Queen and Knight vs Queen and Bishop endgame while being a pawn up. The Queen trade helped Carlsen and he duly converted to his sixth win of the event.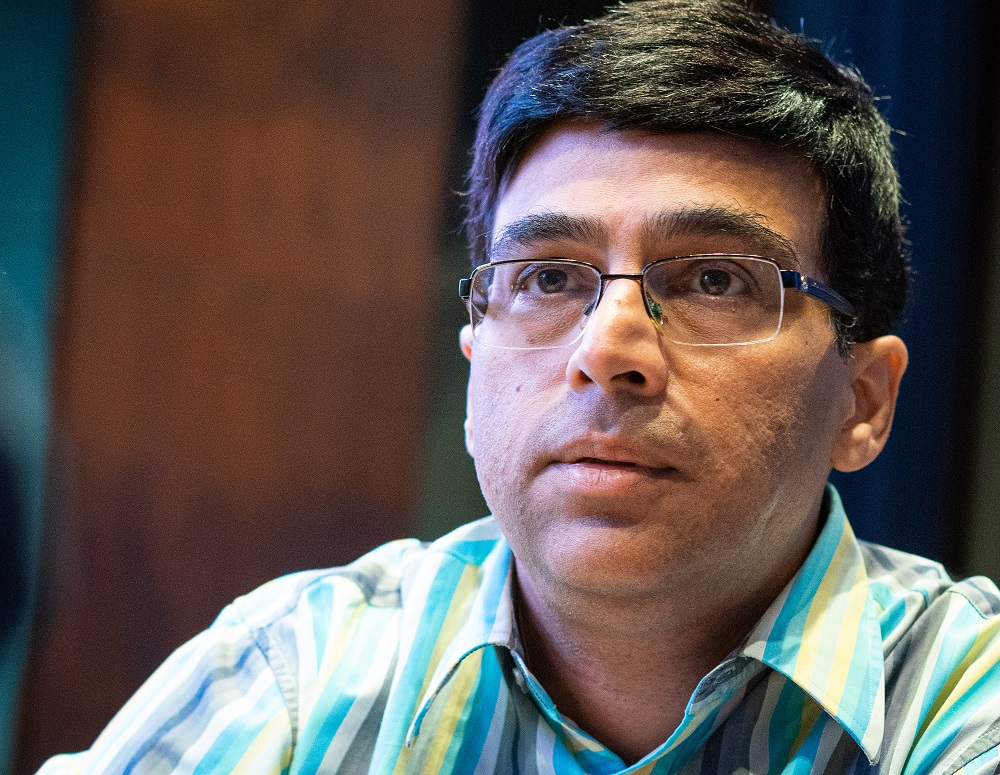 Indian superstar Viswanathan Anand played his compatriot and long-time India number 2, Harikrishna Pentala. Anand started out with the King's pawn opening and Harikrishna responded with the Sicilian Taimanov defence. He blundered on the 13th move with Bishop to b7 allowing Anand to check him thereby losing his right to castle. Anand looked better and was putting the pressure and close to winning in the Bishop endgame. Harikrishna was hanging on by a thread and literally playing on the delay. Anand had five minutes and a completely winning position before he blundered with pawn to b4 on the 56th move. Harikrishna gladly accepted his chance to trade more pawns and neutralize the position. Anand tried on for a few more moves and finally agreed to Harikrishna's draw offer on move 67 much to the dismay of the large crowd gathered. It was also the last game to finish and perfectly summed up a bad day at the office for Indians at this event.
Levon Aronian vs Vidit Gujrathi was another decisive result in favour of the Armenian. Playing white, Aronian chose the enterprising 4th move Ng5 line against the Three Knights opening. Vidit had a good position before he blundered with pawn to a4 on the 30th move. Aronian then grabbed the initiative and never let go.  Finally got the same Rook endgame in which Ding blundered and drew to Vidit. But, he paced himself and showed good technique to force Vidit's resignation on move 54.
Elsewhere, Nakamura drew Nepomniachtchi to confirm his second place. Anish Giri and Wesley So also drew in a side line of the Catalan. Both the players looked well prepared and played a game that will have importance on this theoretical line.