Kolkata GCT - Tata Steel Chess India 2019 (Day 4)
Kolkata, November 25, 2019
Standings: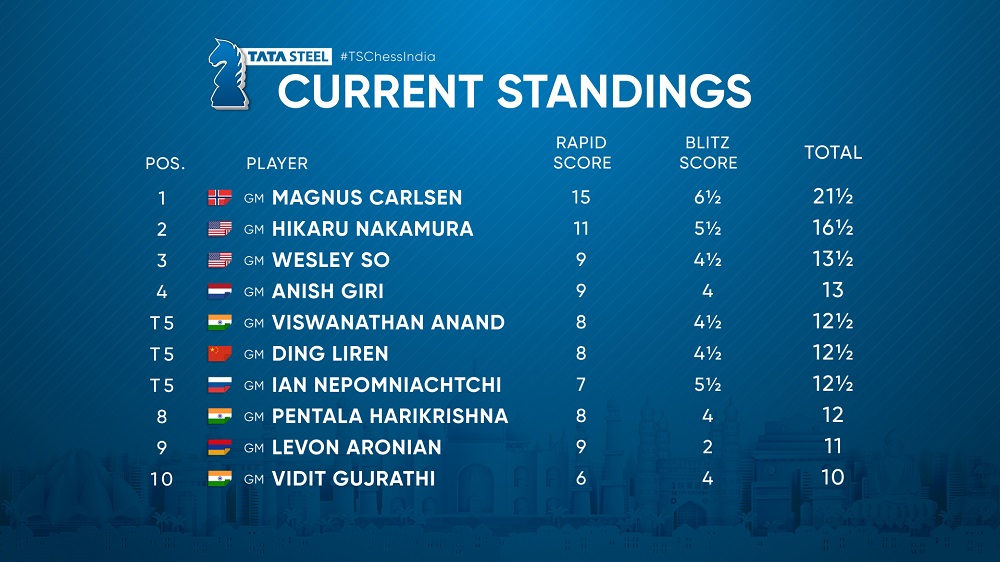 All results
http://chess-results.com/tnr491101.aspx?lan=1&art=2 
DAY 4 – BLITZ
ROUND 1
World Champion Magnus Carslen started off in blitz from he left the rapid. He scored a crushing win over Indian star Vidit Gujrathi with the black pieces in a sideline of the Catalan. In a time-scramble, Carlsen composed himself and grabbed onto Vidit's blunder late into the game to deliver checkmate.
Indian superstar Viswanathan Anand went down fighting to Ian Nepomniachtchi of Russia. Anand tried a side line against Black's Sicilian but got nothing out of the opening. Then, Nepomniachtchi slowly outplayed Anand and cruised through.
Wildcard Harikrishna Pentala scored a thumping win with Black over seasoned campaigner Levon Aronian.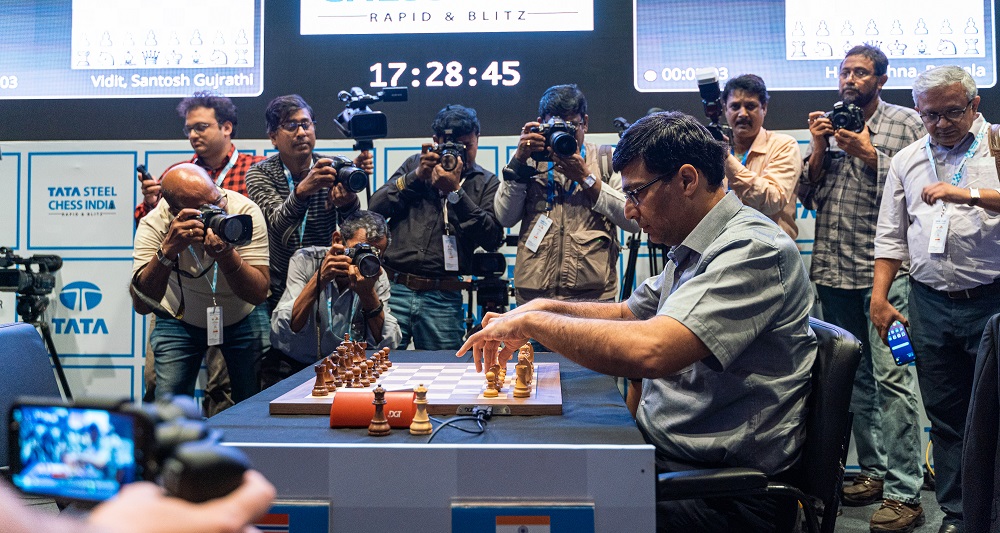 ROUND 2
Indian superstar Viswanathan Anand bounced back strongly to inflict Levon Aronian's second defeat in as many rounds. Anand maneuvered beautifully in an Opposite-Colored Bishop endgame to beat Aronian for his first win of the blitz event.
Indian wildcard, Vidit Gujrathi notched his first win in Kolkata after 10 games as he won a top-class game against Chinese GM Ding Liren. Playing Black and with just seconds on his clock, Vidit played beautifully in the Rook and Knight vs Ding's Rook and Bishop endgame to get his first win of the event.
The Magnus Carlsen express was halted by Anish Giri as he held the world champion showing herculean defensive technique.
ROUND 3
In a round that featured only one decisive result, it was quite an exciting affair. World number one in Blitz, Hikaru Nakamura played risky chess and gave Magnus Carlsen a huge scare before they drew with perpetual checks after 32 moves.
Viswanathan Anand was once again pushing India number two, Harikrishna Pentala. In a game which he should have won, Anand let Hari escape once again and had to be content with a draw.
Ian Nepomniachtchi was the sole winner as he beat Vidit Gujrathi in a game he was extremely lucky to win as Vidit missed a clear win in time-trouble.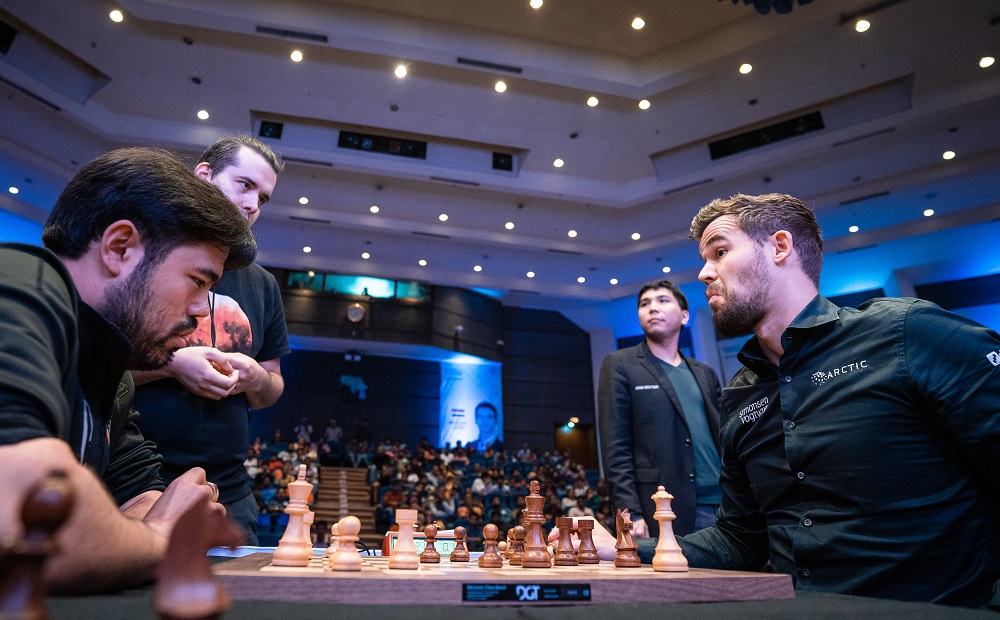 ROUND 4
Indian superstar played magical chess as he beat Wesely So in 50 moves in the Anti-Berlin variation of the Ruy Lopez opening. Anand played one of the best games of the tournament to absolutely crush Wesley in a flawless game.
World Champion Magnus Carlsen stretched his lead even further as he beat wildcard Harikrishna Pentala with Black. Carlsen won a rook and then gave it back to convert comfortably in a Rook endgame. Thanks to this win, he stretches his lead to 4.5 points over his nearest rival Hikaru Nakamura.
Elsewhere, Russian star Ian Nepomniachtchi who had a regrettable rapid event is now firing on all cylinders as he is leading the blitz section. He is off to a flyer as he beat Anish Giri and has now scored 3.5 out of four games
ROUND 5
Round five saw a historic game as World Champion Magnus Carlsen lost his first ever game on Indian soil ever!
Ding Liren played wonderfully and attacked Carlsen on the kingside to record a historic win also stop the Magnus Carlsen express. Ding playing Black, ran his king from the g8 square to the c8 square so that he could attack Carlsen's king. Ding overpowered white's monarch and forced resignation in 35 moves.
Wildcard Vidit Gujrathi had Vishy Anand on the ropes. Anand was hanging on by a thread and finally managed to hold the draw after tenacious defence. Vidit was a pawn up throughout but failed to convert even after trying for 106 moves as Anand's heroic defence ended in stalemate.
Elsewhere, Anish Giri destroyed Levon Aronian who is having a regrettable blitz event.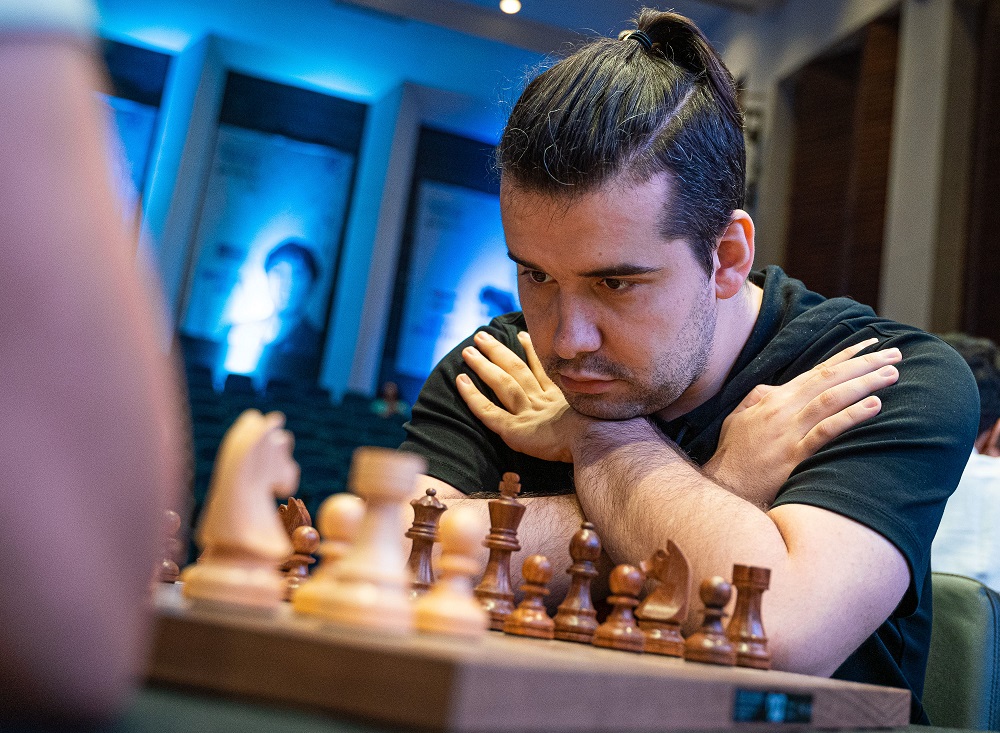 ROUND 6
Magnus Carlsen was back to winning ways as he crushed Ian Nepomniachtchi after the latter played  a very risky opening. Carlsen playing the black side of a Scandinavian calmly collected all pawns sacrificed by white and then consolidated well for his ninth victory in Kolkata.
Ding Liren scored his second consecutive win to beat Harikrishna Pentala with black. He now ties with Vishy Anand for the joint third position with this win.
Blitz World Number one, Hikaru Nakamura won again as beat tail-ender Levon Aronian. Nakamura cements his second position in the overall standings thanks to this victory.
ROUND 7
World Champion Magnus Carlsen is simply unstoppable! He scores his 10th win in Kolkata as he destroys Levon Aronian who has now scored only one point out of seven games today. He is having one of the worst tournaments of his life.
Magnus played the brilliant Rc2 in the rook endgame that helped protect his king and also get a new queen which soon forced resignation.
In a shocking end to a fine game, Anish Giri was completely winning but lost as he ran out of time! Wesley So the benefactor from this incident, said he was extremely lucky to win this game.
Elsewhere, Viswanathan Anand held the world number one in blitz, Hikaru Nakamura to a comfortable draw with the Black pieces. Anand set out defensively and held the draw with ease.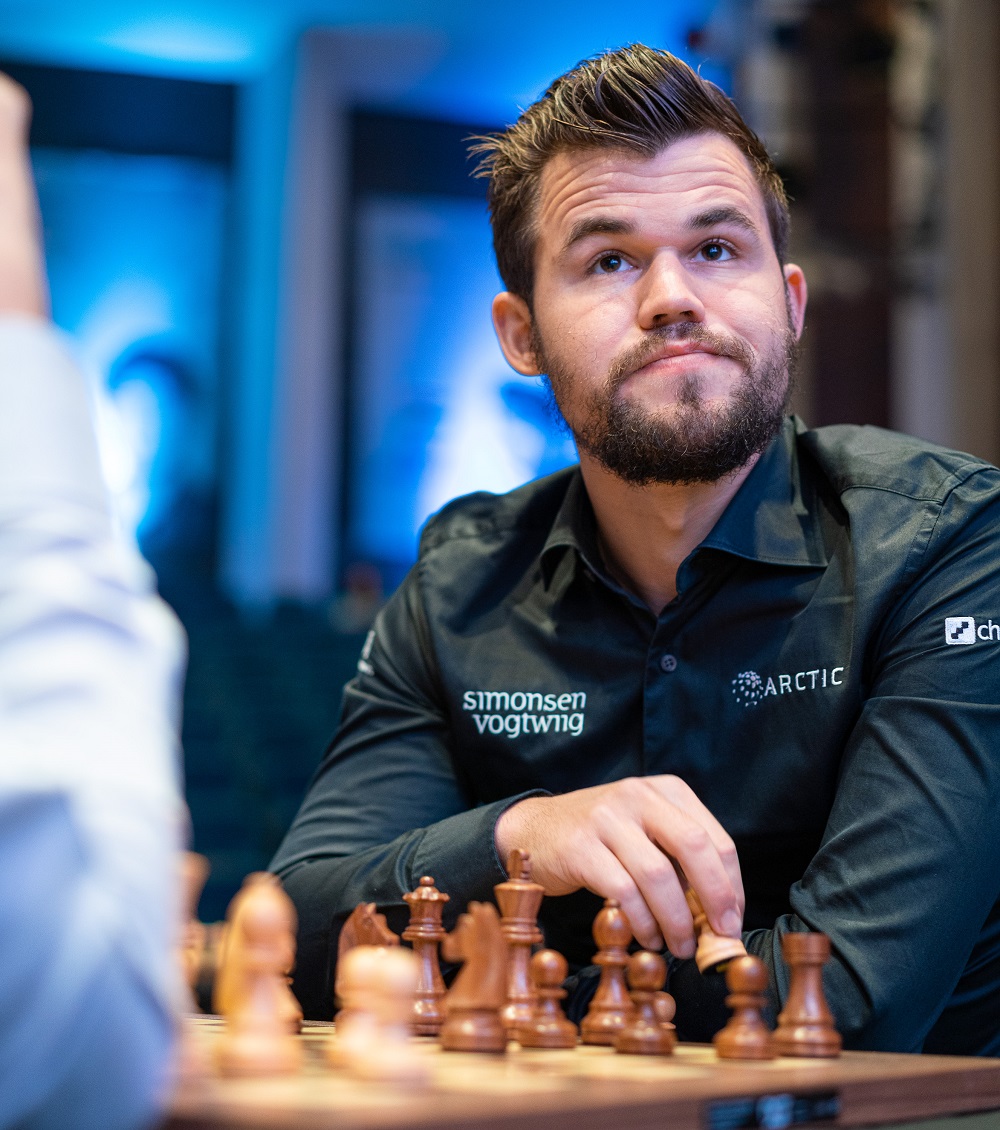 ROUND 8
World Champion Magnus Carlsen and Viswanathan Anand faced off again in this round. Carlsen employed his trademark blitz opening, the Scandinavian defence against Anand's King pawn opening.
Anand played it really safe and played for a draw right from the bat. Carlsen gained the edge slowly and got some good initiative in the middlegame and also won a pawn. He then showed supreme technique in a Rook and opposite colored Bishop endgame. Carlsen's active pieces and the ticking clock made matters worse for Anand, who tried his best but had to throw in the towel after 57 moves.
Indian wildcard Harikrishna Pentala scored a monumental victory over Ian Nepomnniachtchi in a game where both sides missed several tactical chances. Hari pounced on an opportunity when presented and duly converted to win in 40 moves.
Elsewhere, tail-ender Levon Aronian beat Ding Liren in a fine game and is slowly rising in the standings.
ROUND 9
The last round of the blitz was kind of anti-climax that featured only one decisive game as Ian Nepomniachtchi beat Levon Aronian in a wild game where both players had serious chances to win. World Champion Magnus Carlsen drew Wesley So in a Nimzo-Indian defence. The game never really took off and in a Rook and opposite colored Bishop endgame, The players agreed to a draw after 36 moves.
Viswanathan Anand drew Ding Liren in a game which is the detrimental to the overall standings. Anand defended superbly in a precarious position. As per the current standings, Anand will still qualify to the Grand Chess Tour finals in London, next week. Anand has to finish sixth or higher to guarantee himself of qualification.
Quotes:
Magnus Carlsen ~ "When I am at my best, I am a little better than the others."
Ian Nepomniachtchi ~ I am good friends with Magnus. We had a training camp together back in 2011-2012. We have always maintained that. Of course, It was funny to see the Scandinavian he kind of provoked me. I blundered with Ne5 and lost but I don't mind him playing the Scandinavian against me."
Anish Giri ~ It's great to be in India. We also have several tournaments in Holland and great traditional tournaments in Wijk Aan Zee also organized by Tata Steel. But, the Indian crowd and support is fantastic to see and the people are very warm. They like their photos and autographs and I love playing here."