Tata Workers' Union honors INTUC President Dr G Sanjeeva Reddy with 'The 24th Michael John Memorial Lecture Gold Medal' award
Jamshedpur , May 02, 2018
Shri Reddy delivers 'Michael John Memorial Lecture' on the subject 'Future of Work'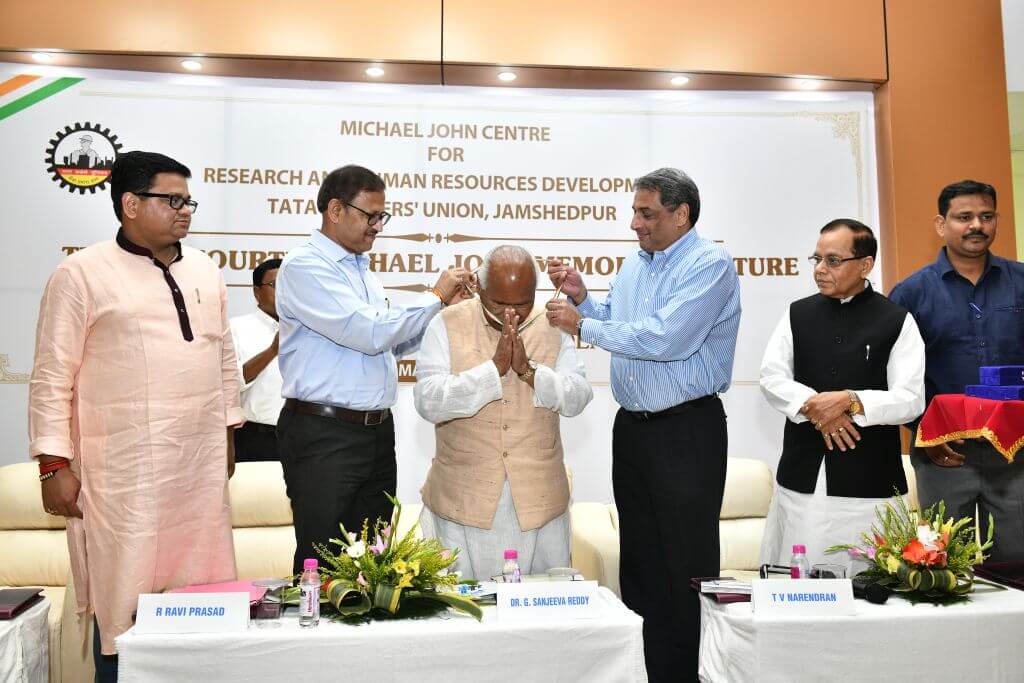 Tata Workers' Union (TWU), Jamshedpur today honored Dr G Sanjeeva Reddy, President, Indian National Trade Union Congress (INTUC), with 'The 24th Michael John Memorial Lecture Gold Medal' award for his contribution towards Trade Union leadership in the country.
Dr G Sanjeeva Reddy was the speaker at the 24th Michael John Memorial Lecture organized by the Tata Workers' Union at the Michael John Auditorium, Jamshedpur. Mr. T.V Narendran, CEO and MD, Tata Steel, graced the occasion as the Chief Guest while Mr. Rajendra Prasad Singh, General Secretary, INTUC, was the Guest of Honour.
Speaking on the topic "Future of Work", Dr Reddy said 'I have worked with Michael John in the past. He has given great contribution to the Tata Worker's Union. I have learnt a lot from him'. He further said that " The Worker is a social partner of the industry. New Technology increases Productivity, Profitability of any industry but it reduces manpower, hence jobs are lost. Today due to global competition industries have to be updated with technology, skill, price and quality. It is a big question in front of Trade Union now as to how jobs can be guaranteed for  workers".
Mr. T. V. Narendran congratulated the Tata Workers' Union for organizing the Michael John lecture. According to him "The topic of the lecture is very challenging. We are living in a disruptive environment. Many industries have closed down due to increasing intervention of technology. But it is also true that new jobs are created by new technology. We need to adapt to the changing trend." He added that "Tata Steel has always thought about the future, hence it is competitive even after 110 years. At Tata Steel, Management and Union have always worked together"
Mr. Rajendra Prasad Singh, Guest of Honour said " Tata Workers' Union has a rich history. We need to carry our old legacy led by leaders such as Netaji Subhash Chandra Bose, J N Tata and work towards a better future". Putting an emphasis on collaborative effort between Management and Union in finding a solution during a crisis, he mentioned about the Jharia Division closure issue and how together they found a solution in reducing the cost per ton to sustain the mining business there.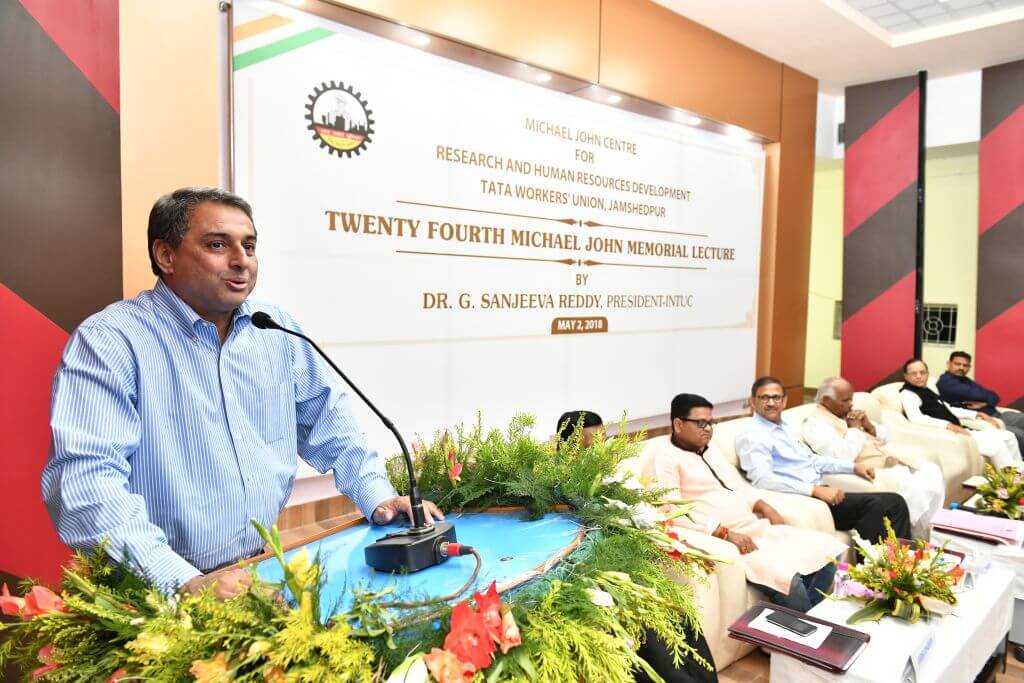 Mr. R Ravi Prasad, President Tata Workers' Union and Chairman, Michael John Memorial Lecture Committee, said that "It is a matter of pride and honor for us to confer The 24th Michael John Memorial Lecture Gold Medal to Dr G Sanjeeva Reddy today. The Trade Union movement in India has benefitted immensely from Dr. G Sanjeeva Reddy's unceasing efforts to strengthen the same. He has also provided Trade Union leadership at an international level - from India to the world - over several decades." 
Born on February 18, 1930 in Hyderabad to Smt. Narasamma and Sri Achhi Reddy, Dr.G Sanjeeva Reddy has been a leading light in social activities, which also established him in the political sphere as a leader of choice.
As a young worker Dr.Reddy joined the Trade Union movement in 1948 and he was elected as General Secretary of INTUC, Andhra Branch in 1950. He was elected to the coveted position of President of INTUC in 1994, which he holds till date. In addition to these positions, he has also been the President of premier national Trade Unions including Electricity, Coal, Steel, Cement and many others.
Shri Reddy has also been part of a leading educational Institute and served as a member of Board of Governors, Indian Institute of Management (IIM), Rohtak. He was also conferred with a Doctorate by Mahatma Gandhi Kashi Vidyapith, Varanasi for his contribution to Public Life and service to the nation.
Speakers at Michael John Memorial Lectures :
| | | | |
| --- | --- | --- | --- |
| SL. No. | Year | Lecture by | Subject |
| 1 | 1985 | J. R. D. Tata, Former Chairman, Tata Steel | Working & Growing Together |
| 2 | 1986 | G. Ramanujam, Former President, INTUC | Towards New Culture |
| 3 | 1987 | L. K. Jha, Former Secretary, Ministry of Finance | Strategy for full Employment |
| 4 | 1988 | Dr. P. P. Narayanan, President, ICFTU | Trade Union in the 21st Century- The Challenging Ahead |
| 5 | 1989 | S. K. Jain, Former Dy. Director General, ILO | Technology Employment and Quality of Work |
| 6 | 1990 | C. S. Dharmadhikari, Retd. Judge, Bombay High Court | Dignity of Labour |
| 7 | 1991 | Dr. V Krishnamurthy, Former Chairman, Maruti Udyog Ltd. | Labour Management partnership for Global Competitiveness |
| 8 | 1992 | Russi Mody, Former Chairman & M. D., Tata Steel | Probing into the Future |
| 9 | 1993 | R. Venkataraman, Former President of India | Labour Relation for Productivity & Quality |
| 10 | 1994 | V. G. Gopal, Former President of Tata Workers' Union | Trade Union- A positive factor of  nation Building |
| 11 | 1995 | Ratan Tata, Emeritus Chairman, Tata Steel | On Human Bonds & Value |
| 12 | 1996 | Gopeshwar, Former General Secretary, INTUC | Industrial Growth Scenario Today |
| 13 | 1997 | P. A. Sangma, Former Speaker of Lok Sobha | Trade Union Solidarity Dignity of Labour |
| 14 | 1998 | Dr. J.J. Irani, Former MD, Tata Steel | The Role of Industrial Relation in the Changing Industrial Scenario |
| 15 | 1999 | R. P. Billimoria, Chairman & M.D. Billimoria, Consultant Pvt. Ltd. | Building & Sustaining Together Michael John Foot Steep |
| 16 | 2000 | Fr. E. H. Grath, Director, Human Life Centre, Balasore (Orissa) | Significant features of the world of work today |
| 17 | 2001 | Dr. Karan Singh, Former M.P. | Labour Management Relationship |
| 18 | 2002 | Prof. APJ Abdul Kalam Hon'ble President of India | Quality of Man |
| 19 | 2003 | B. Muthuraman, Former MD, Tata Steel | Tata Steel on Economic value and Industrial Relation |
| 20 | 2008 | Oscar Fernandes, Former Minister of State (Independent Charge) of the Ministry of Labour and Employment, GoI | Importance of Technical Education |
| 21 | 2009 | S. K. Benjamin, Former President of TWU | Industrial Peace and Harmony |
| 22 | 2010 | HM Nerurkar, Former Managing Director, Tata Steel | On innovation, education and training |
| 23 | 2011 | Shri Prakash Jaiswal, Ex Union Minister, Coal | On cordial Relationship between TWU and Tata Steel based on the principle of trusteeship |
| 24 | 2018 | Dr G Sanjeeva Reddy, President, INTUC | Future of Work |