Tata Steel 'Regional Samvaad' 2018, Concludes at Ranchi
Ranchi, October 10, 2018
~ Six Regional Samvaads have provided a platform for dialogue, bringing together 153 tribal communities from 118 districts across India~ ~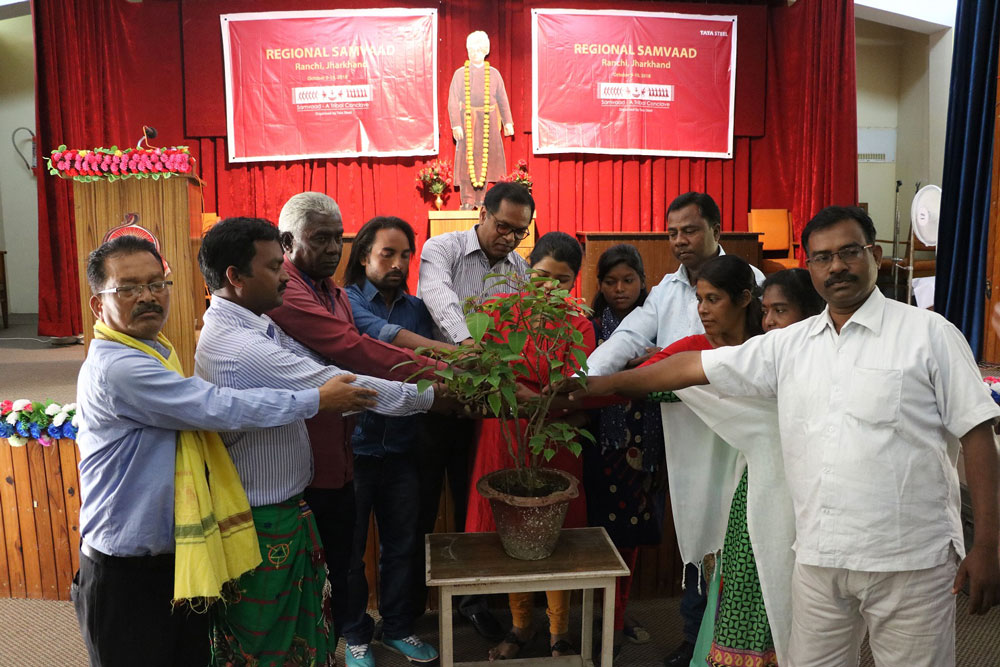 The sixth and final regional round of Samvaad 2018 concluded at Ranchi today. We saw representation from 12 tribal communities (Oraon, Bhumji, Ho, Santhal, Munda, Khariya, Lohra, Kora, Lodha, Karmali, Gond, Mahali) from 14 districts across Jharkhand and neighbouring West Bengal.  The six regional Samvaads constitute a series of community-sourced dialogues among the tribal communities, culminating in the main Samvaad conclave which will take place from 15-19 November 2018 at Jamshedpur, Jharkhand.
Over the years, the Samvaad platform has seen an engagement from more than 20 no. of tribes from Jharkhand including several Particularly Vulnerable Tribal Group.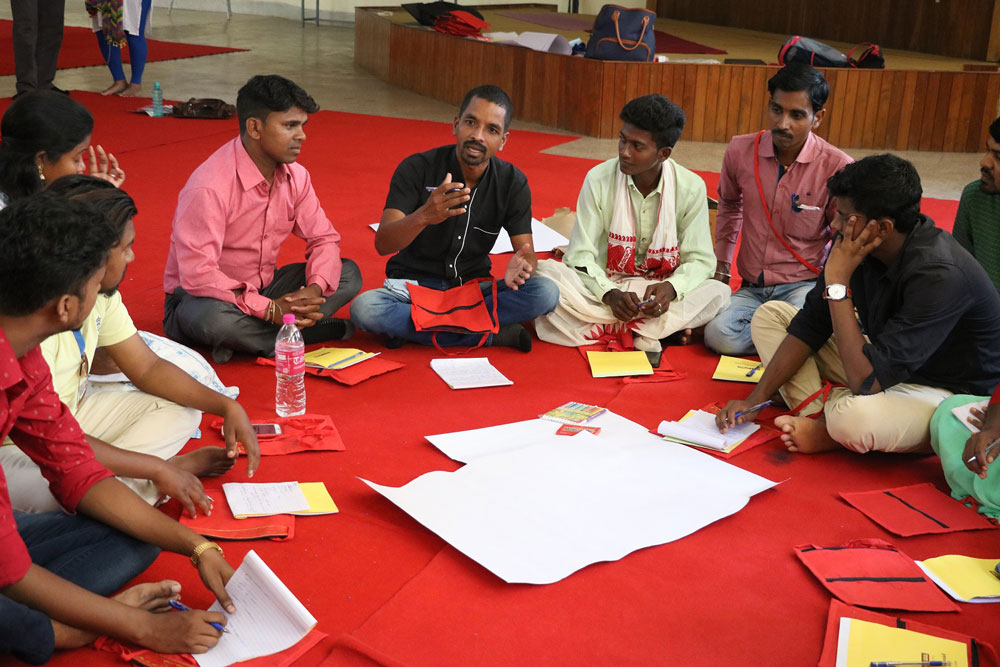 The discussions in Ranchi focused on deconstructing concerns and recognising solutions across diverse issues such as the continued relevance of tribal culture & identity, challenges in localising educational system, responsible grassroot governance and forest-based livelihoods. The concerns of tribal communities posed by new external forces in keeping their essence and identity intact were commonly echoed across participants. 
The participants enthusiastically contributed to the discussions and shared proposed solutions which included focus on providing social education to the new generation, seeking platforms to showcase artisans' products, taking pride in one's language and culture, promote the rituals and traditions and become aware on political and judicial rights.
These deliberations have been documented and will be shared with participants for positive constructive action.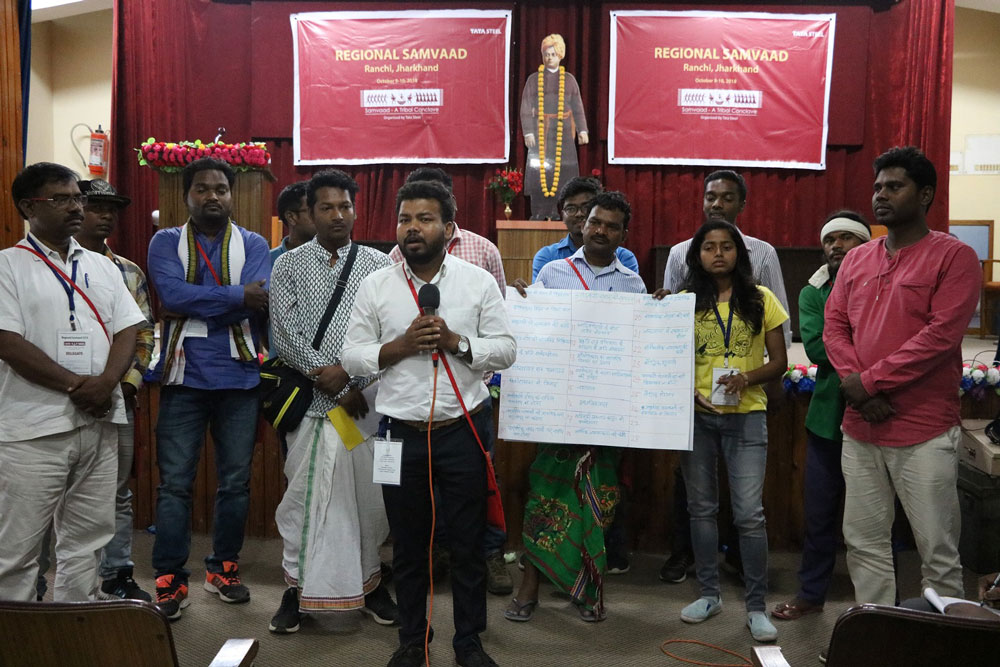 Mr Sourav Roy, Chief, CSR, Tata Steel, said, "The regional Samvaad in Jharkhand was particularly meaningful in enabling unbiased conversation on tribal perspectives or development in Jharkhand. All six regional editions of Samvaad gave us the opportunity to interact with a cross section of tribal communities on issues that impact tribalism in India. These interactions will also enable us to create a roadmap to contribute to the cause more meaningfully in the coming years.  We now look forward to main Samvaad in November 2018 in Jamshedpur."
The Regional Samvaad – an integral part of Samvaad 2018, the fifth edition of Tata Steel's annual outreach programme to initiate dialogue on the issues of tribalism in India - brought community leaders and members of some of the longest surviving tribal communities from four corners of the country under one roof to share their ideas, thoughts and perspectives on the theme of 'Coming together for social change'.
The format of each session is uniform across all locations. The first day comprises an ice-breaker, group-discussions on issues faced by diverse tribes, presentation to the larger group, Q/A followed by a cultural performance and the second day involves brainstorming on solutions to the issues followed by presentation to the wider audience. 
The previous five regional discourses were organised in Odisha (Gajapati), Tamil Nadu (Madurai), Rajasthan (Udaipur), Nagaland (Dimapur) and Chattisgarh (Raipur).
This event was organised by the Corporate Social Responsibility team of Tata Steel at Ramakrishna Mission Ashrama, Ranchi.
Summary of the six regional Samvaads of 2018
| | | | |
| --- | --- | --- | --- |
|   | Tribes | Districts | People |
| Gajapati, Odisha | 38 | 15 | 140 |
| Madurai, Tamil Nadu | 28 | 24 | 146 |
| Udaipur, Rajasthan | 19 | 21 | 139 |
| Dimapur, Nagaland | 34 | 24 | 117 |
| Raipur, Chattisgarh | 22 | 20 | 99 |
| Ranchi, Jharkhand |  12 |        14 |      107 |
| Total | 153 |        118 | 748 |
About Samvaad
'Samvaad' is a platform for the tribes to exchange ideas, thoughts and share their concerns. It encourages tribal communities to take the lead in initiating discourse on issues that govern their social sustenance and development. Samvaad is now fast growing as an eco-system where tribal thoughts and voices manifest in various forms – be it a discourse, a work of research, music, food and cuisine collaboration or even documentaries. The concept of regional Samvaad was initiated in 2016 with the objective of reaching out to more tribal communities in the hinterland and factor unheard voices therein. Since its inception, Samvaad has witnessed a flurry of discussions and activities under identified themes including Preservation, Protection and Promotion of Tribal languages (2015), Tribal Health Systems (2016) and 'Aspirations of Tribal Youth & Leadership for Future' (2017).
About Tata Steel                  
Tata Steel Group is among the top global steel companies with an annual crude steel capacity of 27.5 million tonnes per annum (MTPA) as on March 31, 2018. It is one of the world's most geographically-diversified steel producers, with operations in 26 countries and a commercial presence in over 50 countries. The Group recorded a consolidated turnover of US $20.41 billion (INR 133,016 crore) in FY18. Tata Steel Group is spread across five continents with an employee base of over 65,000. Tata Steel retained Industry Leader position in FY18 and ranked second overall in the DJSI assessment, 2017. The Company has been recognised as the Climate Disclosure Leader in 'Steel category' by CDP (2017). Besides being a member of the World Steel Climate Action Programme, Tata Steel was felicitated with several awards including the Prime Minister's Trophy for the best performing integrated steel plant for 2014-15 and 2015-16, Best Risk Management by CNBC TV18 (2018) and 'Corporate Strategy Award' by Mint (2018). The Company also received the 'Most Ethical Company' award from Ethisphere Institute for the sixth time (2018), Steel Sustainability Champions (2017) by the World Steel Association, Dun & Bradstreet Corporate Awards (2017 & 2018), Golden Peacock HR Excellence Award by Institute of Directors (2017) as well as 'Asia's Best Integrated Report' award by the Asia Sustainability Reporting Awards (2017), among several others.
Disclaimer
Statements in this press release describing the Company's performance may be "forward looking statements" within the meaning of applicable securities laws and regulations. Actual results may differ materially from those directly or indirectly expressed, inferred or implied. Important factors that could make a difference to the Company's operations include, among others, economic conditions affecting demand/ supply and price conditions in the domestic and overseas markets in which the Company operates, changes in or due to the environment, Government regulations, laws, statutes, judicial pronouncements and/ or other incidental factors.