Over 1000 students from Bijnor join hands with 'Mission Gange'
Bijnor, October 11, 2018
~A total of 4 tonnes of waste collected in two days~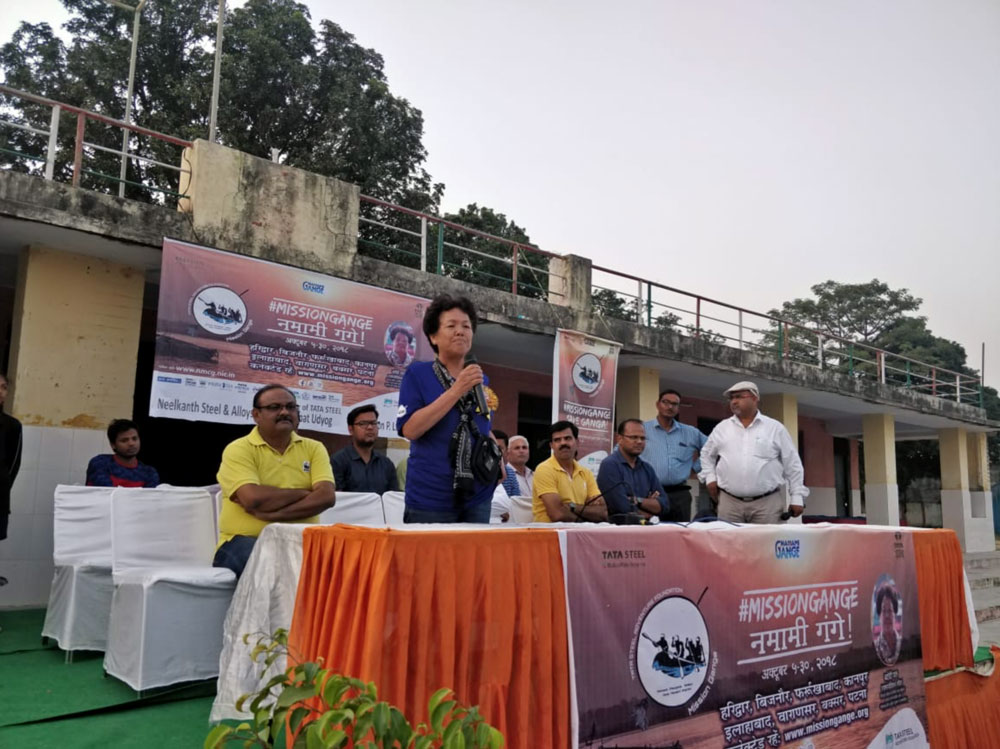 Over 1000 school students from Bijnor, joined hands with the 40-member team of Mission Gange, a joint initiative of Tata Steel Adventure Foundation (TSAF) and National Mission for Clean Ganga (NMCG) to raise awareness about waste management and Ganga cleanliness through a month-long rafting expedition.
The rafting expedition is led by Tata Steel Adventure Foundation Chief Ms. Bachendri Pal, the first Indian woman to scale Mount Everest. The expedition began on October 5, 2018 from Haridwar and will be traversing around 1500 kms via rafting. The journey, encompassing eight major towns including Bijnor, Farrukhabad, Kanpur, Allahabad, Varanasi and Buxar, will conclude in Patna on October 30, 2018. 
Prior to the expedition kickoff, Mission Gange team met and interacted with the Hon'ble Prime Minister Shri Narendra Modi on October 4 in New Delhi.
The Mission Gange team reached Bijnor on October 9, 2018 and was welcomed by Bijnor District Magistrate Shri Atul Kumar Rai and other ­­­­­dignitaries. The team was camping here till morning of October 11 post which they headed for the next stoppage at Farrukhabad.
The support received at Bijnor has been overwhelming with the participation of over 1000 students in the Prabhat Feri to spread cleanliness awareness. The team visited St Mary School, Bijnor Inter College and Vivek College and interacted with the students discussing waste management along with various other ways to keep the environment clean. A cleaning drive was also organised at the Numaish ground.
The team collected 2 tonnes of waste from the river banks and village surroundings. A total of 4 tonnes of waste has been collected in two days.
"The team morale is at its best and we are off to a terrific start. While we are keen to reach out to every member of the local communities, it is particularly encouraging to see school and college students participating in such large numbers to clean the Ganga," said TSAF Chief and 'Mission Gange' expedition leader Ms Bachendri Pal. 
Ms. Pal stressed on the importance of the involvement of the local population for the success of the mission and the long-term objectives of the Indian Government's Namami Gange initiative.
Ms Pal and the Mission Gange team also interacted with students at the Bijnor stadium. They visited Vidur Kuti, where they were welcomed by 2000 villagers and students from Vidur Kuti Vidyalaya. The team interacted with the villagers and children and explained the importance of cleanliness to them. The team also played a friendly football match with local administration to raise awareness.
TSAF has brought together a diverse and industrious team of 40 individuals (20 women and 20 men) including eight mountaineers, who have summited Mt. Everest, and 26 Tata Steel employees. Besides, professionals from backgrounds as diverse as engineering, environmentalists, science etc. are part of the expedition team that is prepared to meet all the challenges that they may encounter during the expedition.
The team, during its stay in various towns along the course, will carry out cleanliness drives at Ghats and surrounding areas, visit schools and institutions to create awareness on waste management, pollution in Ganga and climate change.
About Tata Steel Adventure Foundation (TSAF)
Founded by legendary mountaineer Ms Bachendri Pal, first Indian woman to climb Mt Everest on May 23, 1984 Tata Steel Adventure Foundation is an outbound leadership institute which through its wide range of activities aims at developing able leaders for the future through identification of their limits of mental and physical endurance. It allows people from all walks of life and all ages to choose their own metaphor for self-discovery. True to its philosophy of experimental learning, TSAF believes that no classroom is better than nature and no teacher is better than your own will.
In addition to TSAF outbound leadership program, several other courses are conducted by TSAF like horse riding, parasailing, water sports, sport climbing, rock climbing and many others. Each course is a certification course thereby giving a sense of fulfillment and achievement at the end of it.
About Tata Steel
Tata Steel Group is among the top global steel companies with an annual crude steel capacity of 27.5 million tonnes per annum (MTPA) as on March 31, 2018. It is one of the world's most geographically-diversified steel producers, with operations in 26 countries and a commercial presence in over 50 countries. The Group recorded a consolidated turnover of US $20.41 billion (INR 133,016 crore) in FY18. Tata Steel Group is spread across five continents with an employee base of over 65,000. Tata Steel retained Industry Leader position in FY18 and ranked second overall in the DJSI assessment, 2017. The Company has been recognised as the Climate Disclosure Leader in 'Steel category' by CDP (2017). Besides being a member of the World Steel Climate Action Programme, Tata Steel was felicitated with several awards including the Prime Minister's Trophy for the best performing integrated steel plant for 2014-15 and 2015-16, Best Risk Management by CNBC TV18 (2018) and 'Corporate Strategy Award' by Mint (2018). The Company also received the 'Most Ethical Company' award from Ethisphere Institute for the sixth time (2018), Steel Sustainability Champions (2017) by the World Steel Association, Dun & Bradstreet Corporate Awards (2017 & 2018), Golden Peacock HR Excellence Award by Institute of Directors (2017) as well as 'Asia's Best Integrated Report' award by the Asia Sustainability Reporting Awards (2017), among several others.