Tata Steel pays homage to Sir Dorabji Tata on his 159th Birth Anniversary
Jamshedpur, August 27, 2018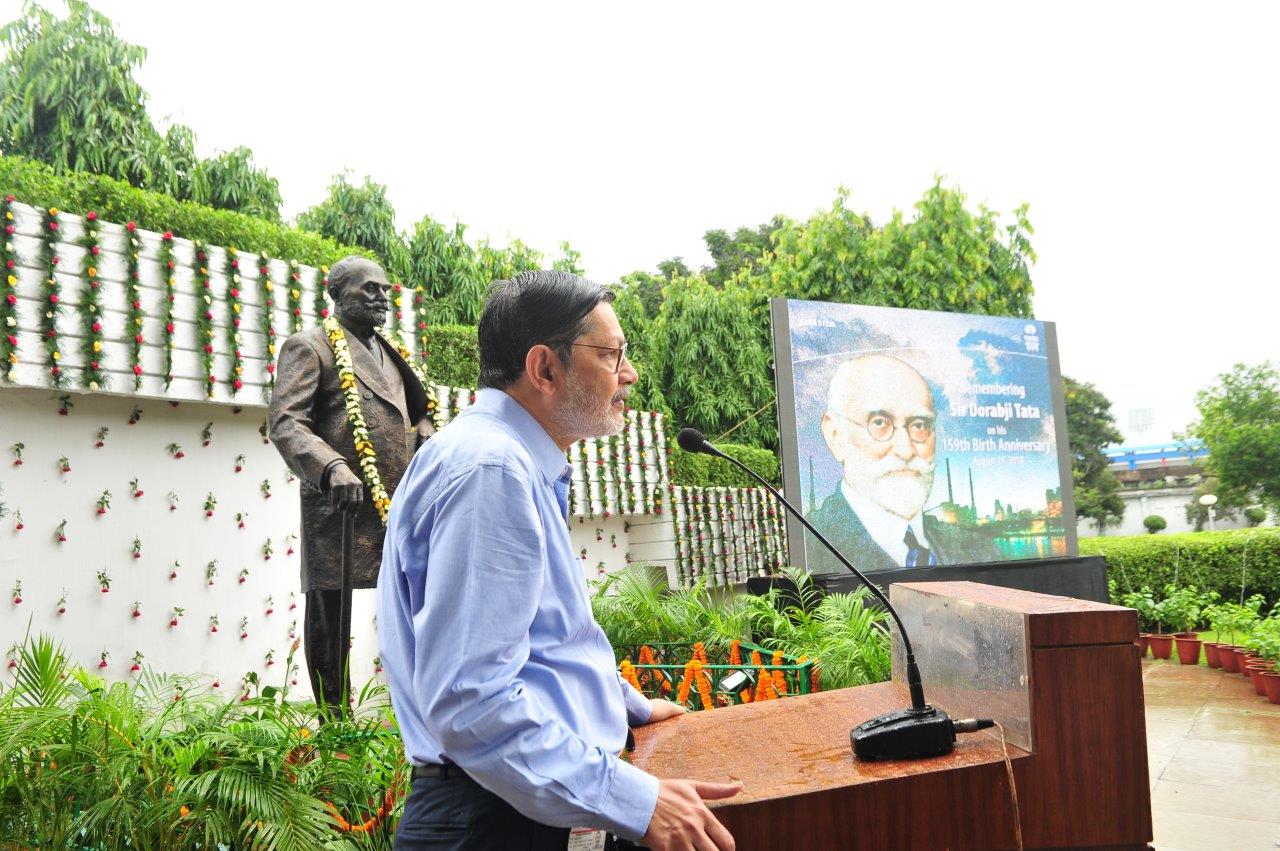 Tata Steel paid homage to Sir Dorabji Tata on his 159th Birth Anniversary at the Sir Dorabji Tata Park, Jamshedpur. Mr Anand Sen, President, TQM & Steel Business, Tata Steel was the Chief Guest on the occasion while the Guest of Honour was Mr R Ravi Prasad, President, Tata Workers' Union. Floral tributes were offered by all present. The function was attended by senior officials of Tata Steel including Mr. Sunil Bhaskaran, Vice President Corporate Services, Tata Steel Mr. Sudhansu Pathak, Vice President, Steel Manufacturing, Tata Steel, and Mr. Avneesh Gupta, Vice President, Shared Services, Tata Steel. Others present included eminent sports writer and historian Mr Boria Majumdar, Heads of Tata Group Companies, senior citizens, employees and representatives from the Tata Workers Union.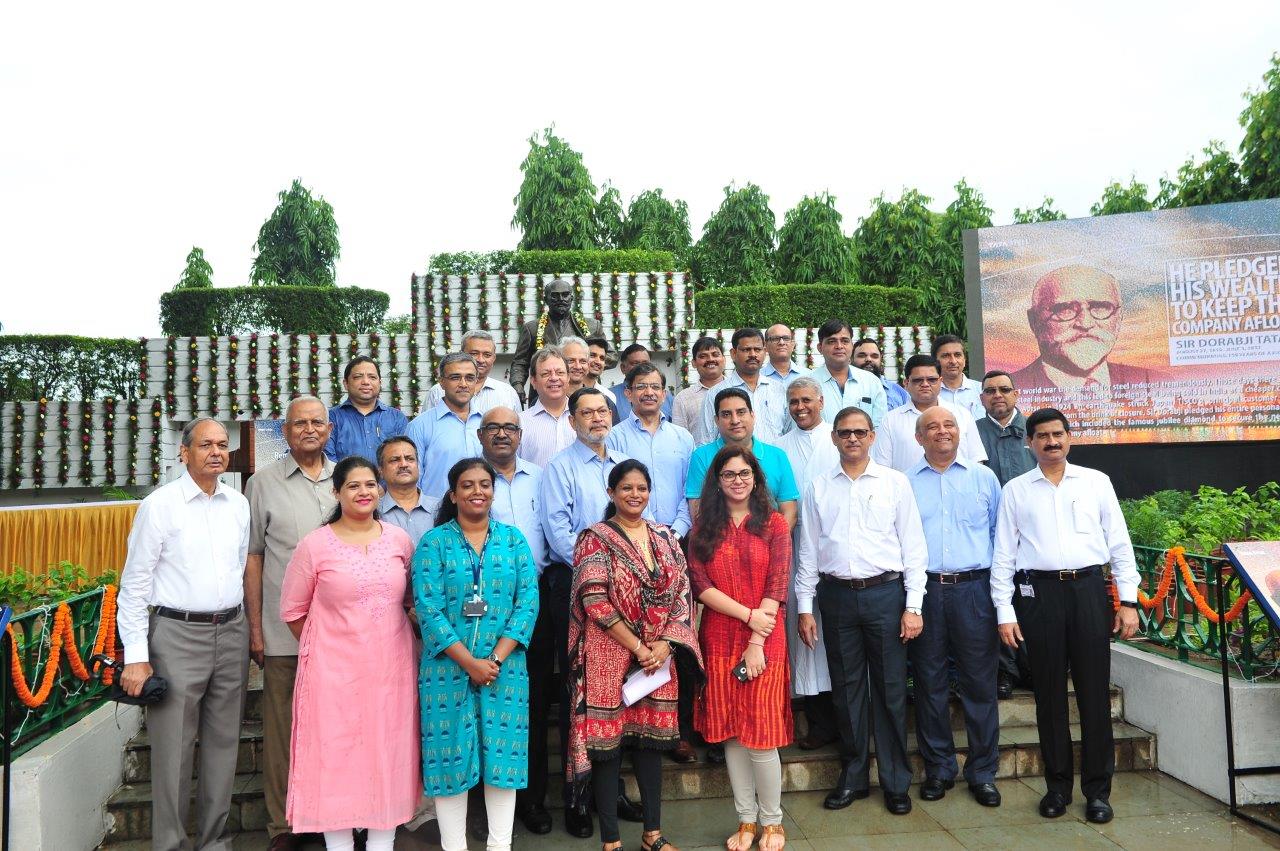 In his address to the gathering, Mr. Anand Sen said, "Sir Dorabji exemplifies for all of us the importance of the last mile connect. He connected a dream into reality in times which were far more difficult than today, which is indeed a laudable job. Sir Dorabji was a man of great details and had varied interests."
Speaking on the occasion Mr R Ravi Prasad said, "JN Tata's vision for setting up the steel plant was fulfilled by Sir Dorabji Tata. The challenges for setting up the steel plant at this location over 110 years back was humongous." He further mentioned that "Tata Steel not only concentrates on making steel but has also excelled in employee welfare and sporting activities for community. Sir Dorabji Tata worked for the welfare of employees from the very beginning and schemes like Provident Fund, Medical Aid, Maternity Leave, Gratuity etc was started".
Sir Dorabji Tata was the first Chairman of Tata Steel, who brought to life the Steel Plant and the city of Jamshedpur based on the vision of Jamsetji Tata. He not only laid the physical foundation for Tata Steel but also infused the company with standards in corporate governance that were way ahead of its time. A keen sportsman from his early years, Sir Dorabji Tata was the first President of the Indian Olympic Association. He steered India's entry into the world of international sport by selecting and then financing four athletes and two wrestlers for the Antwerp Olympic Games in 1920, even before India had an Olympic body. Sir Dorabji Tata also secured a place for India in the 1924 Olympics at Paris and was chosen to be a Member of the International Olympic Committee. India won its first Gold medal in Hockey at the very next Olympics in 1928 in Amsterdam.
About Tata Steel
Tata Steel Group is among the top global steel companies with an annual crude steel capacity of 27 million tonnes per annum (MTPA) as on March 31, 2018. It is the one of world's most geographically-diversified steel producers, with operations in 26 countries and a commercial presence in over 50 countries. The Group recorded a consolidated turnover of US $20.41 billion (INR 133,016 crore) in FY18. Tata Steel Group is spread across five continents with an employee base of nearly 74,000. Tata Steel retained Industry Leader position in FY18 and ranked second overall in the DJSI assessment, 2017. The Company has been recognised as the Climate Disclosure Leader in 'Steel category' by CDP (2017). Besides being a member of the World Steel Climate Action Programme, Tata Steel was felicitated with several awards including the Prime Minister's Trophy for the best performing integrated steel plant for 2014-15 and 2015-16, Best Risk Management by CNBC TV18 (2018) and 'Corporate Strategy Award' by Mint (2018). The Company also received the 'Most Ethical Company' award from Ethisphere Institute for the sixth time (2018), Steel Sustainability Champions (2017) by the World Steel Association, Dun & Bradstreet Corporate Awards (2017 & 2018), Golden Peacock HR Excellence Award by Institute of Directors (2017) as well as 'Asia's Best Integrated Report' award by the Asia Sustainability Reporting Awards (2017), among several others.