Tata Steel announces the winners of Women of Mettle Scholarship Programme 2018
Jamshedpur, July 27, 2018
~The 6 month-long programme culminated with a Grand Finale held in Jamshedpur yesterday~
~Top 10 Women of Mettle receive a scholarship of Rs. 2 lakh each and an opportunity to join Tata Steel family as a Management Trainee Technical~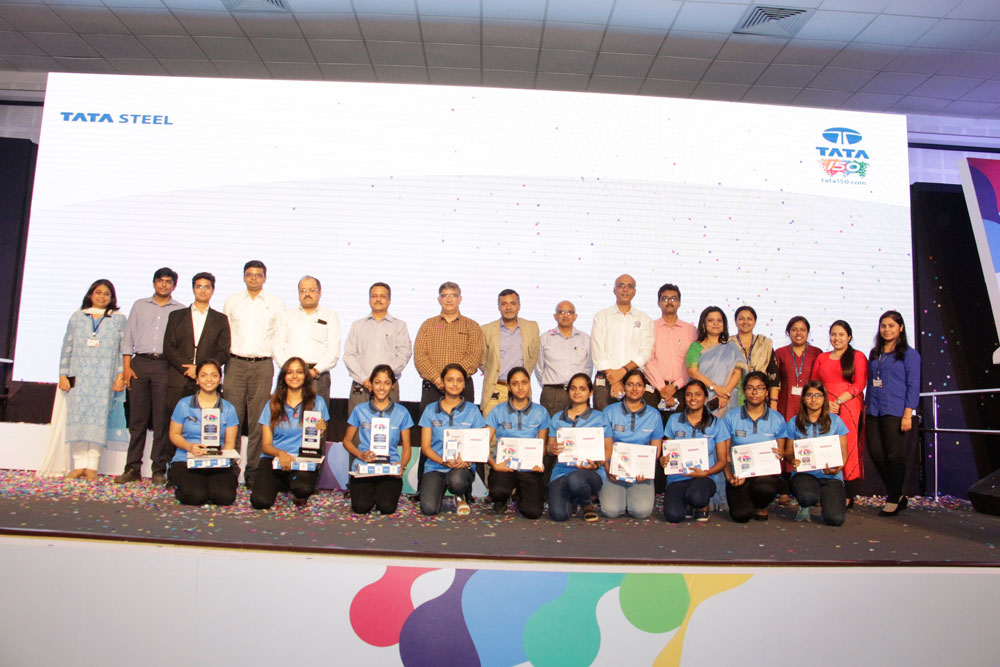 Tata Steel announced the Top 10 scholars of the 2nd season of its pioneering initiative, 'Women of Mettle' (WOM) Scholarship programme, aimed at encouraging gender diversity and inclusion in the manufacturing sector.  
The 6 month-long programme culminated with a Grand Finale held in Jamshedpur yesterday. Mr. Sudhansu Pathak, Vice President, Steel Manufacturing, Tata Steel graced the occasion as the Chief Guest, and Mr. Suresh Dutt Tripathi, Vice President, Human Resource Management, Tata Steel was the Guest of Honour.
The 2nd edition of WOM received a total of 780 registrations (female students in the second year of engineering) from 50 premier engineering institutes across India, including the IITs, NITs and the likes. This edition saw more than twice the number of registrations received in the inaugural edition of WOM held in 2017.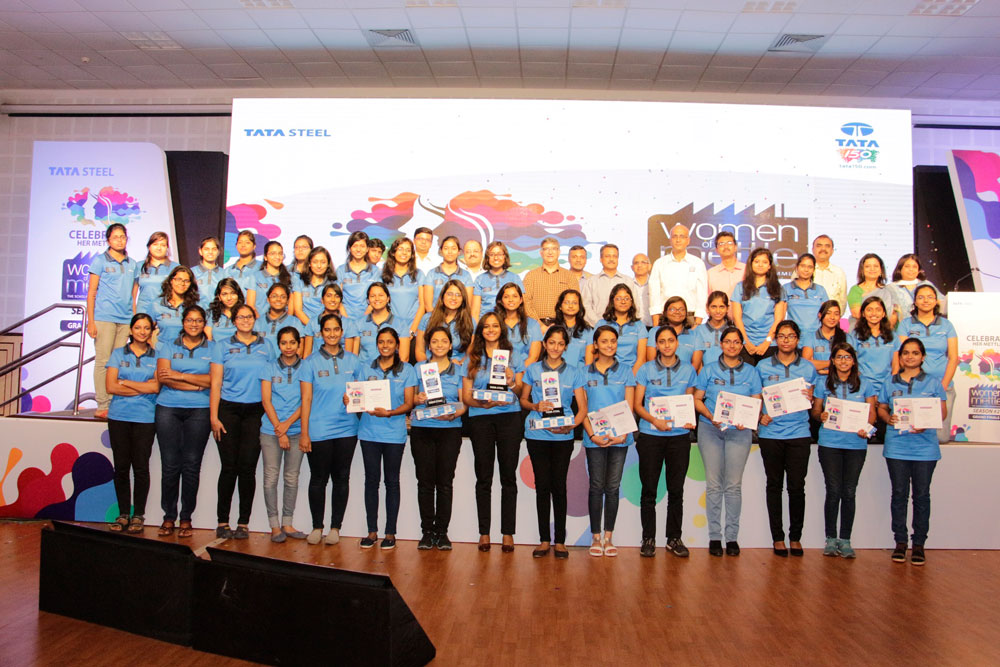 Speaking on the occasion, Mr. Sudhansu Pathak said "The metal industry is not only about making or shaping of metals but it also builds character, the tenacity and confidence in an individual. There are multiple opportunities for women within a manufacturing industry which includes Branding, IT, Procurement, Supply Chain, improvement initiatives etc. The Women of Mettle programme helps to position the manufacturing sector as a potential career option for women by attracting more women talents from across the country to join the sector and make Tata Steel an employer of choice for women engineers."
WOM initiative was launched in 2017 to identify, groom, and encourage induction of female engineering talent in India's manufacturing sector. The applicants go through a rigorous selection process that includes working on technical challenges under the mentorship of experts. Out of the total applicants, 50 select students presented their proposed solutions to a jury of experts. The top 10 Women of Mettle were selected at the grand finale held yesterday in Jamshedpur.
Each of the scholars (top 10) will receive a scholarship of Rs. 2 lakh each, which will be disbursed over the duration of the course. They will also be eligible for an internship in their third year, opportunity to participate in various paid technical conferences and join the Tata Steel family as a Management Trainee Technical (MTT).
Speaking at the Grand Finale, Mr.Suresh Dutt Tripathi said, "I consider every woman has mettle and the fact that we don't see many women working in this sector, prompted us to institute the 'Women of Mettle' scholarship programme for the manufacturing industry. Tata Steel, through this programme, ensures better gender equality on our shop floors. The programme illustrates Tata Steel's belief that an organisation should reflect the diversity that is visible in the society we live in.It is gratifying to see a massive jump in the number of participants within the first two editions of WOM initiative. My congratulations to the bright young ladies who won this year and my sincere word of thanks to all participants." p>
 The Top 10 scholars (in no particular order) of the WOM scholarship programme are mentioned below:
Adrija Nag, NIT Jamshedpur
Ananya Kant, BIT Mesra
Anoushka Pal, IIT BHU
Ativa Rath, VSSUT
Devi Janani Ramesh, NIT Trichy
Kirty Goyal, CET, Bhubaneswar
Poorvi Agrawal, NIT Raipur
Riya Mehta, NIT Jamshedpur
Shrutika, NIT Jamshedpur
Yavnika Chauhan, IIT BHU
Watch the Facebook Live or Twitter Periscope of the #WomenOfMettle Grand Finale at the below links:
https://www.facebook.com/TataSteelCampusConnect/videos/2049721571764699/
https://twitter.com/TSCampusConnect/status/1022461286141939712
https://twitter.com/TSCampusConnect/status/1022470902594727939
https://www.pscp.tv/w/1BdxYoVkYYEGX
https://www.pscp.tv/w/1dRJZgqVzYmxB
About Tata Steel Campus Connect
Tata Steel has introduced various Campus Connect programmes and platforms for bright, young minds in high schools, engineering and management institutes to help them develop and hone their intellect in areas of research and development, operational excellence, business strategy and excellence, astronomy, etc. The idea is to foster a collaborative environment amongst students, academia and corporate houses and provide unique, dynamic and aspiring career opportunities for the young talent of India. The four key initiatives under the 'Campus Connect' concept are Mind Over Matter, Steel-a-thon, Tata Steel Young Astronomer Talent Search and Women of Mettle.
For more information on Campus Connect, visit
Website: http://www.tatasteel.com/careers/campus-connect/
Facebook: /TataSteelCampusConnect/   
Twitter: @TSCampusConnect
About Tata Steel                  
Tata Steel Group is among the top global steel companies with an annual crude steel capacity of 27.5 million tonnes per annum (MTPA) as on March 31, 2018. It is one of the world's most geographically-diversified steel producers, with operations in 26 countries and a commercial presence in over 50 countries. The Group recorded a consolidated turnover of US $20.41 billion (INR 133,016 crore) in FY18. Tata Steel Group is spread across five continents with an employee base of over 65,000. Tata Steel retained Industry Leader position in FY18 and ranked second overall in the DJSI assessment, 2017. The Company has been recognised as the Climate Disclosure Leader in 'Steel category' by CDP (2017). Besides being a member of the World Steel Climate Action Programme, Tata Steel was felicitated with several awards including the Prime Minister's Trophy for the best performing integrated steel plant for 2014-15 and 2015-16, Best Risk Management by CNBC TV18 (2018) and 'Corporate Strategy Award' by Mint (2018). The Company also received the 'Most Ethical Company' award from Ethisphere Institute for the sixth time (2018), Steel Sustainability Champions (2017) by the World Steel Association, Dun & Bradstreet Corporate Awards (2017 & 2018), Golden Peacock HR Excellence Award by Institute of Directors (2017) as well as 'Asia's Best Integrated Report' award by the Asia Sustainability Reporting Awards (2017), among several others.
Disclaimer
Statements in this press release describing the Company's performance may be "forward looking statements" within the meaning of applicable securities laws and regulations. Actual results may differ materially from those directly or indirectly expressed, inferred or implied. Important factors that could make a difference to the Company's operations include, among others, economic conditions affecting demand/ supply and price conditions in the domestic and overseas markets in which the Company operates, changes in or due to the environment, Government regulations, laws, statutes, judicial pronouncements and/ or other incidental factors.