Tata Steel Adventure Foundation trio accomplishes Mission Everest 2018
Mumbai , May 21, 2018
~ Poonam, Swarnalata and Sandeep Toliya successfully reach the summit of Mt. Everest ~
~ Mission was sponsored by Tata Steel and organised by TSAF ~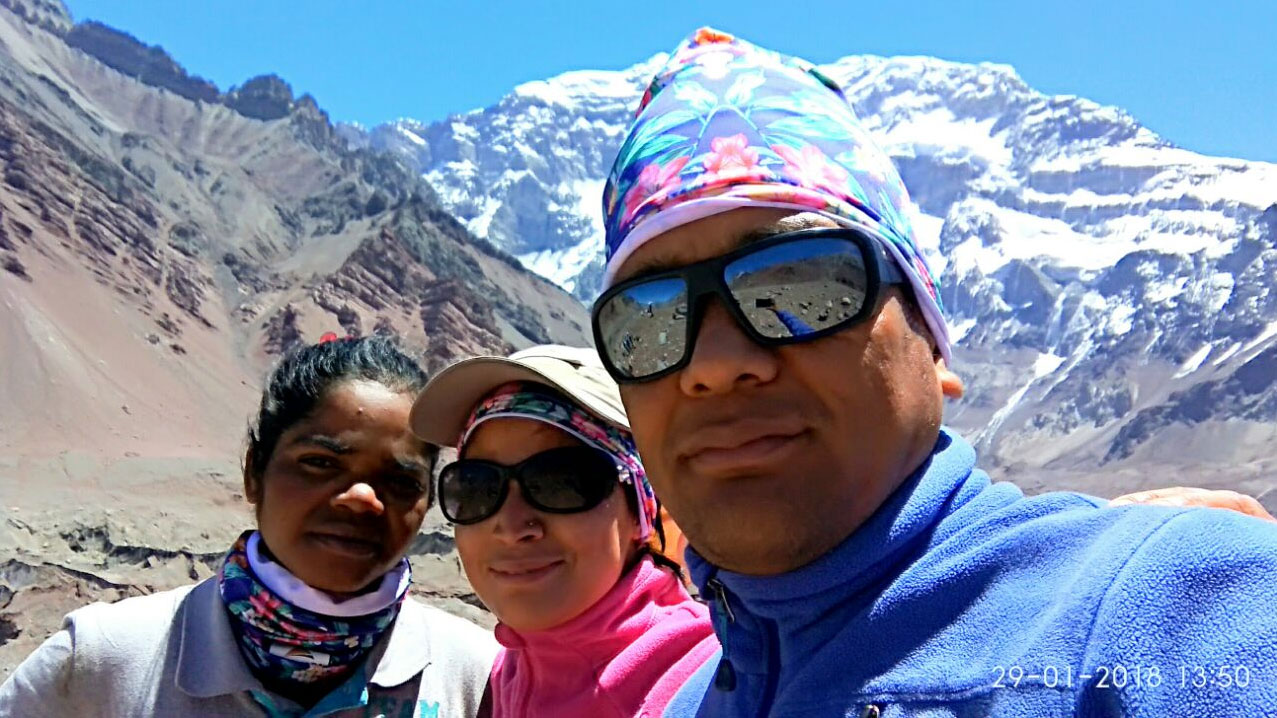 The trio comprising Poonam, Swarnalata and Sandeep Toliya, successfully reached the Summit of Mount Everest this morning as part of the Mission Everest 2018. The mission, sponsored by Tata Steel, was organised by Tata Steel Adventure Foundation (TSAF).
Congratulating the TSAF cadets on this remarkable feat, Mr. Sunil Bhaskaran, Vice President, Corporate Services, Tata Steel said, "It's a great achievement by the trekkers which showcases their indomitable spirit, zeal and grit. We at Tata Steel are proud to have been able to support them to realize their dreams. TSAF, through this unique endeavour, will continue to promote the adventure sports in the country."
The Everesters had been undergoing training at the TSAF for the past one year. In February this year, they were sent to Mt. Aconcagua (Highest peak of South America & one of the 7 summits) as part of their training to provide them with climbing experience with international climbers. During the training, they faced turbulent weather, high altitudes and thin air with less oxygen, an experience like the Mt. Everest expedition. 
The trio left Jamshedpur for Garhwal Himalaya on Feb 25, 2018 for another round of training under TSAF. This included a month-long training on the snow-covered mountains to get acclimatized to the cold conditions, heavy load carrying up and down the mountain slopes, and sleeping in tents.
Ms. Bachendri Pal, Chief, Adventure Programmes, Tata Steel is driving this spirit in people to be adventurous and enterprising. Over the years, apart from leading path-breaking expeditions, she has trained several people from different walks of life for Mt. Everest expedition. Speaking on the achievement of the 3 climbers, she said, "This feat shows the CAN-DO-SPIRIT which TSAF inculcates amongst the people. Tata Steel has been forthcoming in providing opportunities to make such dreams come true through the Tata Steel Adventure Foundation. Our congratulations to Poonam, Swarnalata and Sandeep Toliya." 
The details of the three climbers who have successfully reached the summit of Mt. Everest this morning are as follows:
  a)  Poonam, 21 years old, has done Basic and Advance mountaineering courses and trekked to Everest Base Camp in April 2017. She hails from Uttarkashi, Uttarakhand. Her life has been marred with tragedies. She lost her father when she was young, and later lost her mother and two brothers. She has been working with TSAF as camp in charge. TSAF has been organising courses in Uttarkashi for past ~30 years. Her achievement of scaling Mt. Everest is a matter of pride for the State of Uttarakhand.
b) Swarnalata Dalai, 20 years old, is from the state of Odisha. She has trekked to Everest Base camp, climbed Mt. Rudugaira and undergone various high-altitude treks in Himalayas. She is the first girl from Odisha to be sponsored by Tata Steel for Everest Expedition.
c) Sandeep Toliya has been working with TSAF for more than 10 years as Sr. Instructor. He has done Basic and Advance mountaineering courses, Method of instruction, Outdoor Educator Semester at National Outdoor Leadership Course, USA, trip leader course at NOLS, Ranikhet. He has climbed multiple peaks in Himalayas that include Mt Bhagirathi 2, Mt Rudugaira, Mt Kanamo, Stok Kangri, Karakoram Pass and trekked to Everest base camp. He is one of the instructors in TSAF's outdoor leadership programmes for corporates and B-schools.
List of Everest Summiteers (associated with/ sponsored by TSAF)
| | | | |
| --- | --- | --- | --- |
| S. No. | Name | Summit Date | Summit Year |
| 1 | Ms. BACHENDRI PAL | 23rd May  | 1984 |
| 2 | Mrs. PREMLATA AGARWAL | 20th May  | 2011 |
| 3 | Mr. RAJENDRA SINGH PAL | 26th May  | 2012 |
| 4 | Mr. MEGHLAL MAHATO | 26th May  | 2012 |
| 5 | Ms. BINITA SOREN | 26th May  | 2012 |
| 6 | Ms. ARUNIMA SINHA | 21st May | 2013 |
| 7 | Mr. SUSEN MAHATO | 19th May | 2013 |
| 8 | Mr. HEMANT GUPTA | 27th May | 2017 |
| 9 | Mr. SANDEEP TOLIA | 21st May | 2018 |
| 10 | Ms. SWARNALATA DALAI | 21st May | 2018 |
| 11 | Ms. POONAM  | 21st May | 2018 |
Source: Asian Trekking Agency in Nepal
About Tata Steel
Tata Steel Group is among the top global steel companies with an annual crude steel capacity of 27 million tonnes per annum (MTPA) as on March 31, 2018. It is the world's second-most geographically-diversified steel producer, with operations in 26 countries and a commercial presence in over 50 countries. The Group recorded a consolidated turnover of US $20.41 billion (INR 133,016 crore) in FY18. Tata Steel Group is spread across five continents with an employee base of nearly 74,000. Tata Steel retained Industry Leader position in FY18 and ranked second overall in the DJSI assessment, 2017. The Company has been recognised as the Climate Disclosure Leader in 'Steel category' by CDP (2017). Besides being a member of the World Steel Climate Action Programme, Tata Steel was felicitated with several awards including the Prime Minister's Trophy for the best performing integrated steel plant for 2014-15 and 2015-16, Best Risk Management by CNBC TV18 (2018), 'Corporate Strategy Award' by Mint (2018) 'Most Ethical Company' award from the Ethisphere Institute for the sixth time (2018), Golden Peacock HR Excellence Award by Institute of Directors (2017), among several others.
Disclaimer
Statements in this press release describing the Company's performance may be "forward looking statements" within the meaning of applicable securities laws and regulations. Actual results may differ materially from those directly or indirectly expressed, inferred or implied. Important factors that could make a difference to the Company's operations include, among others, economic conditions affecting demand/ supply and price conditions in the domestic and overseas markets in which the Company operates, changes in or due to the environment, Government regulations, laws, statutes, judicial pronouncements and/ or other incidental factors.