Tata Main Hospital organises 35th International AIDS Candlelight Memorial
Jamshedpur , May 20, 2018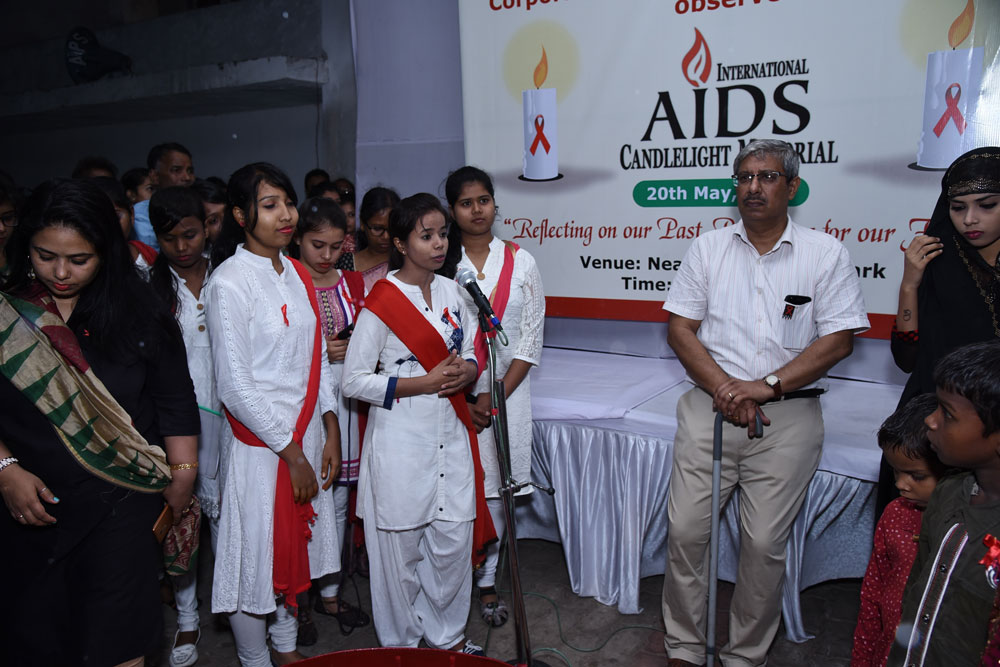 Tata Main Hospital, along with Network of Positive People and partner NGOs, observed the 35th International Candlelight Memorial today at the Sir Dorabji Tata Park. 
Every year Tata Steel, through Tata Main Hospital and CSR Division, observes this day to show solidarity with People Living with HIV/AIDS (PLWHA). This observance is to make people realize that people infected with HIV/AIDS have died because of ignorance, lack of care and treatment, discrimination, denial of their rights as any other human being – the right to live, to education, to avail health care facilities, to work with dignity and live with respect.
The theme of this year's event was "Reflecting on our Past, Preparing for our Future".
Tata Main Hospital's General Manager (Medical Services), Air Marshal (Dr.) Rajan Chaudhry, AVSM, VSM, (Retd.) graced the occasion as the Chief Guest.
Mrs. Ruth Kerketta, Manager, HIV/AIDS Programme, FI & Health, welcomed the Chief Guest, other dignitaries and the participants.
Dr Rajan, empathized with people living with HIV/AIDS and spoke on the role of the community towards reducing stigma & discrimination against them and marked the solemn occasion by lighting the first candle.
Dr. HK Gardin, Head, Nodal Centre for AIDS, shared the significance of the occasion and the various interventions by Tata Steel in the community to cope with the epidemic.
Ms. Ruth Kerketta gave an overview of HIV/AIDS activities of CSR Division.  Representatives of People Living with HIV/AIDS shared their experiences of being HIV+ and the succor obtained from Nodal Centre for AIDS. Message on HIV/AIDS was conveyed through a Nukkad Natak performed by students of College of Nursing, TMH.
Ms. Ruth Kerketta requested the participants to light candles. The Choir Group from College of Nursing TMH accompanied the lighting of the candles with the song 'Jyot Se Jyot Jagate Chalo'.
Approximately 200 participants observed a minute's silence remembering the deceased with prayers for those who have lost their lives to HIV/AIDS.
Air Marshal (Dr.) Rajan Chaudhry (Retd.) flagged off the rally which went down the Road towards Ahuja Stadium and returned back to conclude at the starting point. A Representative from the Positive People's Network gave the vote of thanks.
Representatives from Tata Main Hospital, College of Nursing TMH, the CSR Division and their project teams, Jamshedpur Network of Positive People and People living with HIV/AIDS and their families associated with Sneh Kendra, Rotary Club of Jamshedpur Midtown, NGOs, Peer Educators, Health workers and community based organizations were present on the occasion.