Day 2 of National Road Safety Week observed at Tata Steel
Jamshedpur, January 09, 2018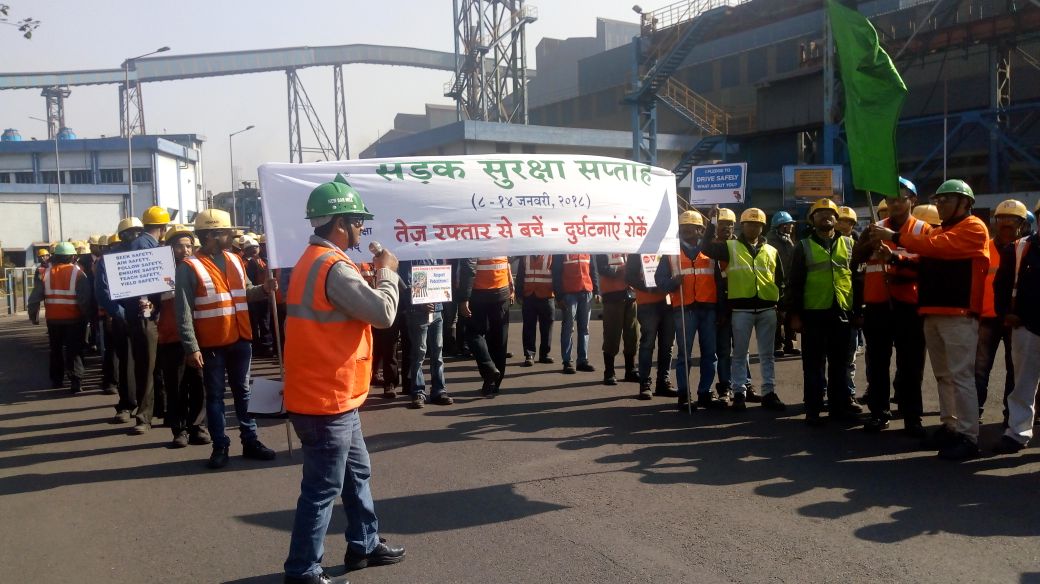 Day 2 of National Road Safety Week was observed today at various locations across Tata Steel Jamshedpur Works and Jamshedpur City. The focus of the activities today was to educate shop floor employees through various activities like Nukkad Natak, dedicated Mass Meeting's, Safety March, On-Spot Safety Quiz and Online Safety Quiz.
Some of the activities that took place inside the Works premises were:
Safety Quiz & Mass Meeting on Road Safety was organized at all LD shops, A-F BF, I-BF, RMBB, Sinter Plant #1 & 2 and Pellet Plant.
Union committee members of Tata workers union participated in the gathering at PH#4. Dedicated Night Audit was conducted with focus on Road Safety.
Senior leaders of New Bar Mill, LD#3 &TSCR interacted with drivers of heavy vehicles.
Nukkad Natak was organized at Electrical T&D, Wire Rod Mill & HSM canteen.
Paidal March was organized at I-BF.
Mr Agam Kumar, Head, Safety, Tata Steel addressed the workers at New Bar Mill during mass meeting.
Hazard Hunt was carried out on the road across the organization. Pedestrians who followed the Road Safety rule were rewarded on the spot during the audit.
SAFE club is playing a significant role on community safety, especially for school children on occasion of Road Safety Week. Different Schools celebrated National Road Safety Week to educate their children on the topic. It began with safety oath at SDSM school by school children & teachers.