City Data For India Conclave
Jamshedpur, January 09, 2018
Smart City Initiative 2018
       09 January, 1000 Hrs, Hospitality Lounge, JRD Tata Complex, Jamshedpur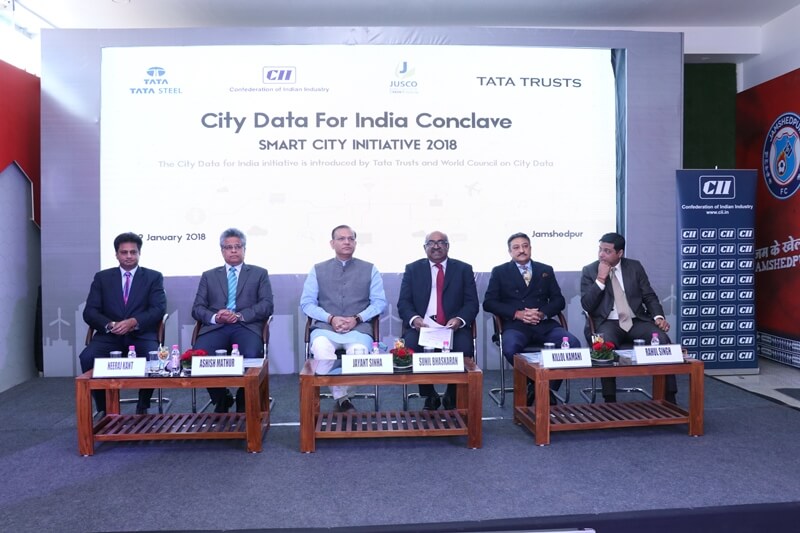 CII along with JUSCO, Tata Steel & Tata Trusts today organised a City Data for India Conclave atthe Hospitality Lounge, of the JRD Tata Sports Complex. As  part of the City Data for India Initiative, this event will be a platform to showcase the best practices and to discuss the importance of standardized city data for Indian cities.
Speaking on the occasion, the Chief Guest, Shri Jayant Sinha, Hon'ble Union Minister of State for Civil Aviation, said that apart from the extraordinary work done to make Jamshedpur a smart city other cities in the state like Gumla, Ramgarh have the potential to implement various smart initiatives. He appreciated the works of TATA STEEL and JUSCO to make Jamshedpur a world class city. He further added that some specific bottlenecks related to traffic, integrated transportation system etc. can be addressed and solutions replicated elsewhere.
Earlier, Mr. Killol Kamani Vice Chairman CII Jharkhand State Council in his opening remarks mentioned  that  urbanization and smart city development is the bedrock of economic development of any region . He also mentioned that India's urban population is expected to reach 590 million by 2030 and there would be atleast 60 cities with a million plus population. He therefore emphasizedthe need for our cities to be more smarter.
Mr. Ashish Mathur , Convener Infrastructure panel , CII Jharkhand, highlighted the significance of the data to measure the development of cities. He also mentioned that World Council for City Data(WCCD) has reinstated that data distinguishes smart and poor cities. He further added City Data is a global practice and Jamshedpur is proud to be associated with such a initiative. He also added that IOT is the biggest game changer for smart cities.
Mr. Sunil Bhaskaran, Chairman CII, Jharkhand State Council mentioned that Jamshedpur has had a glorious past and takes pride in all its smart initiatives. He also added that Jamshedpur with the help of JUSCO has implemented many smart ideas which are sustainable and  inclusive. He highlighted that this program today will facilitate cross learning and help us understand each others  best practices. He further emphasized that Jamshedpur should also develop an urban lab to addressed others problem and execute solutions at a pilot level. He then highlighted the significance of drone technology as the future mode of transportation.
Mr. Neeraj Kant, Chairman CII Jamshedpur thanked the Hon'ble Minister for his presence at the event. He also thanked all the eminent speakers for their perspectives.