Tata Steel's "Sekkor Premier League" concludes at Noamundi
Noamundi, June 13, 2017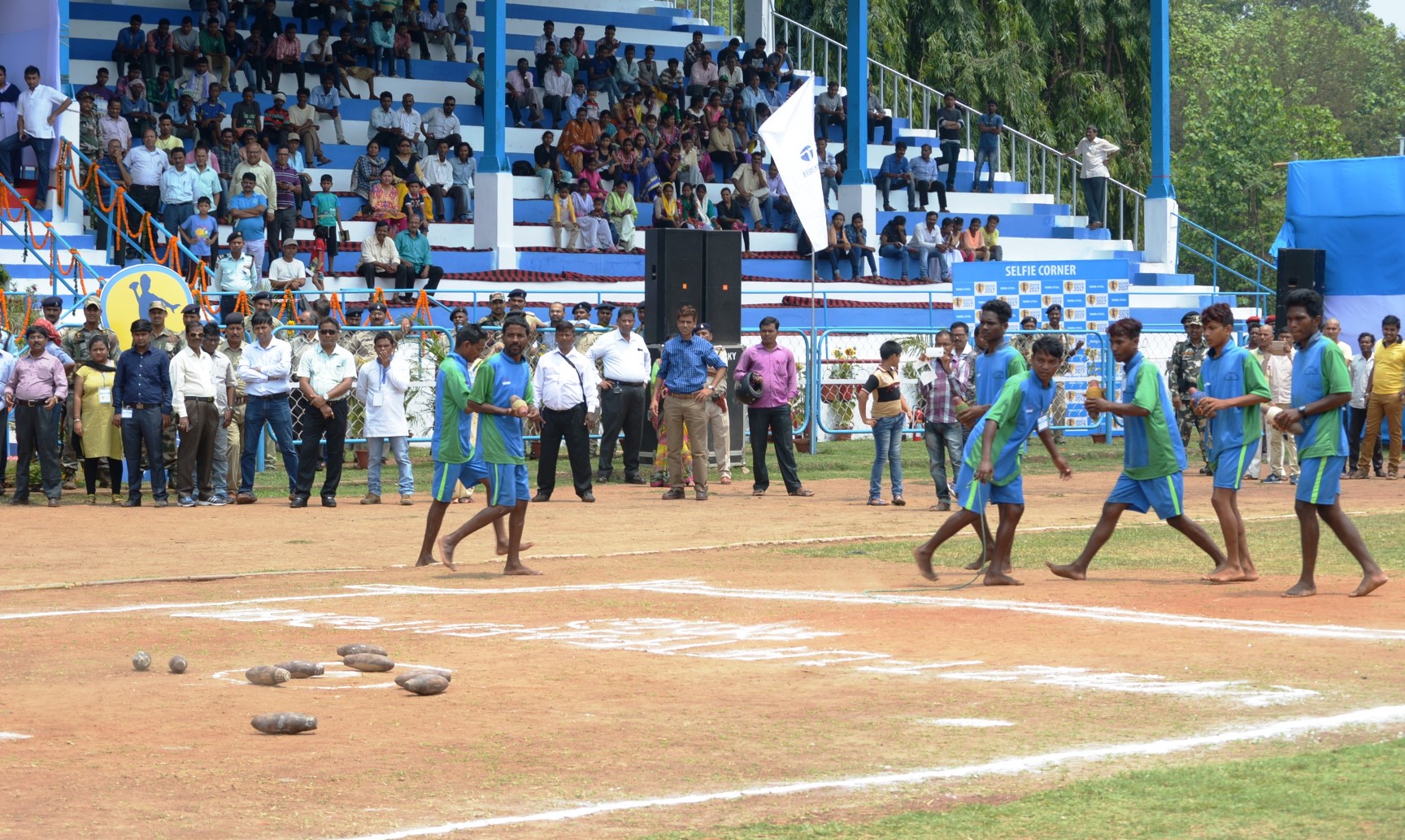 The two-month long 'Sekkor Premier League' organised by Tata Steel's Ore Mines & Quarries ( OMQ ) Division concluded at Sports Complex, Noamundi today amidst huge gathering. The closing ceremony was graced by Her Excellency Hon'ble Governor of Jharkhand, Smt. Droupadi Murmu, as Chief Guest. Other key guests present on the occasion  were Ms Geeta Koda, MLA Jagganathpur, Ms Menka Sardar, MLA Potka, Dr Shantanu Kumar Agrahari, District Commissioner, West Singhbhum, Mr Anish Gupta, Superintendent of Police, Chaibasa, Mr Rajeev Singhal, Vice President ( Raw Materials ), Tata Steel, and  Mr Pankaj Satija, General Manager, (OMQ), Tata Steel.
In the closing ceremony, the final match was played between New Star, Purnia and B.S Bara Sarju, Tantanagar in the senior category, while Barugutlu Tantanagar and Chota Tiger, Dirihasa, Manjhari Block played the final match in the junior category. In thrilling encounters, New Star, Purnia and Baruguttu Taathnagar emerged as winners in the senior and junior categories respectively.
Addressing the gathering Smt Murmu lauded the efforts of Tata Steel in the preservation and promotion of tribal sport of Jharkhand, Sekkor. She said : " I am happy to note that besides tribal sports, Tata Steel has taken several initiatives in the field of sustainable livelihood, education and girl child awareness with its core focus on ethnicity and promotion of tribal culture. These initiativesin this region will help in improving the quality of life of people."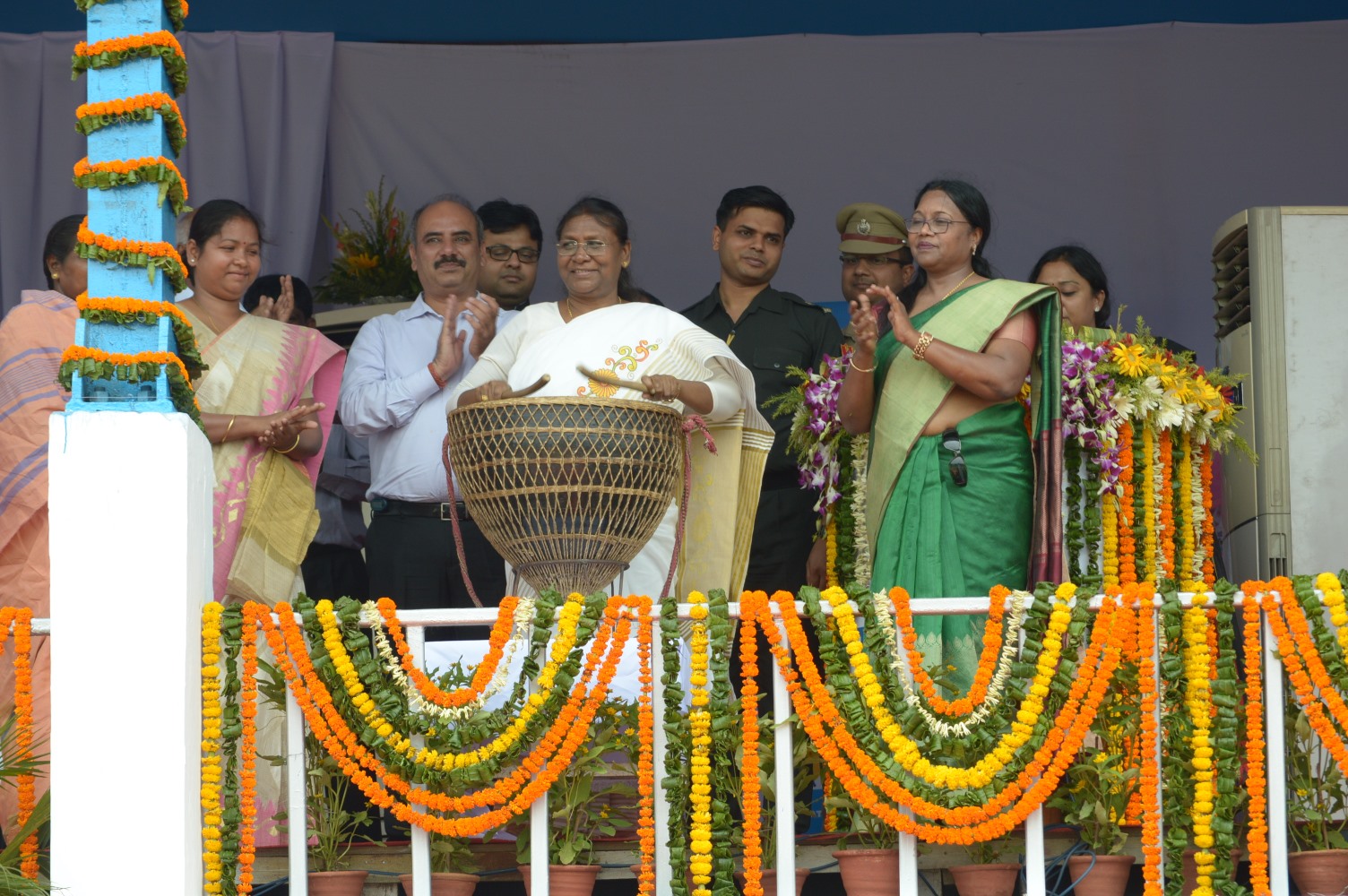 On the ocassion Mr Satija said : " Sekkor Premier League is a stepping stone targeted towards revivaland enrichment of tribal sports. We, at Tata Steel, have been promoting sports as a way of life."
Renowned Indian cricketer from Jharkhand, Mr Ishank Jaggi was present to cheer for budding Sekkor players and motivated them to take Sekkor to the next level.
Present on the occasion were Mr Biren Bhuta, Chief Corporate Social Responsibility, Tata Steel, Mr Krishna Bodra, President Adivasi Ho Mahasabha, Mankis and Mundas, members from Panchayati Raj Institutions, representatives from Adivasi Ho Mahasabha, Ho Samaj Yuva Mahasabha, Ette Turtung Pitika Akhra, Dupub Dostur Sekkor Samiti, Adivasi Association, Noamund, local stakeholders and Tata Steel officials.
For the past four years, Tata Steel has organised several sporting events to revive the tribal sport, Sekkor. To prepare players for Sekkor a seven-day Sekkor Residential Training Programme for tribal children was conducted in three phases from April 17, 2017 to May 8, 2017 at Noamundi Sports Complex.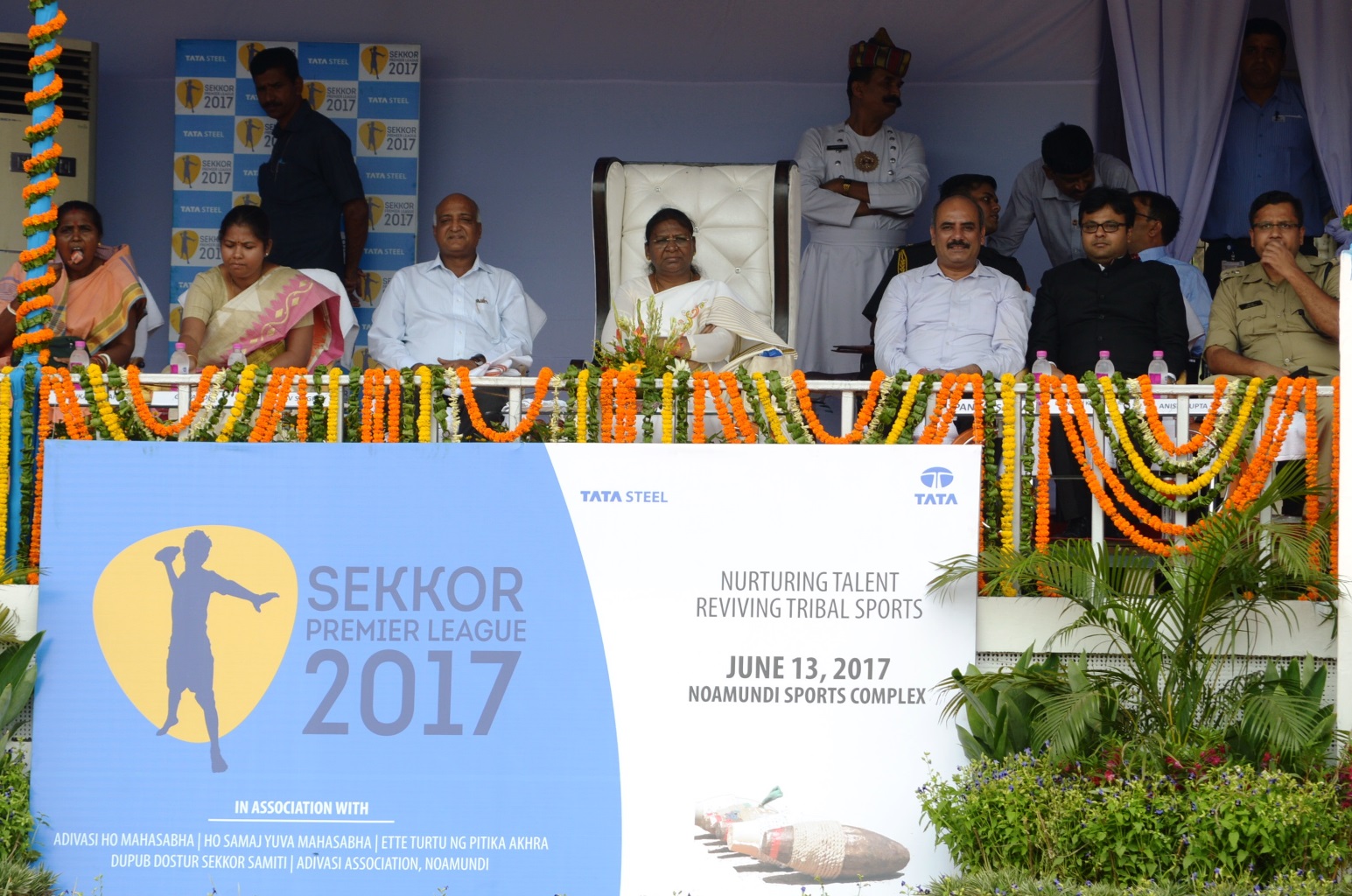 Sekkortraining was imparted to 300 budding players. 2300 players from more than 120 villages participated this grand season. 32 teams from in and around Noamundi faced-off each other in 35 league matches. A total of 294 league matches were played among 143 teams from Kolhan region. This event is the first of its kind in Jharkhand in which so many players from Kolhan region participated.
About Sekkor
Sekkor is a game played by the Ho tribe of Jharkhand. According to mythology, this game was first played between two men and Devils and eventually the early men won. This game is played in peak summer and is believed to bring rain and prevent drought. Made of Kusum wood, the Sekkor, is shaped like a big top with an oval plane cap. A string is wound closely to a pointed base that enables it to be toppled over by the opposing team.
Played between nine or eleven people, this game identifies with the spirit and swiftness of the Ho tribe. The teams toss, the team who wins the toss gets to open the hitting Sekkors of the opponent, till the opponents Sekkors are out of the circle. The size of the field is 12 X 11 feet with two equally cut curves on one of its sides, from where the players take the shoot. The team taking shoots earn points on the basic of the sekkors hit out of the circle.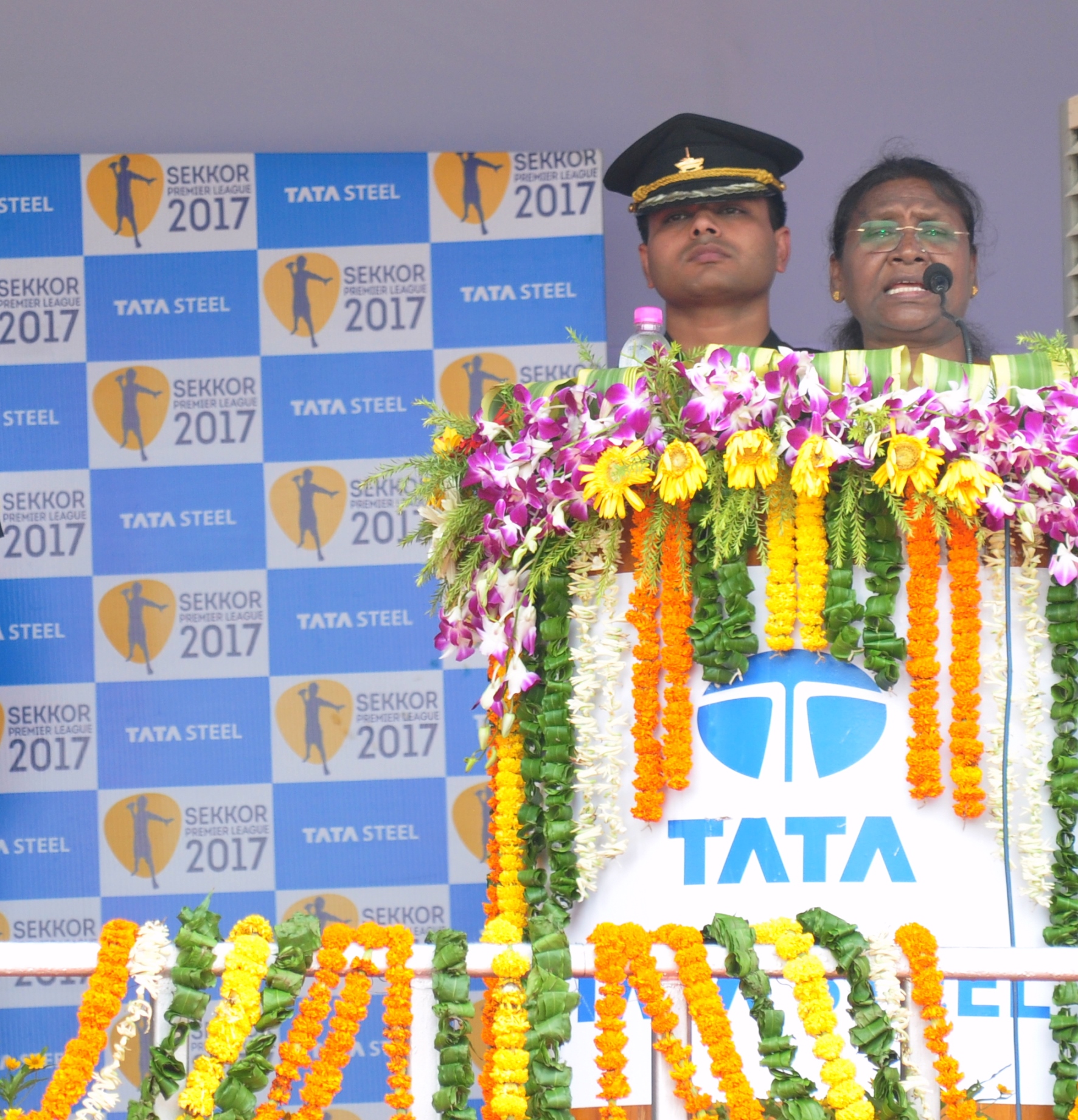 About Tata Steel
Tata Steel Group is among the top global steel companies with an annual crude steel capacity of 27.5 million tonnes per annum (MTPA) as on March 31, 2017. It is the world's second-most geographically-diversified steel producer, with operations in 26 countries and a commercial presence in over 50 countries. The Group recorded a consolidated turnover of US $18.12 billion (INR 117,420 crore) in FY17. Tata Steel Group is spread across five continents with an employee base of nearly 74,000. Having bagged the Deming Application Prize and Deming Grand Prize for continuous improvement in 2008 and 2012 respectively, Tata Steel has now been recognised as the global 'Industry Leader' in 'Steel category' by Dow Jones Sustainability Index (2015). Besides being a member of the World Steel Climate Action Programme, Tata Steel has also been felicitated with several awards including the Prime Minister's Trophy for the best performing integrated steel plant for 2013-14 (received in 2017), Best Risk Management by CNBC TV18 (2016), 'Best-in-class Manufacturing' award from TIME India (2016) and the 'Most Ethical Company' award from the Ethisphere Institute (2016), IIM Sustainability Award (2015), among several others.
Disclaimer
Statements in this press release describing the Company's performance may be "forward looking statements" within the meaning of applicable securities laws and regulations. Actual results may differ materially from those directly or indirectly expressed, inferred or implied. Important factors that could make a difference to the Company's operations include, among others, economic conditions affecting demand/ supply and price conditions in the domestic and overseas markets in which the Company operates, changes in or due to the environment, Government regulations, laws, statutes, judicial pronouncements and/ or other incidental factors.
Kulvin Suri
Chief, Corporate Communications, India & SEA
Tata Steel
E-mail: kulvinsuri@tatasteel.com