Tata Steel Organises Greenathon – a Run for Environment
Jamshedpur, May 27, 2017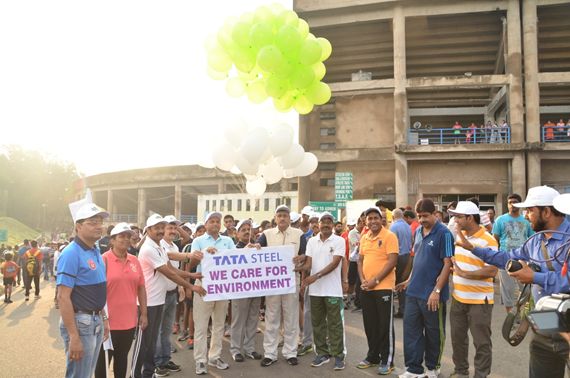 Tata Steel today organised Greenathon – A symbolic run for Environment – starting from JRD Tata Sports Complex, Jamshedpur. The run covered 2 kms via Jubilee Park and saw enthusiastic participation from environment conscious Jamshedpur citizens from all walks of life
Shri S. K. Gupta, Regional Chief Conservator of Forests, Jamshedpur and Shri D. Venkateswarlu, Conservator of Forests, Jamshedpur graced the occasion as the Chief Guest and Guest of Honor respectively. Mr. Suresh Kumar, Vice President, Shared Services, Tata Steel and Mr. S. K. Pati, Chief Environment Management, Tata Steel presided over the event.
Mr. Gupta said that the efforts taken by Tata Steel towards environment protection in and around Steel Works are remarkable and appreciable.
Nearly 1000 citizens including children and women participated in the event. While the Chief Guest and Guest of Honour inaugurated the event with a flag-off ceremony, all dignitaries and citizens present took part in the signing campaign for putting in their messages expressing commitment to the cause of   environment protection. The dignitaries also participated in tree plantation which took place at JRD Tata Sports Complex soon after the run ended.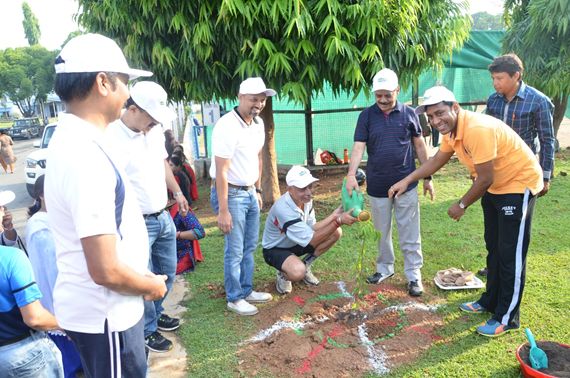 The event also saw participation from Mr. Shubhanand Mukesh, Head Environment Management, Tata Steel, Mr. Mukul Vinayak Choudhary, Mr. Avinash Kumar from Sports Department and other officers from Tata Steel.
Tata Steel celebrates World Environment Day every year. This year, several events are being conducted to mark this occasion. Environment Management and Sports Department of Tata Steel have conceptualised events to mark the special occasion under the current theme of United Nations Environment Programme (UNEP) for World Environment Day 2017 "Connecting People to Nature - in the city and on the land, from the poles to the equator". The tag line of this year is "I'm with Nature".