Tata Steel bestowed with the Golden Peacock Innovative Product/ Service Award
Jamshedpur, April 29, 2016
Tata Steel has been bestowed with the 'Golden Peacock Innovative Product/Service Award' for the year 2016 for its product 'Pravesh – Steel Door with Wood Finish'. The event was organised on 19th April, 2016 at Hotel The Meydan in Dubai (UAE) during the '26th World Congress on Leadership for Business Excellence & Innovation'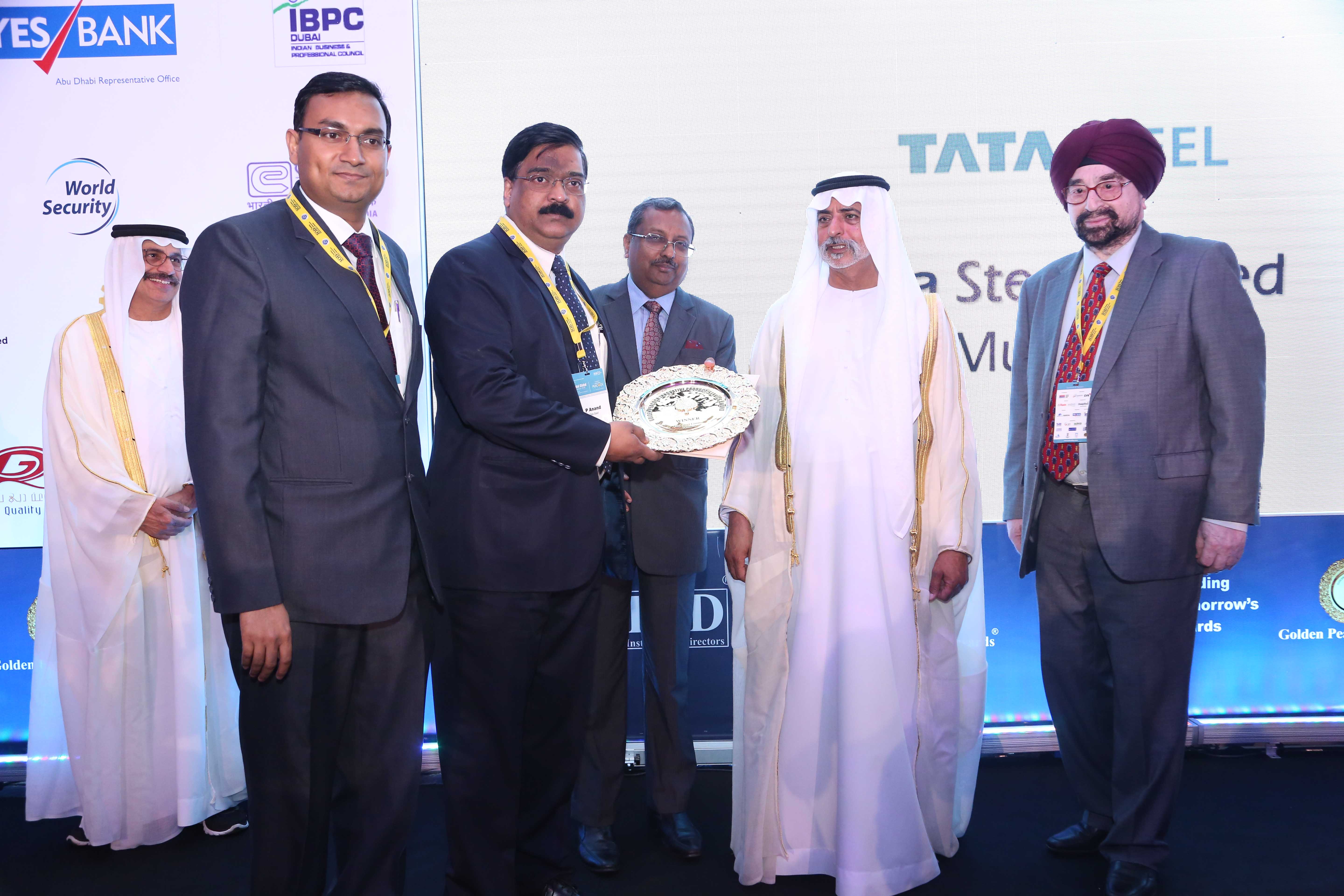 The Award was presented by His Highness Sheikh Nahyan bin Mubarak Al Nahyan, Hon'ble Cabinet Member and Minister of Culture & Knowledge Development, Govt. of UAE and received by Mr.P.Anand, Chief Marketing, BPRS Retail and Mr.Sanjay Agarwala, Head Sales, BPRS, Tata Steel. Also present on the occasion were Mr.T. P. Seetharam, IFS, Ambassador of India to United Arab Emirates and Lt. Gen. J. S. Ahluwalia, PVSM (Retd), President, Institute of Directors, India.

About Golden Peacock Awards
Golden Peacock Awards, instituted by the Institute Of Directors (IOD) in the year 1991, have not only won wide acceptance among all businesses, but have also achieved unscalable recognition and patronage among peers,globally. They stand out as a unique recognition for acknowledging the exceptional achievements of the very best organizations, through their outstanding contribution in the concerned fields. Presently, Golden Peacock Awards Secretariat receives over 1,000 entries per year for various awards, from over 25 countries worldwide.

About Tata Steel
Established in 1907 as Asia's first integrated private sector steel company, Tata Steel Group is among the top global steel companies with an annual crude steel capacity of nearly 30 million tonnes per annum (Mn TPA). It is now the world's second-most geographically-diversified steel producer, with operations in 26 countries and a commercial presence in over 50 countries. The Tata Steel Group, with a turnover of US$ 22.32 billion in FY'15, has over 80,000 employees across five continents and is a Fortune 500 company. The Group's vision is to be the world's steel industry benchmark in "Value Creation" and "Corporate Citizenship" through the excellence of its people, its innovative approach and overall conduct. Underpinning this vision is a performance culture committed to aspiration targets, safety and social responsibility, continuous improvement, openness and transparency. In 2008, Tata Steel India became the first integrated steel plant in the world, outside Japan, to be awarded the Deming Application Prize 2008 for excellence in Total Quality Management. In 2012, Tata Steel became the first integrated steel company in the world, outside Japan, to win the Deming Grand Prize 2012 instituted by the Japanese Union of Scientists and Engineers.

Chief, Corporate Communications, India & SEA
Tata Steel
The award was presented by the Awards Jury under the Chairmanship of Justice M. N. Venkatachaliah, former Chief Justice, Supreme Court of India.