Tata Steel bags 14 Prizes at the 58th Annual Mines Safety Week
Jamshedpur, April 22, 2016
West Bokaro Division, Tata Steel has bagged 14 prizes in the concluding function of the 58th Annual Mines Safety Week-2015, (Ranchi– Koderma Region), at Ara Colliery Ground, Kuju Area of CCL. The event was organised on 20th April, 2016.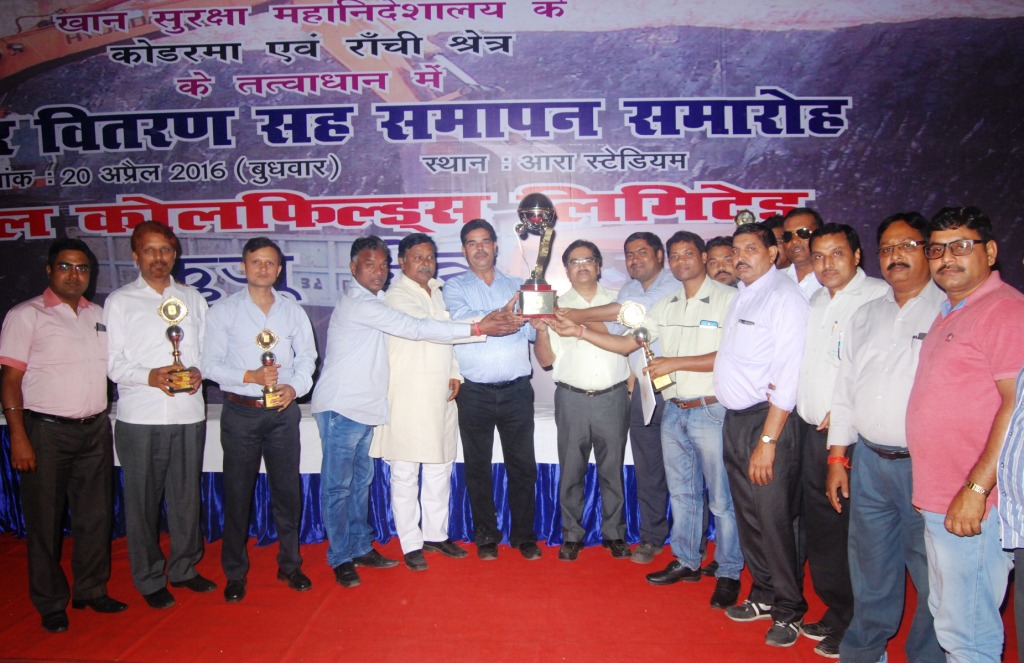 Mr P Rangnatheshwar DY DG, Central & (SE Zone) was the Chief Guest on the occasion. Mr P K Tiwary, Director, Technical (OPNS), CCL, was also present during the function. Mr Sanjiban Ray DY DG, Central Zone, Mr S Chandra, Director Planning & Project, Mr Sanjay Rajoria, GM, West Bokaro, Tata Steel Mr N K Gupta, Chief, Quarry South East, Mr Barun Banerjee, Head (Operations) QSE, Mr Mrinal Bhadra, Head, Operation, Quarry AB, Sri Mohan Mahto, President, Sri Nirankush Mishra, Secretary, Rashtriye Colliery Mazdoor Sangh & other Executives and Union Officials from West Bokaro were present on the occasion.

Quarry AB got Five Prizes including Ist in Standard working, & Quarry South East Open Cast Mine has got three prizes.

In addition to that our employees got 6 (Six) prizes in individual category.

Mr Sanjay Rajoria, General Manager, West Bokaro Division, Tata Steel, said: "All these prizes won by Tata Steel is a testimony of our focus towards safety in mining operations. The efforts put in the past years by the mining fraternity in learning from each other and sharing best practices has contributed to improvement in our safety performance. We will continue to work with other miners to achieve higher standards of safety in our area.

The Annual Mines Safety Week is celebrated by all the mines operating in Ranchi-Koderma region under the aegis of Directorate General of Mines Safety (DGMS), Ministry of Labour and Employment, to propagate the message of safety at the workplace and inculcate safe mining practices amongst the mine workers.

The main purpose of this celebration was to involve all mine owners and employees to work towards improving safe work practices and to significantly reduce accidents in mines as well as mining industry as a whole. As a result of these endless and collaborative efforts by the DGMS officials and mines management, rate of accident in mining industry has significantly reduced over the past decade.