Tata Steel awards Moodie Fellowship to 104 students
Jamshedpur, December 08, 2016
Tata Steel awarded Moodie Fellowship to 104 academically bright SC/ST students from low-income families today at Tribal Culture Centre (TCC), Sonari.

Mr. Biren Bhuta, Chief, CSR, Tata Steel, disbursed the scholarship amount worth Rs. 15 lakh. All the recipients of the fellowship are from East Singhbhum, West Singhbhum and Seraikela-Kharsawan districts of Jharkhand.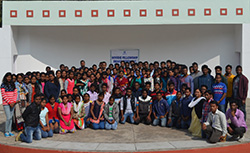 Since 2006-07, Moodie Fellowship is being given away to poor, but meritorious SC/ST students pursuing professional science-stream courses like B. Tech, MBBS, Bio-technology, M. Tech, microbiology, MCA, etc.

Anju Biruli, a first-year student of B.Sc. IT, who was interested in enrolling for a special course on cyber security, she said. "A short-term course on cyber security would soon take off in my college. But the course fee was something that held me back from pursuing the course. But now with the scholarship amount, I'll be able to enroll it," said Anju, daughter of a farmer.

Lalita Kumari, another recipient of the scholarship who is pursuing B.Tech (Biotechnology) from NIT, Rourkela, said that she would be using the amount for buying reference books. "I will work hard to ensure I continue getting this fellowship throughout my higher studies," added Lalita, who is keen to take up some research projects in future.