Sukinda Chromite Mine of Tata Steel Organised Agro Forest Food Diversity Festival 'Prajatiya Khadyotsav'
Sukinda, February 19, 2016
-A unique initiative to contribute to the National Biodiversity Target-
-More than 100 rare variety of indigenous paddy, 50 variety of rice and 60 variety of ethnic food displayed-

In order to encourage the conservation of biodiversity and ethnicity, the Sukinda Chromite Mine ( SCM) of Tata Steel in Jajpur district of Odisha organised an agro forest food diversity festival 'Prajatiya Khadyotsav'. This is a humble initiative of SCM to contribute to the National Biodiversity target of 2020.

The one day event showcased an array of agro-food diversities among different ethnic groups of Odisha. M S Swaminathan Research Foundation's (MSSRF) Odisha unit Biju Patnaik Medicinal Plants Garden and Research Centre of Koraput led by its senior scientist Dr. Kartik Lenka displayed 100 rare near extinct indigenous collections of paddy like Khuji, Jhupuramundi, Chitipiti, Butuki, etc Besides tribal farmers of Koraput, Smt Raimati Ghiuria having 40 indigenous varieties of rice Alasikba,Duburaj,Bagadichudi, Cheteka, etc and 12 varieties of finger millets Silijanha, Janha, etc. and Mr Tularam Balia having collection of 97 indigenous varieties of paddy like Jakasaru, Muktabali, Haladichudi, etc. shared their experiences.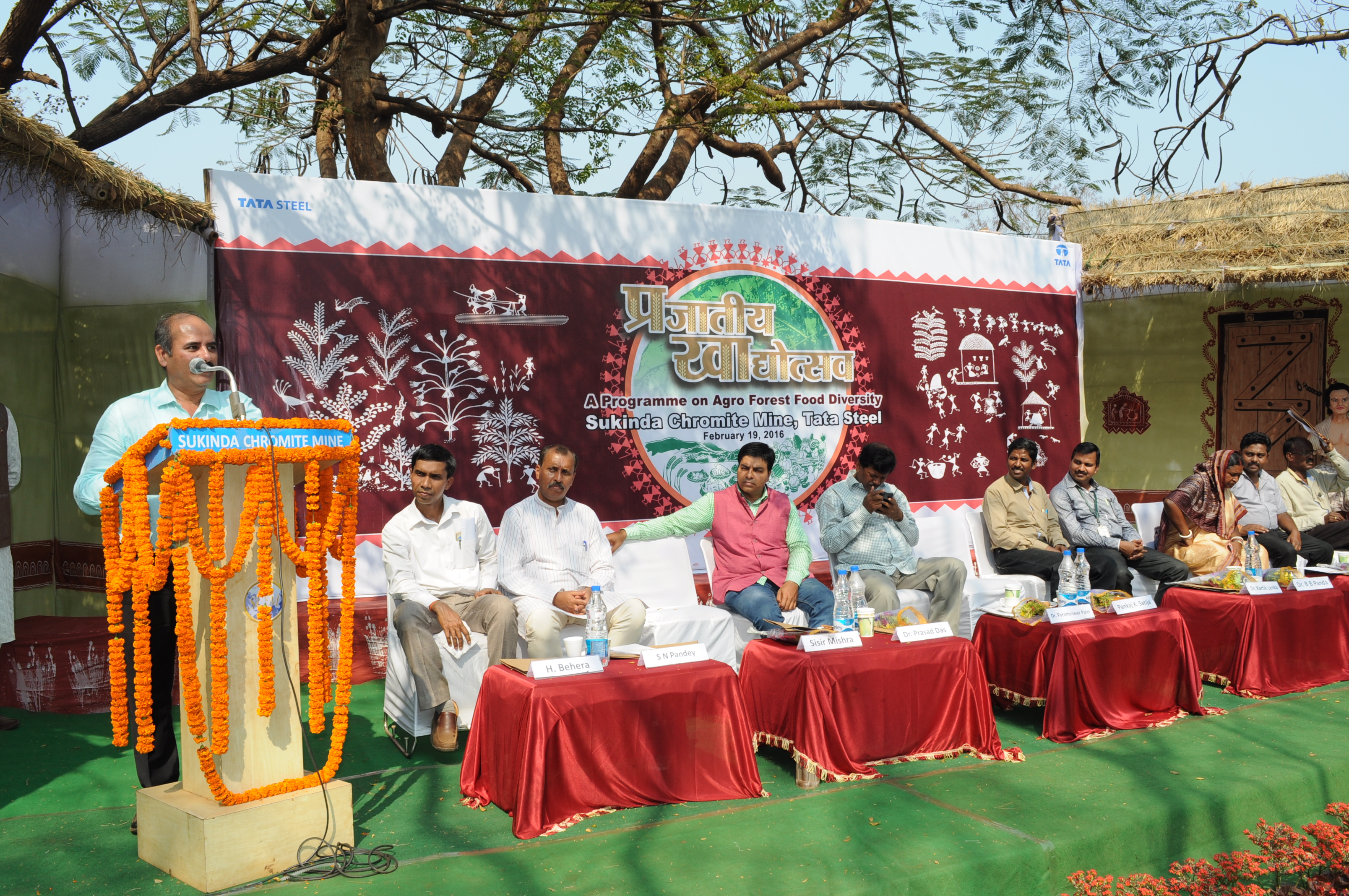 Another exciting part of the programme was exhibition and cooking of ethnic and age old traditional food where more than 60 varieties of those were displayed. There were 22 varieties of traditional cake called Pitha in local parlance, 5 types of rice, 13 types of ethnic curry, 15 types of roots, tubers and many more. There was also live cooking demonstration by tribal ladies how to prepare unique mouth-watering tribal food.

Lauding this initiative of Tata Steel Dr Prasad Das, Sr. Scientist, Odisha Biodiversity Board said programmes like these will go a long way in promoting the cause of biodiversity and create more awareness on it among the people of the state.

Speaking on the occasion Mr. Pankaj Satija, General Manager, Operations, Ferro Alloys and Minerals Division, Tata Steel said this is part of a series of similar events we have been doing here like Spot the Species, Leaf Identification, Green Therapy, Jaibakala Vividhata to contribute our bit to the National Biodiversity Target 1 which aims, by 2020, a significant proportion of the country's population, especially the youth, is aware of the values of biodiversity.

While Dr. Paramananda Patel of Academy of Language and Tribal Culture, Bhubaneswar, Government of Odisha spoke on tribal culture and food habits, Dr B B Panda, Sr. Scientist of Central Rice Research Institute, Cuttack explained to the locals how new quick growing paddy varieties can be cultivated in water scarce areas.

Sharing her experience Smt Ghiuria, the young tribal organic farmer of Koraput, said as we develop hybrid variety of paddy and other food grains, it is also equally important to conserve indigenous species to maintain the natural biodiversity. Echoing her thoughts Smt Laxmi Marandi, a tribal lady who had displayed tribal food Lau simba pitha, a variety of rice pan cake prepared with vegetables, at the exhibition said we should preserve our food diversity for posterity so that they can know their roots.

Other dignitaries present on the occasion included Smt Bhagabati Mhanata, Chairperson, Sukinda Block, Mr S Mishra, IIC, Kaliapani Police Station, Mr H Behera, Head, Under Ground Project, SCM,Mr Dipak Behera, Head, MPP, Tata Steel, Mr S N Pandey, President, SCM workers' Union and Mr G Das, General Secretary of the Union, employees of Tata Steel, members of union. journalists, elected members of local Panchayati Raj Institutions, local villager.

About Tata Steel
Established in 1907 as Asia's first integrated private sector steel company, Tata Steel Group is among the top global steel companies with an annual crude steel capacity of nearly 30 million tonnes per annum (MnTPA). It is now the world's second-most geographically-diversified steel producer, with operations in 26 countries and a commercial presence in over 50 countries. The Tata Steel Group, with a turnover of US$ 22.32 billion in FY`15, has over 80,000 employees across five continents and is a Fortune 500 Company. The Group's vision is to be the world's steel industry benchmark in "Value Creation" and "Corporate Citizenship" through the excellence of its people, its innovative approach and overall conduct. Underpinning this vision is a performance culture committed to aspiration targets, safety and social responsibility, continuous improvement, openness and transparency. In 2008, Tata Steel India became the first integrated steel plant in the world, outside Japan, to be awarded the Deming Application Prize 2008 for excellence in Total Quality Management. In 2012, Tata Steel became the first integrated steel company in the world, outside Japan, to win the Deming Grand Prize 2012 instituted by the Japanese Union of Scientists and Engineers.

Chief, Corporate Communications, India & SEA
Tata Steel