Shubhankar Sharma's dazzling 64 hands him the round one lead at 15th TATA Open
Jamshedpur, December 15, 2016
Shubhankar Sharma of Panchkula took the opening round honours at the 15th TATA Open 2016 thanks to his dazzling seven-under-64 at the Golmuri Golf Course on Thursday.
Patna's Aman Raj and Chandigarh golfer Sujjan Singh ended the day in joint second with scores of six-under-65.
Shubhankar Sharma, a winner of two titles this season who is also a top contender in the 2016 Rolex Ranking race, began his campaign at the penultimate event of the season with a bang.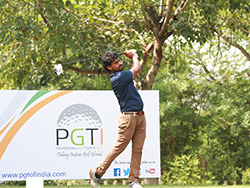 The 20-year-old Shubhankar, currently in fourth place in the Rolex Ranking, had a slow start to his round as he was one-over through eight holes. He then turned on the heat with an eagle followed by four birdies over the next five holes.
Sharma's purple patch began on the par-5 ninth where he sank an eagle from four feet. The next four holes saw him drain birdie putts from a range of six to 12 feet. The three-time winner on the PGTI produced a final flourish with birdies on the last two holes.
"I wasn't really playing well till the eighth but managed to turn it around from the ninth onward. I was eight-under on the last 10 holes. I don't think I've ever played this well over a stretch of 10 holes. I landed my tee shots within two feet of the pin on two of the par-3s today.
"Retaining my Asian Tour card has given me loads of confidence. I feel this added confidence will help me a lot in the last two events of the season. Finishing as no. 1 in the Rolex Ranking this year is my top priority at the moment. It's a big motivating factor for me.
"I last played the TATA Open in 2014, so this is the first time I'm playing the tournament since it moved to Golmuri. The fairways are tighter and the rough is up so the course is going to be quite challenging this week. I just want to continue doing what I've done all year which is playing solid from tee to green," said Shubhankar.
Rookie Aman Raj, who chipped-in from 30 yards for an eagle-two on the fourth, made the turn at a promising five-under. Aman, currently second in the PGTI Emerging Player of the Year race behind Gurgaon's Veer Ahlawat, shot a one-under on the back-nine to stay in touch with the leader.
Aman Raj said, "I won an amateur event at Golmuri last year. So I feel quite comfortable at this course. I took most of my chances today even though I feel that I missed some opportunities on the par-5s.
"I'm quite happy with my performance in my first season as a professional. I'm inside the top-40 in the rankings at the moment and looking to finish within the top-20 in order to get a direct berth in the final stage of next year's Asian Tour Q School. However, I'm not thinking too much about the Emerging Player race despite the fact that I'm just slightly behind the leader Veer Ahlawat."
Sujjan Singh, who finished tied fourth at last year's TATA Open, had a whirlwind start this time around as he sank 15-footers on the first two holes for birdie and eagle. Sujjan had another eagle chance from 10 feet on the fourth but two-putted to salvage a birdie there. The bogey on the sixth was a minor blip for Sujjan as he added three more birdies on the back-nine.
Sujjan said, "I just missed out on the playoff last year. This is another good start. I missed a few eagle opportunities today having misread the lines. It wasn't easy scoring towards the end as the wind picked up on my last six holes.
"I feel my game has been on an upswing over the last few weeks and my ball-striking is also getting better. I'm looking forward to a strong finish to the season."
Noida's Gaurav Pratap Singh, Angad Cheema of Panchkula, Chandigarh's Abhijit Singh Chadha and Delhi's Himmat Singh Rai occupied joint fourth place at five-under-66.
Rolex Ranking leader Shamim Khan of Delhi fired a three-under-68 to be tied 13th.
Defending champion Mukesh Kumar's first round of even-par-71 placed him tied 46th.
Wasim Khan of Delhi made a hole-in-one on the seventh during his opening round of 71. He too was tied 46th.
Jamshedpur's Pintu Rajak who carded a one-over-72 was the highest-placed local professional in tied 63rd place.
Karan Taunk of Jamshedpur was a further shot back in tied 70th place.