Chief Minister inaugurates 100-bed Tata Steel funded Super Specialty Eye-Care Hospital in Ganjam
Jamshedpur, June 11, 2016
Eco-friendly building,Hospital building and equipment fully funded by Tata Steel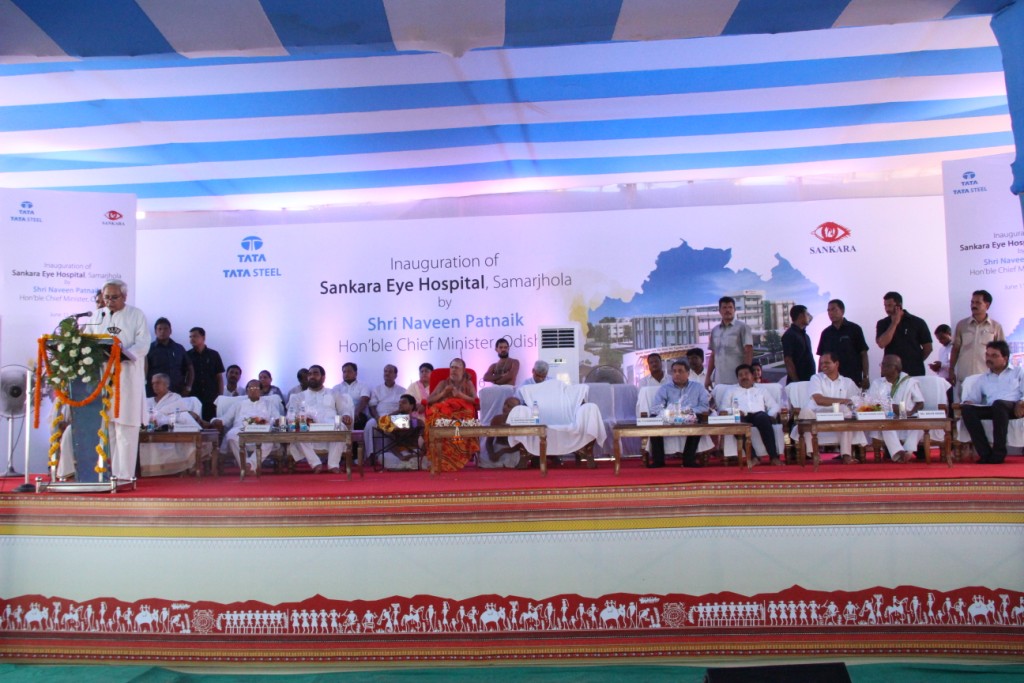 Chief Minister of Odisha, Shri Naveen Patnaik inaugurated the 100-bed Tata Steel funded Super Specialty Eye Care Hospital at Samarjhola village under Hinjilicut block of Ganjam district today in the august presence of Jagadguru Sri Jayendra Saraswathi Sankaracharya Swamigal and Mr T V Narendran, MD, Tata Steel, India& SEA . The hospital, which is to be operated by Sankara Eye Hospital of Tamil Nadu, will offer modern eye-care services to the people of Ganjam and nearby districts.

Tata Steel has extended financial grant of Rs 42.3 crores for the construction of the hospital and allied infrastructure including equipment. Built over 4.5 acres of land in the Samarjhola village, approximately 17 km from Berhampur city, the eye hospital with world-class facilities and highly qualified doctors will offer services comparable to the best corporate hospitals at an affordable cost.

Mr Atanu Sabyasachi Nayak, Hon'ble Minister of State, Health & Family Welfare; Dr. Pradeep Panigrahy, Hon'ble Minister, Higher Education, Science & Technology; Mr. Bikram Keshari Arukha, Hon'ble Minister, Environment & Forest ; Mr. Ladu Kishore Swain, Hon'ble MP, Aska; Mr Ramesh Chandra Chyau Patnaik, Hon'ble MLA, Berhampur; Ms. VSugnana Kumari Deo, Hon'ble MLA, Kabisuryanagar; Dr Priyanshu Pradhan, Hon'ble MLA, Chhatrapur,Mr. Purna Chandra Sethy, Hon'ble MLA, Khalikote; Mr. Surjya Narayan Patro, Hon'ble MLA, Digapahandi; Mr Srikanta Sahu , Hon'ble MLA, Polosara; Ms. Nandini Devi, Hon'ble MLA, Sanakhemundi; Mr. Purna Chandra Swain, Hon'ble MLA,Sorada; Mr. Debraj Mohanty, Hon'ble MLA, Aska; Mr Arun Misra, VP, Project Gopalpur & MD, Tata Steel SEZ and S Visvanathan, Trustee & Secretary, Sankara Eye Hospital were present on the occasion.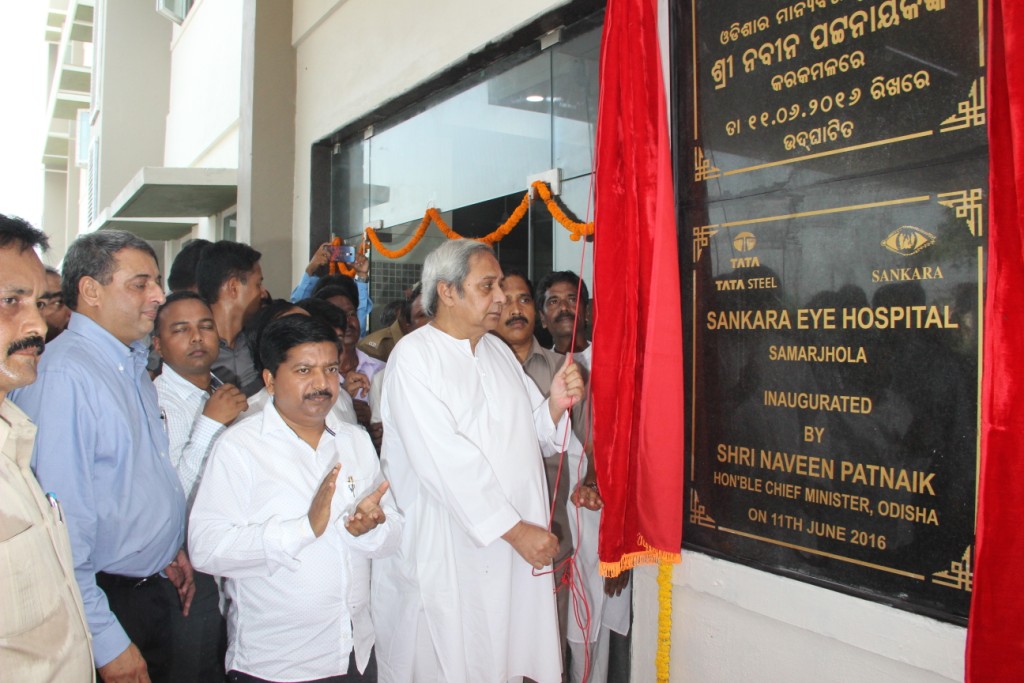 At the inauguration ceremony, while blessing the gathering Jagadguru Sri Jayendra Saraswathi Sankaracharya Swamigal stressed upon the need for eyes both for physical and spiritual aspect of life.

Mr Naveen Patnaik, Hon'ble Chief Minister of Odisha in his address said, "I am very happy to see the hospital on ground within a short span of one year. I am sure that this hospital will become a pioneer in eye care treatment in the region. I am thankful to Sankara Eye Hospital and Tata Steel for this noble initiative".

On the occasion, Mr T V Narendran, MD, Tata Steel, India & SEA reiterated Tata Steel's commitment towards the community. He also said that Tata Steel is proud to be associated with such an initiative and will continue to strengthen its relationship with Odisha through such initiatives.

Built over 4.5 acres of land, the hospital's built up area is 73520 sqft with four floors and comprises five operation theatres, 12 patient rooms and six wards. It is worth mentioning here that the totally green complex hospital is environment friendly and self-sufficient in energy and use of water. The hospital complex would depend on 150 KW of solar power generated through solar panels being fixed on roofs of buildings of the complex and the water will be catered through rain water harvesting and recycling of used water.

Sankara Eye Hospital, which has an outstanding record of providing quality eye care for over two decades through its 11existing hospitals across the nation, will run this hospital which will have facilities like Comprehensive Eye Care,Investigations and outpatient treatment, Low Vision Clinic, Contact Lens Clinic, Special clinic for children, Day care Options – same day surgeries, Micro Phaco cataract surgeries for spectacle free vision, Glaucoma services and many more.

It is worth mentioning here that Tata Steel is also setting up a 500 bed multi-specialty hospital at Gopalpur apart from running 5 Mobile Medical Units in the region along with regular mega-health camps providing door-step medical facility to the people in the vicinity.

About Tata Steel
Established in 1907 as Asia's first integrated private sector steel company, Tata Steel Group is among the top global steel companies with an annual crude steel capacity of nearly 30 million tonnes per annum (MnTPA). It is now the world's second-most geographically-diversified steel producer, with operations in 26 countries and a commercial presence in over 50 countries. The Tata Steel Group, with a turnover of US$ 17.04 billion in FY 16, has over 80,000 employees across five continents and is a Fortune 500 company. The Group's vision is to be the world's steel industry benchmark in "Value Creation" and "Corporate Citizenship" through the excellence of its people, its innovative approach and overall conduct.Underpinning this vision is a performance culture committed to aspiration targets, safety and social responsibility,continuous improvement, openness and transparency. In 2008, Tata Steel India became the first integrated steel plant in the world, outside Japan, to be awarded the Deming Application Prize 2008 for excellence in Total Quality Management. In 2012, Tata Steel became the first integrated steel company in the world, outside Japan, to win the Deming Grand Prize 2012 instituted by the Japanese Union of Scientists and Engineers.

Chief, Corporate Communications, India and SEA