Tata Steel organises the 'Tata Steel Mega Leadership Walk'
Bhubaneswar, September 19, 2015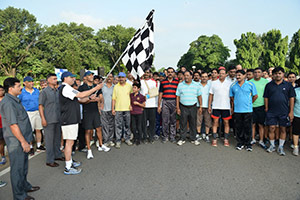 Tata Steel today organised the 'Tata Steel Mega Leadership Walk' at Jubilee Park as an engagement with the initiative 'Stepathlon', a virtual race designed to create a global health revolution among corporate professionals. The Walk was flagged off by Mr TV Narendran, MD, Tata Steel, India and SEA, in presence of senior officials of the Company and other participants. The Tata Steel Mega Leadership Walk kicked off at other locations of Tata Steel as well, like Delhi, Mumbai, Tarapur, Kolkata, Jharia, West Bokaro and Kharagpur.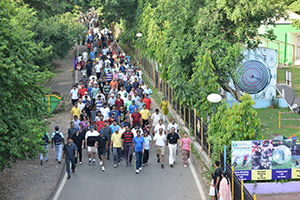 Stepathlon is a pedometer-based mass participation wellness initiative that has created waves in the corporate sector and garnered a phenomenal increase in participation from companies across the World. Tata steel has been associated with Stepathlon for 3 years now. The total number of registrations from Tata Steel for Stepathlon 2015 is more than 2600.
Speaking about the initiative, Mr TV Narendran, MD, Tata Steel, India and SEA said, 'When I first heard about this programme, what really caught my attention is that it's for everyone and not only the athletes. This initiative is all about making a new beginning and developing good habit. I have heard specific stories of Tata Steel employees whose lifestyle has changed because of this programme. We at Tata Steel take pride in the fact that we care for our employees and that reflects in our concern for safety and health. Stepathlon is a great way of engaging with the employees as this not only creates a competitive enviorment but also motivates them to take interest in their health.'
About Tata Steel
Established in 1907 as Asia's first integrated private sector steel company, Tata Steel Group is among the top global steel companies with an annual crude steel capacity of nearly 30 million tonnes per annum (MnTPA). It is now the world's second-most geographically-diversified steel producer, with operations in 26 countries and a commercial presence in over 50 countries. The Tata Steel Group, with a turnover of US$ 22.32 billion in FY 15, has over 80,000 employees across five continents and is a Fortune 500 company. The Group's vision is to be the world's steel industry benchmark in "Value Creation" and "Corporate Citizenship" through the excellence of its people, its innovative approach and overall conduct. Underpinning this vision is a performance culture committed to aspiration targets, safety and social responsibility, continuous improvement, openness and transparency. In 2008, Tata Steel India became the first integrated steel plant in the world, outside Japan, to be awarded the Deming Application Prize 2008 for excellence in Total Quality Management. In 2012, Tata Steel became the first integrated steel company in the world, outside Japan, to win the Deming Grand Prize 2012 instituted by the Japanese Union of Scientists and Engineers.