9th Edition of Tata Steel Young Astronomer Talent Search for School Students Takes Off
Bhubaneswar, September 19, 2015
~Twenty winners will be taken to ISRO~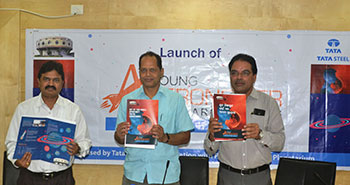 The 9th edition of Young Astronomer Talent Search (YATS) 2015-16 was launched today by Dr Pradip Kumar Panigrahy, Minister of Higher Education, Science and Technology, Government of Odisha at the state secretariat here. Shri C.J. Venugopal, Principal Secretary of the department, Shri Sudarshan Das, Director of Pathani Samanta Planetarium, Mr Arun Misra, Vice President, Project Gopalpur and Managing Director, Tata Steel SEZ, Mr Manikanta Naik, Chief Resident Executive, Tata Steel, Bhubaneswar were present on the occasion. This is a prestigious competition for school students from Std VIII to Std X of the state, aimed at inspiring budding talents to explore the mysteries of space and develop interest in fundamental science. This initiative was started by Tata Steel in 2007, in collaboration with the Pathani Samanta Planetarium, under the Department of Science and Technology, Government of Odisha and has been continuing since then.
Dr Panigrahy unveiled information dockets on YATS 2015-16 on the occasion and also formally launched a dedicated website on YATS. Commending Tata Steel for the initiative, Dr Panigrahy said YATS will help bringing scientific temper among the school students of the state. Mr Misra reinforced Tata Steel's commitment for development of education sector in the state and said the company is committed to take YATS to newer heights in the coming times.
YATS is organized to acknowledge the exemplary contribution of Pathani Samanta, the legendary astronomer of Odisha and to encourage youngsters to display their talent in scientific innovation and concepts though preparation of models on various themes of space science. To participate in the competition, students can contact their School Principal/Headmaster/Headmistress, Pathani Samanta Planetarium, Bhubaneswar or log on to http://www.valueabled.com/yats.aspx.
The competition encompasses three rounds of selection. In the preliminary round, students need to send a write-up on 'Building a Base on Mars' within a word limit of 500 words, either in English or Odia. The write-up can be sent to the planetarium office or be uploaded on the digital link mentioned above, by school authorities by 15th of October, 2015.
Selected students are nominated for participation in zonal camps with their models on the same theme in the second round. The location of zonal camps are -- Jajpur, Keonjhar, Joda, Berhampur, Balasore, Belpahar, Jeypore and Bhubaneswar. Upon selection of best models at zonal camps, the students have to exhibit the models at Bhubaneswar in Finale. Finally, twenty best students are selected on the spot, felicitated on 13th of December, on the occasion of birth anniversary of Pathani Samanta. They are also taken on an exposure visit to one of the centres of ISRO subsequently.
Along with YATS, Tata Steel Inter-School Quiz and Art competitions will also be organized at the same venues and time as those of Zone level camp of YATS.
About Tata Steel 
Established in 1907 as Asia's first integrated private sector steel company, Tata Steel Group is among the top global steel companies with an annual crude steel capacity of nearly 30 million tonnes per annum (MnTPA). It is now the world's second-most geographically-diversified steel producer, with operations in 26 countries and a commercial presence in over 50 countries. The Tata Steel Group, with a turnover of US$ 22.32 billion in FY 15, has over 80,000 employees across five continents and is a Fortune 500 company. The Group's vision is to be the world's steel industry benchmark in "Value Creation" and "Corporate Citizenship" through the excellence of its people, its innovative approach and overall conduct. Underpinning this vision is a performance culture committed to aspiration targets, safety and social responsibility, continuous improvement, openness and transparency. In 2008, Tata Steel India became the first integrated steel plant in the world, outside Japan, to be awarded the Deming Application Prize 2008 for excellence in Total Quality Management. In 2012, Tata Steel became the first integrated steel company in the world, outside Japan, to win the Deming Grand Prize 2012 instituted by the Japanese Union of Scientists and Engineers.