Tata Steel to set up two large hospitals in Odisha
Jamshedpur, February 26, 2014
~ Chief Minister Shri Naveen Patnaik lays the Foundation Stone for 500 bed hospital
at Gopalpur and 200 bed hospital at Kalinganagar ~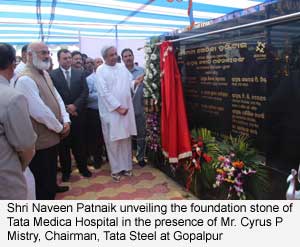 Chief Minister Shri Naveen Patnaik today laid the foundation stone for two large hospitals promoted by Tata Steel at Gopalpur and Kalinganagar. The two hospitals will have a combined capacity of 700 beds offering modern medical facilities to the people of Kalinganagar and Gopalpur. This initiative, in pursuance of the Steel major's corporate social responsibility objectives, will fulfill the long cherished dream of millions of people in the region for availing affordable quality health care in their vicinity.
To be built at an estimated cost of around Rs. 115 crore, these hospitals will have facilities in Medicine, Surgery, Anesthesia, Gynaecology and Obstetrics, Pediatrics, ENT, Pathology with ultra-modern ICU, Emergency Services including world class diagnostic facilities. Both the hospitals will begin with 200 beds each and the one at Gopalpur will gradually be scaled up to 500 beds.
Speaking on this occasion, Mr. Cyrus P Mistry, Chairman, Tata Steel reiterated Tata Steel's commitment to a healthy and resurgent Odisha with the company's continued engagement in improving affordable healthcare infrastructure through various collaborations to build hospitals and advanced mobile medical units to serve the people in need.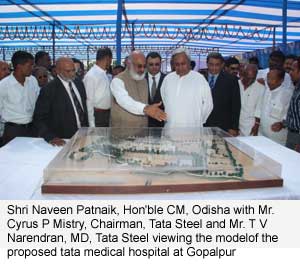 For setting up these "Tata Medica Hospitals", Tata Steel has joined hands with 'Medica Hospitals', a Kolkata based healthcare specialist having expertise in implementing quality healthcare management systems in 100 hospitals spanning across 22 states in India and 6 countries including Yemen, Myanmar and South Africa.
The foundation stones at Gopalpur and Kalinganagar were laid by Mr Naveen Patnaik, Chief Minister, Odisha, in the presence of Dr. Damodar Rout, Minister of Health & Family Welfare and MSME, Dr P K Panigrahy, MLA, Gopalpur, Mr. P C Ghadai, MLA, Sukinda, Mr. Cyrus Mistry, Chairman, Tata Sons, Mr. T V Narendran, Managing Director, Tata Steel, India and South East Asia, Mr. Koushik Chatterjee, Group Executive Director, Finance & Corporate, Tata Steel, Dr. Alok Roy, Chairman, Medica Group along with dignitaries from Government of Odisha and other senior officials of Tata.
About Tata Steel
Established in 1907 as Asia's first integrated private sector steel company, Tata Steel Group is among the top-ten global steel companies with an annual crude steel capacity of over 29 million tonnes per annum (MnTPA). It is now the world's second-most geographically-diversified steel producer, with operations in 26 countries and a commercial presence in over 50 countries. The Tata Steel Group, with a turnover of US$ 24.82 billion in FY 13, has over 80,000 employees across five continents and is a Fortune 500 company. The Group's vision is to be the world's steel industry benchmark in "Value Creation" and "Corporate Citizenship" through the excellence of its people, its innovative approach and overall conduct. Underpinning this vision is a performance culture committed to aspiration targets, safety and social responsibility, continuous improvement, openness and transparency. In 2008, Tata Steel India became the first integrated steel plant in the world, outside Japan, to be awarded the Deming Application Prize 2008 for excellence in Total Quality Management. In 2012, Tata Steel became the first integrated steel company in the world, outside Japan, to win the Deming Grand Prize 2012 instituted by the Japanese Union of Scientists and Engineers.