Tata Steel conferred the prestigious Indian MAKE Award 2013
Jamshedpur, February 26, 2014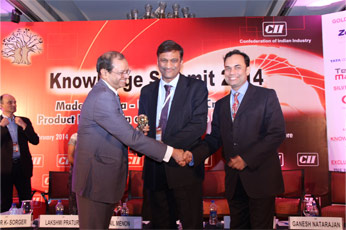 Tata Steel has been conferred the prestigious Indian 'Most Admired Knowledge Enterprises' (MAKE) Award 2013 at CII's 'Knowledge Summit 2014' ceremony held in Bangalore on 21st Feb'14. The Indian Most Admired Knowledge Enterprises (MAKE) award aims to recognize organizations (founded and headquartered in India) for their ability to create shareholder value by transforming new as well as existing enterprise knowledge into superior products/ services/ solutions.
Mr Shreekant Mokashi, Chief, Group Information Services, Tata Steel, and Mr Rabindra Kumar, Head, Knowledge Management (KM), Tata Steel received the award on behalf of the Tata Steel from Mr Ganesh Natrajan, Vice Chairman & CEO, Zensar Technologies Ltd. A panel of India-based Fortune 500 senior executives and internationally recognized knowledge management/ innovation/ intellectual capital experts selected the winners. The expert panel rated organizations against the MAKE framework of eight key knowledge performance dimensions. Panel has recognized Tata Steel for its knowledge-driven organizational culture (1st place) and maximizing enterprise intellectual capital (1st place).
On receiving the recognition, Mr Anand Sen, President TQM & Steel Business, Tata Steel said, 'It's a matter of joy and pride to receive the Indian MAKE award 2013. This will surely motivate our KM fraternity in Tata Steel to work with new vigor and energy. Tata Steel has always believed in the importance of effective utilization of Human Capital through a culture of learning and sharing. With green field project KPO in sight, I have a strong feeling that our Knowledge Management can be instrumental in enabling unified code of improvement practices across the organisation.'
About India MAKE Awards
The Indian Most Admired Knowledge Enterprises (MAKE) study is part of Teleos' MAKE research program. The Indian MAKE study was established in 2005 to recognize organizations (founded and headquartered in India) for good work in area of Knowledge Management.
This research tool employs an expert panel's perceptual knowledge to identify critical issues - in the case of the Indian MAKE study to identify those Indian-headquartered organizations which are leaders in creating organizational intellectual capital and value through the transformation of individual/enterprise knowledge into world-class products/services/solutions. In the Indian MAKE study there are three rounds of consensus building. In the first round, members of the expert panel nominate enterprises founded and headquartered in India. In the second round, each member of the expert panel evaluates and selects as best practice a maximum of three organizations from the list of nominees. In the third and final round, the Indian MAKE Finalists are ranked against each of the eight knowledge performance dimensions which form the MAKE framework and are the visible drivers of wealth creation:
creating a knowledge-driven enterprise culture

developing knowledge leaders and workers

innovation (R&D, creativity and new product/solution/service design and delivery)

maximizing enterprise intellectual capital

enterprise-wide collaboration and knowledge sharing

creating a learning organization

creating value from customer/stakeholder knowledge

transforming enterprise knowledge into shareholder/ stakeholder value
About Tata Steel
Established in 1907 as Asia's first integrated private sector steel company, Tata Steel Group is among the top-ten global steel companies with an annual crude steel capacity of over 29 million tonnes per annum (MnTPA). It is now the world's second-most geographically-diversified steel producer, with operations in 26 countries and a commercial presence in over 50 countries. The Tata Steel Group, with a turnover of US$ 24.82 billion in FY 13, has over 80,000 employees across five continents and is a Fortune 500 company. The Group's vision is to be the world's steel industry benchmark in "Value Creation" and "Corporate Citizenship" through the excellence of its people, its innovative approach and overall conduct. Underpinning this vision is a performance culture committed to aspiration targets, safety and social responsibility, continuous improvement, openness and transparency. In 2008, Tata Steel India became the first integrated steel plant in the world, outside Japan, to be awarded the Deming Application Prize 2008 for excellence in Total Quality Management. In 2012, Tata Steel became the first integrated steel company in the world, outside Japan, to win the Deming Grand Prize 2012 instituted by the Japanese Union of Scientists and Engineers.