Tata Steel endeavors to empower youth
Jamshedpur, June 28, 2013
~Two meritorious youth selected for Master's Programme at TISS~
Tata Steel has always been committed to the cause of youth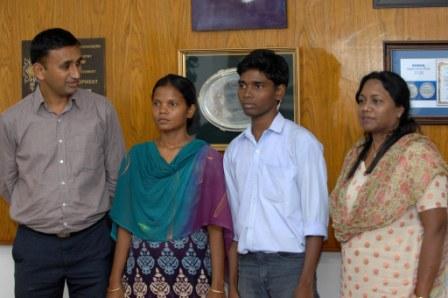 empowerment. Tata steel through its Tribal Cultural Society promotes the cause of education of youth including those from scheduled caste and scheduled tribe and helps them achieve their career aspirations.
Tribal Cultural Society has promoted two tribal graduate youths from Kolhan region, Mr. Suraj Gilua from Chakradharpur and Ms Mary Madhuri Purty from Chaibasa, for Master in Social Work- Rural Development at Tata Institute of Social Sciences, Mumbai. These youth belong to BPL category - the livelihood of Suraj Gilua's family rests on the family income of Rs 5000, which his father earns through mason work; Mary 's mother is an agricultural labour while her father passed away long ago and her family is fighting for survival.

Tata Steel is promoting these two meritorious youth by providing them full economic support required for their course. The academic session at TISS for their course will commence from July 1, 2013.