TATA STEEL COMMEMORATES THE BIRTH ANNIVERSARY OF PT. GURU KOL LAKO BODRA
Jamshedpur, October 01, 2012

~ Creator of Ho language script 'Warang Kshiti' ~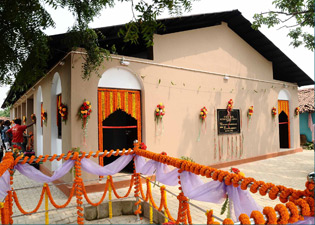 Tata Steel in its endeavour to preserve and promote tribal ethnicity commemorated the 93rd birth anniversary of late Pt. Guru Kol Lako Bodra – creator of the 'Warang Kshiti' script for the 'Ho' language at Paseya village, Khuntpani block, West Singhbhum district. On this occasion the ancestral house of late Guru Kol Lako Bodra, which Tata Steel has rebuilt and restored, was inaugurated by Shri Arjun Munda, Hon'ble Chief Minister of Jharkhand through a video conference and handed over to the family and dedicated to the entire Ho community.
Speaking on the occasion, Chief Guest, Shri Arjun Munda, appreciated the work done by Tata Steel for preserving and promoting the rich heritage of tribal communities. He also said "this house will be developed as a cultural hub for tribal literature and it will be a source of inspiration for the communities at large." He assured full cooperation for the development of Ho Language.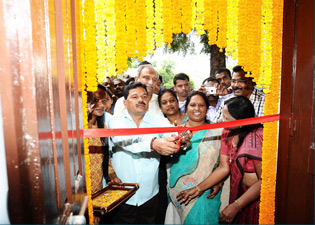 Mr Sanjiv Paul, VP(CS) while addressing the community said that, "over the century Tata Steel has grown up to a 10 MPTA production unit with your support and co-operation. Our past visionaries and the present management are always concerned about contributing back to the society in preserving the rich heritage and development of the tribal communities". He also added that, "the economic independence which J.N. Tata had envisaged and the economic growth that Tata Steel has brought about in the region would not have been possible without your support".
Mr Biren Ramesh Bhuta, Chief, Corporate Sustainability Services, Tata Steel welcomed the guests. Shri Deepak Birua, MLA Chaibasa and Shri Guru Charan Naik, MLA Manoharpur were present as special guests and both appreciated the efforts of Tata Steel in persevering the heritage. Ms. Geeta Balmuchu, Chairman, Zila Parisha, Mr. D.N. Champia ,ex.Dy. Speaker, Bihar Assembly, Mr. Putkar Hembrum, ex. MLA, Mr. Johar Bandra ex.MLA, Opinion leaders of the Ho community and many more were also present during the occasion. Ms. Urmilla Ekka, Hony. Jt. Secretary, Tribal Culture Society proposed the vote of thanks to the gathering.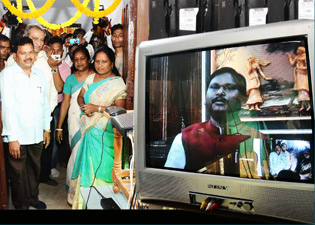 Tata Steel plans to convert the ancestral house into a museum, library and 'samadhi sthal' to pay homage to the late Pt. Guru Kol Lako Bodra. While the library will be enriched with literature developed in Warang Kshiti script, the museum will have exhibits from the life and times of the creator of the 'Warang Kshiti' script and the community can pay rich tributes to this visionary by visiting his 'Samadhi Sthal'.
Tribal Culture Society; its role in Promoting Tribal Language and Literature
Tribal language and literature form an integral part of tribal identity. Warang Kshiti and Ol-Chiki are the tribal scripts of Ho and Santhali languages respectively. Both these scripts are being promoted byTribal Cultural Society ( a wing of Tata Steel) through 50 learning centres across Kolhan region and reaching out to more than 2500 tribal students. This is, perhaps, one of its kind interventions by a private sector company in India. Besides learning centres, TCS facilitates in publishing tribal literatures.
About Tata Steel
Established in 1907 as Asia's first integrated private sector steel company, Tata Steel Group is among the top-ten global steel companies with an annual crude steel capacity of over 26.5 million tonnes per annum (mtpa). It is now the world's second-most geographically-diversified steel producer, with operations in 26 countries and a commercial presence in over 50 countries. The Tata Steel Group, with a turnover of US$ 26.13 billion in FY 12, has over 80,000 employees across five continents and is a Fortune 500 company. The Group's vision is to be the world's steel industry benchmark in "Value Creation" and "Corporate Citizenship" through the excellence of its people, its innovative approach and overall conduct. Underpinning this vision is a performance culture committed to aspiration targets, safety and social responsibility, continuous improvement, openness and transparency. In 2008, Tata Steel India became the first integrated steel plant in the world, outside Japan, to be awarded the Deming Application Prize 2008 for excellence in Total Quality Management.