9th Convocation of Tata Football Academy held in Jamshedpur
Jamshedpur, October 01, 2012

~All 18 graduating cadets placed in premiere Indian football clubs~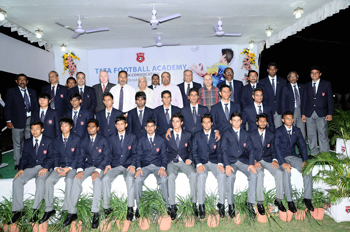 The 9th convocation for the Tata Football Academy took place today at the Tata Football Academy Ground in Jamshedpur. The ceremony celebrated the graduation of the 18 cadets who were passing out of the institution.
Mr. H. M. Nerurkar, Managing Director, Tata Steel was present as the Chief Guest for the function. He said, "It's an honor to be a part of a function when 18 superstars are graduating at the same time. I wish them the best for their future and hope they will bring laurels to the country and the Tata Football Academy as well." He further said that everyone should help to take Indian football to greater heights and assured all possible help to the TFA management.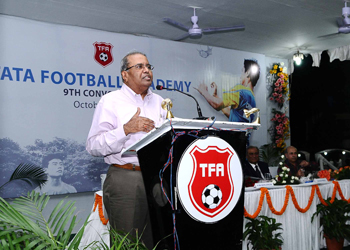 Mr. Sanjiv Paul, VP (Corporate Services) and Chairman- Board of Management, TFA welcomed the guests and briefed them about TFA. He said, "Tata Football Academy, over the years has been led by prolific directors in producing some of the best footballing talents who have taken the brand forward. The responsibility now rests on the passing cadets to bring about the change in the football scenario of the country." He also added, "I congratulate all of the passing cadets and wish them the best for their future."
Mr. Novy Kapadia, Noted Football Commentator and Analyst in his speech said that no other academy in the country has done so much for football what TFA has contributed.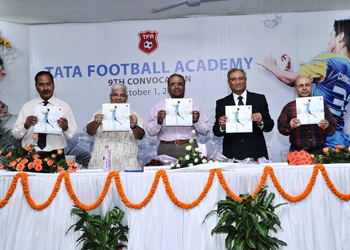 During the event, Iran Khan was presented the Silver Salver for 'Best Gentleman Cadet' award by the Chief Guest. Guests present during the occasion were Mr. P. N. Singh, President, Tata Worker's Union, Mr. Subhankar Mukherjee, Director National Team, AIFF, Mr, P. K, Banerjee, Mr. Chuni Goswami, Mr. Shaym Thapa among others.
Keeping with the tradition of an excellent placement record, Tata Football Academy this year too was successful in placing all its cadets in the premiere football clubs of the country. The eighteen cadets of the present passing-out batch were placed in Pailan Arrows,Churchill Brothers, Mohammedan Sporting,and Salgaocar SC.
The ceremony witnessed mixed emotions form the cadets who were visibly very excited for their future but were bidding adieu to the place which has been their 'home' for the past four years.
About the Tata Football Academy
Tata Football Academy was created in 1987. It was the only national and Asian academy dedicated to the development of football during the period. In the past 25 years over 160 cadets, trained in ten (10) batches.TFA cadets have represented India in various international competitions. In recent past years TFA has secured high value contract with premier football clubs in the country.The 1st batch of TFA started in 1992. The recent tie-up between TFA and Sheffield United football Club in 2010 has brought internationally acclaimed professional soccer training for its coaches and cadets.