Tata Main Hospital Spreads Awareness on Breast Cancer Among the Citizens of Jamshedpur
Jamshedpur, March 18, 2012
The Department of Surgery of the Tata Main Hospital (TMH), Jamshedpur organized a breast cancer awareness camp on Sunday, March 18, 2012 at the TMH OPD complex. The objective of the camp was to inform the general public about the dangers of breast cancer, enable early detection and the need to seek early treatment.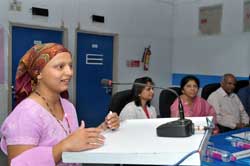 The programme was attended by more than 100 people – most of them women who were eager to gain knowledge about breast cancer. Also present were various functionaries of TMH to lend support to the cause.
Over the years, it has been seen that in Indian cities, the incidence of breast cancer is growing at an alarming rate and more and more women from lower age groups are afflicted. A lack of understanding of the disease coupled with absence of the knowledge to check for the symptoms of breast cancer at home leads to detection being delayed to later stages of the disease resulting in avoidable suffering and loss of life. This trend is visible in Jamshedpur as well. Signs giving rise to suspicion of breast cancer can be detected easily at home and this should be followed up with a consultation with a doctor and initiation of treatment if required. Such pro-active measures could lead to a more than 90% survival rate for five years from diagnosis.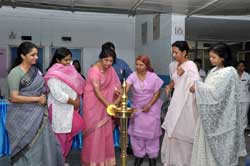 The camp began with sharing of personal experiences by a patient diagnosed with breast cancer at TMH. She stressed on the need to be vigilant about the disease and the necessity of seeking medical help early. This was followed by lighting of a lamp by honorable chief guest, Ms Surekha Nerurkar and other dignitaries. She also released a leaflet created by TMH which summarizes the dangers of breast cancer, how to detect signs of the disease and some misconceptions as well as some truths about this disease to help people understand it better. While addressing the gathering, Ms Nerurkar highly appreciated the efforts made by TMH in taking up this noble cause and encouraged more and more women to gain greater awareness about breast cancer and not wait for years on end before asking a doctor for help.
The registered patients availed the benefit of free consultations with the doctors of TMH at the OPD consultation chambers and in some selected cases, free diagnostic procedures were also advised by the doctors after examination of the patients.
The Tata Main Hospital remains committed through such initiatives to make the lives of the people it serves healthier and more enriched.