B Muthuraman conferred Padma Bhushan by President Pratibha Patil
Jamshedpur, April 05, 2012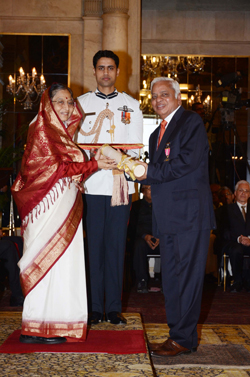 The Honourable President of India Mrs. Pratibha Patil presented the prestigious Padma Bhushan Award to Mr. B Muthuraman, Vice Chairman, Tata Steel Limited in the trade and industry category on Wednesday at a glittering function organized at Rashtrapati Bhawan, New Delhi. The function was attended by Vice-President Mr. Hamid Ansari, Prime Minister Dr. Manmohan Singh and a host of other dignitaries. Mr. Muthuraman is amongst the 109 Padma award winners this year. Padma Awards, the country's highest civilian awards, are given in all disciplines/ fields of activities, viz. art, social work, public affairs, science and engineering, trade and industry, medicine, literature and education, sports, civil service, etc.
Mr. Muthuraman joined Tata Steel in 1966 and has held various positions at the Company including Vice President (Marketing & Sales) & Vice President (Cold Rolling Mill Projects). He was appointed as Executive Director in 2000, Managing Director of the Company in 2001 and non-executive Vice chairman in 2009. Under his visionary leadership, Tata Steel became a truly global company marked by some of landmark events like the acquisition of Corus, UK and Netherlands in 2007.
Mr. Muthuraman is currently the President of Confederation of Indian Industry. He is the Chairman of Tata International Limited on the Boards of several companies which include, Bosch Limited, Tata Industries and Strategic Energy Technology Systems Pvt. Ltd. He was Chairman of several Tata Steel Group companies like Nat Steel, Singapore; Tata Steel, Thailand; Tinplate Company of India Ltd; Dhamra Port Company Ltd.; Tata Sponge Ltd. and Tata – Martrade International Logistics Ltd. He was also the Chairman of the Board of Governors National Institute of Technology (NIT), Jamshedpur; IIT, Kharagpur; XLRI, Jamshedpur and Member of the Board of Governors of Indian Institute of Technology, Madras (IIT Madras). He is member of Governing Council of The National Institute of Design (NID). He is also a member of the Business Advisory Council of Economic and Social Commission for Asia and the Pacific (UNESCAP).
Mr Muthuraman holds degrees in Bachelor of Technology in Metallurgical Engineering from IIT, Madras and a Masters of Business Administration from XLRI, Jamshedpur. He has also completed the Advanced Management Programme at European Centre for Executive Development, France and has undergone the Leadership Programme at INSEAD, France. He was recently bestowed an Honorary Degree of Doctor of Humane Letters, Honoris Causa from Loyola University, Chicago.
Mr Muthuraman received the Distinguished Alumnus Award from IIT Madras in 1997 and the Tata Gold Medal from the Indian Institute of Metals in 2002. He also received the "CEO of the Year Award" from Business Standard in 2005, "CEO with HR Orientation Award" from World HRD Congress in 2005, Economic Times Award for Corporate Excellence in 2008 and IIM JRD Tata Award conferred by Indian Institute of Metals. He was recently bestowed an Honorary Degree of Doctor of Humane Letters, Honoris Causa from Loyola University, Chicago.