Tata Workers Union pays homage to Prof Abdul Bari
Jamshedpur, February 27, 2010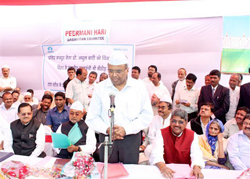 Tata Workers' Union paid homage to its former president, Late Prof. Abdul Bari, at his reconstructed grave, today, at Peer Mani Hari, Patna. Mr Nitish Kumar, Hon'ble Chief Minister of Bihar; Mr H M Nerurkar, Managing Director, Tata Steel, Mr Raghunath Pandey, President, Tata Workers' Union; Mr Partha Sengupta, Vice President (Corporate Services), Tata Steel and others offered tribute to the great leader.
Tata Workers' Union undertook the task of renovating Prof. Bari's grave as a befitting tribute to his immense contribution towards giving the Union a new and enhanced identity. The dignitaries visited Prof. Bari's grave and paid floral tribute. Mr Nerurkar, in his address to the gathering said, "When we chart the history of labour union practice in India, Prof Abdul Bari's name takes a decidedly prominent place. His stint as one of the most successful Union leaders stems from his deep rooted dedication towards Freedom struggle in the early 90s. He is also known to have been inspired by none other than Netaji Subhash Chandra Bose, which makes him an exemplary role model himself."
Mr Raghunath Pandey, reiterated Mr Nerurkar's views saying, "It was Prof Bari who formally named our Union as the Tata Worker's Union in 1937, which was formally known as Jamshedpur Labour Association. It was he who created unionism and healthy management-worker relations, being well inspired by his career and stalwarts like Mahatma Gandhi. Having re-christened our Union as Tata Workers' Union, he ensured that this healthy relationship also established roots in other places of Bihar, Jharkhand, Orissa and West Bengal."
On the occasion, Mr Nitish Kumar thanked Tata Steel for its thoughtful approach and its gratitude towards its former Union President. He cited Tata Steel's example as the company to maintain industrial harmony for more than eight decades now. The function was also attended by Prof Bari's daughter.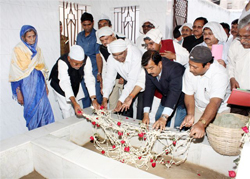 Late Prof. Abdul Bari had played an active role in uniting the worker section of Bihar, Bengal and Orissa for freedom struggle movement in 1921, 1922 and 1942. A post graduate in Arts stream from Patna, he was greatly influenced by Mahatma Gandhi during the latter's visit to Patna in 1917. He was an active member of the Non-Cooperation movement in 1922. He went on to become the Dy Speaker of Bihar Assembly in 1937 of first Congress Government, followed by taking over as Vice Chairman of Bihar Labour Enquiry Committee under Chairmanship of Dr Rajendra Prasad. Besides this, his political interest and the vision to bring about labour welfare effectively saw him undertake many other crucial roles in his lifetime.