Mr Nerurkar honoured at the 22nd Michael John Memorial Lecture
Jamshedpur, March 03, 2010
Tata Workers' Union today honoured Mr H M Nerurkar, Managing Director, Tata Steel, at the 22nd Michael John Memorial Lecture. The function was held at Michael John Auditorium.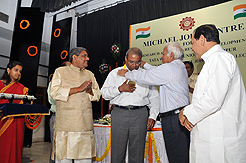 Mr Nerurkar was honoured with a citation by Mr Raghunath Pandey, President, Tata Workers' Union and Chairman, The Michael John Memorial Lecture Committee. A few lines from the citation read as, "It is our honour to recognize your enduring contribution to the Indian steel industry… You believe in building a work environment with a purpose that go beyond making money as the core motivator. Jamshedpur and Tata Steel recognize you, Sir, as a very amiable person with an ever-smiling face, who has made "friendship" his middle name."
In his acceptance speech, Mr Nerurkar thanked Tata Workers' Union for this gesture, emphasizing additionally, on the need to embrace change, innovation, education & training for a company to reach the pinnacles of success. He also remembered some of the yesteryear leaders of the Union who paved the way for a healthy and peaceful management-worker relation.
Also felicitated at the function were Mr B Muthuraman, Vice Chairman, Tata Steel, Mr Rajendra Singh, President, INTUC, Jharkhand, Mr Jacques Schraven, Director, Tata Steel, Dr Karl Ulrich Koehler, Chief Operating Officer, Tata Steel Europe, Mrs Surekha Nerurkar and Mrs Sumathi Muthuraman.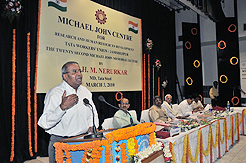 The first Michael John Memorial Lecture was delivered by Bharat Ratna J R D Tata in 1984, former chairman, Tata Steel. It has, since then, been delivered by 21 eminent personalities including Mr R Venkatraman, Former President of India (1993); V G Gopal (posthumous), Former President, Tata Workers' Union (1994); Mr Ratan N Tata, Chairman, Tata Sons (1995); Mr P A Sangma, Former Speaker, Lok Sabha (1997); Dr A P J Abdul Kalam, Former President of India (2002) and others.