171st Founder's Day, observed at Tata Steel
Jamshedpur, March 03, 2010
~Founder's Day celebrated with grandeur and fervour ~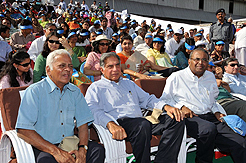 Employees and senior management of Tata Steel and other Tata companies gathered today to celebrate the 171st birth anniversary of their Founder - Jamsetji Nusserwanji Tata with fervour and gaiety.
The morning of 3rd March saw an august gathering of dignitaries and honorary guests from across the Tata Group at the Tata Steel Works Main Gate. All departments of Tata Steel and other Tata Group companies paid reverence to the Founder by staging a parade; each team being led by its senior most designate, at the Founder's statue.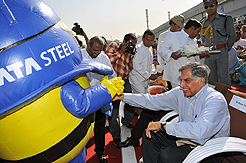 The function was attended by Mr Ratan N Tata, Chairman, Tata Sons, Mr Ishaat Hussain, Director, Tata Sons, Dr J J Irani, Director, Tata Sons, Mr B Muthuraman, Vice Chairman, Tata Steel, Mr Jaques Schraven, Director, Tata Steel, Mr H M Nerurkar, Managing Director, Tata Steel, Dr Karl Ulrich Koehler, Chief Operating Officer, Tata Steel Europe and other senior officials of Tata Steel. Also present on the occasion were Mr Raghunath Pandey, President, Tata Workers' Union, Mr Rakeshwar Pandey, President, Tata Mazdoor Union, Mr Rajendra Singh, President, INTUC, Jharkhand and other union office bearers from across Tata Steel operations.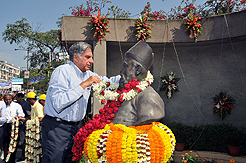 The dignitaries present paid homage before the statue of J N Tata. Colourful tableaus depicting the work process of various departments preceded each of their processions, respectively. The procession showcased the innovations and expertise based on the theme of 'Sustainability', covering different aspects like health, safety, etc. 'Jeevan', the mascot unveiled recently was also seen walking up and down the aisle in a bid to remind all of the need to ensure safety at all times. In his address to the gathering, Mr Tata lauded the citizens of Jamshedpur for having made a great contribution towards making this city one of the most cherished places to live in.
This was followed by a tribute to J N Tata's statue by the citizens of Jamshedpur near the General Office Main Gate. A series of sporting events was organised at Gopal Maidan, inviting participation from all departments to celebrate the Founder's Day with the citizens, children and communities settled in Jamshedpur and the neighbouring areas. Jamshedpur Aeromodelling Club had organised a live Aeromodelling display at Sonari Airport for the citizens. In addition, Tata Steel also hosted a Dare Devils Show after the Sports function at Gopal Maidan. The show was made spectacular by a team of 22 riders in 11 motorcycles from the Punjab Regiment Centre, Ramgarh.